Facebook reveals online education app for Rwanda
February 24, 2014 -- Updated 1230 GMT (2030 HKT)
STORY HIGHLIGHTS
Facebook is helping roll out a pilot online education program in Rwanda, under the Internet.org umbrella
The SocialEDU program, called edX, will be a mobile app integrated into Facebook to provide localized education
Announcement comes ahead of Zuckerberg's Mobile World Congress keynote speech
Editor's note: Mobile World Congress is the world's largest mobile phone trade show looking at the current state of mobile and where it might go next. Watch CNN International's coverage live from Barcelona on 24 February to 28 February. Get the latest live updates from the event on CNN's liveblog.
Barcelona (CNN) -- Facebook is helping to roll out a pilot online education program in Rwanda, as part of its pitch to bring internet to the unconnected world.
Dubbed SocialEDU, the new initiative was revealed at Mobile World Congress in Barcelona Monday and comes the same day as the social media giant's founder Mark Zuckerberg gives a keynote speech at the event.
As part of the SocialEDU pilot program, EdX will work with Facebook to create an educational app to provide localized education. This Facebook integrated app is being released under the umbrella of Internet.org, the partnership between Facebook and mobile companies to bring internet to those without access.
The deal, which will initially be offered to university students, has been done in partnership with telecommunications giant Airtel, which is providing free educational data for a year to those who sign up and Nokia, which is offering discounted smartphones to those participating.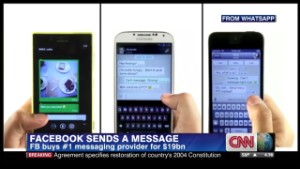 Facebook WhatsApp deal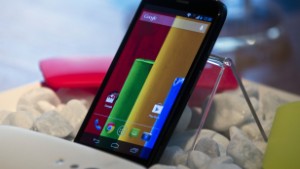 Motorola goes after emerging markets
The Rwanda government is also set to expand its free wifi in campuses and will adapt edX course materials locally. SocialEDU students will receive access to education from universities such as Harvard, MIT, Berkeley and others. The program allows users to interact with each other and with teachers.
Facebook's Chris Weasler, director of global connectivity, said the partnerships were able to "create a new type of educational experience that's affordable and social." It is hoped the pilot, if successful, will be expanded beyond Rwanda.
The deal is revealed as focus at the huge mobile trade fair turns to Zuckerberg, who is making his first appearance at the event and is due to take the stage at 1800 CET/1300 ET. The famously reticent speaker's appearance at the congress is being seen as a signal Facebook is set to put mobile first -- as witnessed by the $19 billion purchase of WhatsApp, a mobile messaging service, last week.
Facebook paid 19 times more for WhatsApp than it did for Instagram, despite the app's low profile in the United States.
Zuckerberg said WhatsApp would continue to operate independently of Facebook, saying at the time: "The product roadmap will remain unchanged and the team is going to stay in Mountain View," the suburban California city where it's based.
Days after the deal, WhatsApp suffered an outage, going down for more than three hours on Saturday. On Monday Zuckerberg is expected to face embarrassing questions over the glitch.

Today's five most popular stories
Part of complete coverage on
Mobile World Congress
March 13, 2014 -- Updated 1157 GMT (1957 HKT)

Mobile World Congress spans the full spectrum of untethered gadgetry, from the next generation of mobile phone networks to wireless charging technology.
February 26, 2014 -- Updated 1554 GMT (2354 HKT)

Big Data is like teenage sex: everyone talks about it, nobody really knows how to do it, everyone thinks everyone else is doing it, so everyone claims they are doing it.
February 26, 2014 -- Updated 1106 GMT (1906 HKT)

After three-plus years, the world's largest social media outlet is pulling the plug on its little-used e-mail service.
February 26, 2014 -- Updated 1446 GMT (2246 HKT)

Mobile World Congress returned to form this year, with Samsung, Sony, and Huawei all choosing to launch flagship devices in Barcelona. These are my picks from the show:
July 16, 2014 -- Updated 1142 GMT (1942 HKT)

Mobile World Congress begins in Barcelona Monday and amid the hoopla of new super-phones, largely unknown technologies will be revealed. And it will be these that change our lives.
February 24, 2014 -- Updated 1342 GMT (2142 HKT)

With a lack of gender diversity in the tech sector, the time has come to make women in ICT a norm rather than the exception
February 25, 2014 -- Updated 1025 GMT (1825 HKT)

The medical and healthcare sectors are in the midst of rapid change, and it can be difficult to see which new technologies will have a long-lasting impact.
February 25, 2014 -- Updated 2026 GMT (0426 HKT)

Facebook founder Mark Zuckerberg said WhatsApp was "worth more than $19 billion" during a speech given at Mobile World Congress in Barcelona Monday.
February 24, 2014 -- Updated 1944 GMT (0344 HKT)

Sony has announced a tie-up with the estate of Michael Jackson, allowing them to use his music to promote the release of a new smartphone.
May 1, 2014 -- Updated 1929 GMT (0329 HKT)

Financial transactions have always been at the heart of our society, but growing smartphone and Internet penetration are inspiring new, disruptive approaches.
February 24, 2014 -- Updated 1039 GMT (1839 HKT)

Google has heard all the concerns about Glass, its digital headset expected to hit the market by the end of the year.
February 18, 2014 -- Updated 1305 GMT (2105 HKT)

Looking for a new way to reach your fitness goals? Now's the time to check out some of the hottest fitness apps as 2014 gets underway.
October 31, 2014 -- Updated 1710 GMT (0110 HKT)

What if Facebook spent $19 billion on something and most people never noticed?

See full coverage from the world's biggest mobile technology conference in Barcelona, Spain.