STORY HIGHLIGHTS
Facebook founder Mark Zuckerberg speaks at Mobile World Congress in Barcelona
During his speech, Zuckerberg said WhatsApp was 'worth more than $19 billion'
It is his first appearance at the show and come a week after Facebook bought WhatsApp
Analysts said it underlined Facebook's commitment to mobile tech
Editor's note: Mobile World Congress is the world's largest mobile tech trade show looking at the current state of mobile and where it might go next. Watch CNN International's coverage live from Barcelona on 24 February to 28 February. Get the latest live updates from the event on CNN's liveblog.
(CNN) -- Facebook founder Mark Zuckerberg, speaking to mobile tech leaders in Barcelona, said WhatsApp, the mobile messaging app purchased by the social media giant last week, was "worth more than $19 billion."
Zuckerberg's comments at Mobile World Congress, referencing the eye-watering price paid for WhatsApp, were met with surprise.
But Zuckerberg said the company was "a great fit for us. Already almost half-a-billion people love using WhatsApp for messaging and it's the most engaging app we've ever seen exist on mobile so far.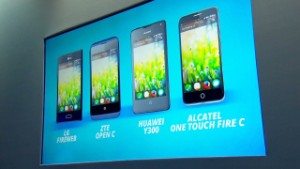 Mozilla unveil plans for cheap smartphones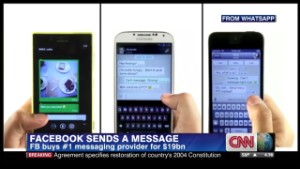 Facebook WhatsApp deal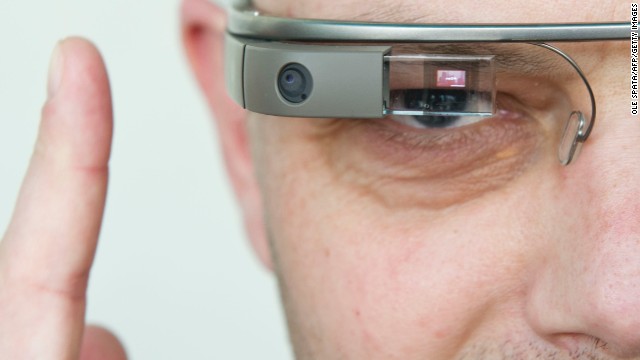 The future will be bright in all those augmented realities. Google Glass is the wearable computer that responds to voice commands and displays information on a visual display.
The dress that turns transparent when the wearer is aroused. Would you try it? Dutch design collective Studio Roosegaarde have developed a sensual dress called Intimacy 2.0 together with designer Anouk Wipprecht. Made of leather and smart e-foils, it 'explores the relationship between technology and intimacy'. The high-tech panels are stimulated by the heartbeat of the wearer. Initially opaque or white, they become increasingly transparent when exposed to an electric current -- in this case a beating heart.
We might shout less at one another in the future, as it looks like we'll be wearing our hearts on our sleeves. Another garment that displays your emotions to the world is the GER Mood Sweater, by design lab Sensoree. Based on the technology of a classic lie detector test, it interprets emotions and displays mood instantly as an interactive light display. Blue means relaxed and red is nervous or angry.
Rather than bringing dirt into your house, these shoes will clean it up. Looking like something out of Star Wars, the FOKI vacuum shoes are a concept from Indonesian product designer Adika Titut Triyugo. They are equipped with a pair of rotary cleaners on the sole of each shoe and a LED display on top that indicates battery life and cleaning progress. So be a trooper and go vacuum.
It's a love/hate thing. The cycling helmet can save your life, but it doesn't look good and tends to ruin your hair. Thankfully the future offers a solution -- the Hövding. A Swedish creation, the Hövding is an "airbag for cyclists". It's worn as a collar and only expands into a full helmet if you have an accident.
The future is all about leading a stress-free life and having all the solutions for all problems at hand. Literally. For example, if you wear Lark Pro's vibrating alarm bracelet, you can slip out of bed quietly without waking your partner. It's also designed to help insomniacs improve their sleeping patterns, by picking the optimal time in a sleep cycle to wake a user up.
Don't like strangers approaching you? Then the Smoke Dress is a must-have. Designed by Anouk Wipprecht, the dress can suddenly visually obliterate itself through the emission of a cloud of smoke. Ambient clouds of smoke are created when the dress detects a visitor approaching, thus camouflaging itself within it's own materiality. Perfect if you are a fashionable socialite AND a misanthrope.
Tired of waiting forever at a bar before you finally get your mojito? Tired of over-crowded bars even? Soon, your best cocktail dress will also make the cocktails. The DareDroid dress uses medical technology, customized hardware and mood analysis to provide you with your favorite poison. Designed by Anouk Wipprecht.
One ring to rule them all! Use the NFC Ring, a UK-based Kickstarter project created by John McLear, to unlock doors, share pictures, share social network links, unlock phones and much more. Just fist-bump your phone or tablet or use an open-palm gesture to transfer the information. And it never needs charging. Booya!
Shine bright like a diamond ... or be the star at futuristic rave parties. The GalaxyDress by CuteCircuit is embroidered with 24,000 full color LEDs, and is believed to be the largest wearable display in the world. The LEDs are extra-thin, flexible and hand embroidered on a layer of silk. Fabulous darling!
Doing exercise without monitoring yourself be rare in the future of wearable technology. And wearing a giant watch that counts your steps is so 2012. That's where the Misfit Shine necklace comes in. It's a physical activity tracker that you can hang around your neck, or put wherever your want. The Shine's 12 dots represent your daily activity goal.
Glow in the dark with the LumiDress. Made up of ultra-thin optical fibers woven together with other synthetic fiber this dress will light up the night.
This concept dress called Bubelle by Philip's Design interacts with and predicts the wearer's emotional state by changing colors. A beautiful white can turn into a relaxed blue. Philip's dresses are made from high-tech materials and are still in the concept phase.
In the future, your dress might advise you to skips that romantic walk through the fields. It might tell you that the area's greenhouse gas levels are too high. Danish design company Diffus has created the Climate Dress. It's laced with hundreds of small LEDs that will respond to greenhouse gases. They will pulse slowly when the levels are normal and flash rapidly in highly polluted areas.
Thanks to all those gadgets you can attach to your body, there will soon be no excuse not to exercise. And to avoid injuries in the future where everyone will jog to work, Sensoria Socks by Heapsylon have come up with sensor-equipped textile that couples with an activity tracker to identify injury-prone running styles. Then, using a simple app, it coaches the runner to reduce those tendencies.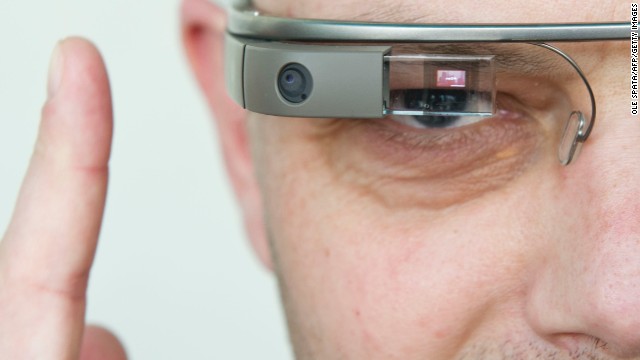 Wearable technology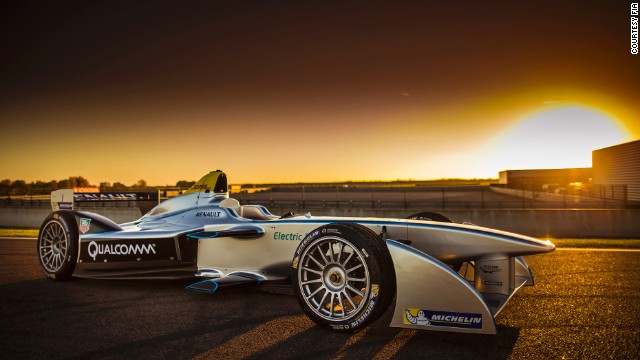 New year, new technology. Take a look through our gallery of the biggest tech stories we're likely to see in 2014.
Zoom! Electric racers capable of 220 kph will be flying around the streets of 10 of the world's biggest cities in 2014, with the arrival of Formula E -- the new FIA championship featuring single-seater cars powered exclusively by electric energy. The inaugural season kicks off in September with 10 teams battling in Beijing, then across the globe.
Blast off! Virgin Galactic's year has already got off to a flying start: its reusable space vehicle "SpaceShipTwo" completed its third rocket-powered flight -- soaring to a new record height of 71,000 feet, above the Mojave Desert, California on 10 January.
Whoosh! The search for viable renewable energy sources continues apace: the United States is set to join Europe in developing offshore wind power facilities this year -- with Massachusetts and Rhode Island battling to become the home of the country's first offshore windfarm.
Boom! A new engine called VASIMR -- that's "Variable Specific Impulse Magnetoplasma Rocket" in full -- goes on trial in March. NASA hopes the new engine will cut the time it takes to get to Mars to just three months.
Huh? Playing god could be big in 2014, as scientists look to create man-made life forms to perform useful tasks. This could be the year artificial microbes help us start winning the war against pollution.
Zip! Wearable tech arrives this year, with the most high-profile project -- the much-hyped Google Glass -- expected on the market before 2015. Will this be the year we embrace smart socks and solar-powered trousers?
Smash! The Large Hadron Collider will re-awaken in 2015 -- but scientists anticipate discoveries about dark matter before then. The mysterious matter, which scientists believe accounts for 24% of the universe, has only been detected by its gravitational effect so far. We could know more later this year...
Kick! Kickstarter has shaken up the world of tech by allowing individuals to say which gadgets they think are worth funding -- now, the JOBS act could do the same for start-up businesses. Fledgling tech companies could be exploding onto the scene this year on the back of your investment -- no middle-man required.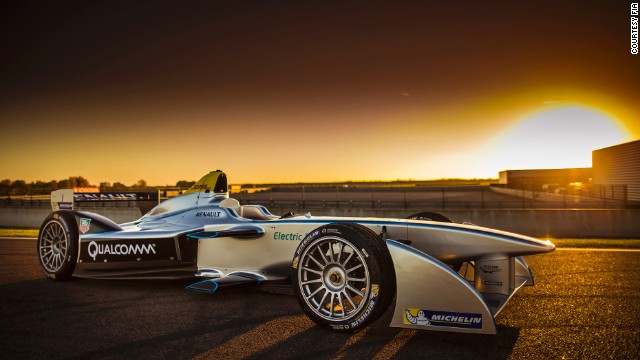 Coming soon: tech in 2014
"It's on a path to connecting a billion people. There are very few services in the world that can reach that level and they're all incredibly valuable."
Zuckerberg said there were no plans to harvest data from WhatsApp messages, in answer to a question from the audience. "That's the service that people want, we would be silly to change it."
Asked if he thought concerns over privacy could be a problem for Facebook as it aims for greater global penetration, he said: "The NSA issue is a real issue, especially for American internet companies.
"Trust is just such an important thing when you're thinking about using any service where you're going to share important and personal information.
"We continue to work to be sure we can share everything that the government is asking of us."
"The government kind of blew it on this. Governments have a responsibility to protect folks and to also be transparent about what they're doing and I think they've just been way over the line in terms of sharing what they are doing.
"But they are only now starting to get to the range of where they should have been. I think this whole thing could have been avoidable and it would have been a lot better for the internet."
Asked if Facebook would consider bidding again for Snapchat, Zuckerberg said: "After buying a company for $16 billion you're probably done for a while." Snapchat reportedly turned down a $3 billion offer from Facebook last year.
Zuckerberg's debut at the trade show, the biggest of its kind in the world, underlines the importance of mobile to the future of the social media giant.
While audience interest was in WhatsApp, Zuckerberg -- on stage with technology journalist and writer David Kirkpatrick --- was at the show to promote Facebook's work with Internet.org.
Facebook partnered with technology leaders, nonprofits, local communities and experts for the initiative.
"Most people in the world don't have access to the internet at all ... it's about 2.7 billion people today.
Mark Zuckerberg
Zuckerberg said the goal of Internet.org is to ensure everyone in the world has access to the internet in some form, either for a small cost or for free. He said this could be achieved by improving mobile infrastructure and reducing the amount of data required to use services.
"Most people in the world don't have access to the internet at all ... it's about 2.7 billion people today. It's growing way slower than you would imagine. Our vision is to try to connect everyone."
Earlier Monday, Facebook announced it would help roll out an online education program in Rwanda. The deal, which will initially be offered to university students, has been done in partnership with telecommunications giant Airtel, which is providing free educational data for a year to those who sign up and Nokia, which is offering discounted smartphones to those participating.
Pamela Clark-Dickson, senior analyst at Informa, said Zuckerberg's appearance in Barcelona made sense given that mobile is key to Facebook's strategy.
"It gives him the opportunity to engage with key mobile operator partners, which will be important in the wake of Facebook's acquisition of WhatsApp," she said.
"Mobile operators will be keen to discuss with and to learn from Zuckerberg his plans for developing Facebook further as a service from which he can generate revenues from mobile."
Clark-Dickson said the announcement in Barcelona by WhatsApp CEO Jan Koum that the messaging service will add voice calls to its product in the second quarter of 2014 will also be something that mobile operators will want to talk to Zuckerberg about.