Huawei enters wearables game with TalkBand hybrid smartwatch
STORY HIGHLIGHTS
Chinese mobile giant unveils first wearable technology
Will go on sale for €99 ($136)
2014 crucial year for wearable technology
Launch also includes 8-inch tablet and 7-inch "phablet"
(CNN) -- Chinese mobile technology leader Huawei unveiled the latest additions to its stable Sunday in Barcelona, ahead of the 2014 World Mobile Congress, including its "hybrid" fitness band/smart watch.
CEO Richard Yu presented the TalkBand B1 at the company's launch press conference. Connected to a smartphone via bluetooth, the device functions as both a fitness tracker and a phone -- a detachable bluetooth headset adds voice and text functionality. It also improves upon existing fitness trackers by housing a USB port in its wristband for charging.
It is touted to retail at $136 and expected to go on sale in China in Q1 2014 before being rolled out gradually across the rest of the world, although some in the tech community are less than enamored with its appearance.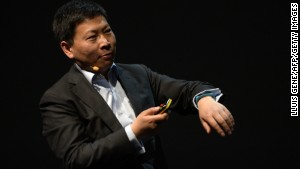 Huawei CEO Richard Yu shows off his TalkBand smart watch ahead of the Mobile World Congress in Barcelona
It is currently designed to work with Huawei smartphones but its compatibility will be expanded upon in the future.
While it seems the world may be getting sick of smart watches that don't seem all that smart, and "glassholes" showing off their obtrusive technology, market research firm Canalys predicts that "2014 will be the year that wearables become a key consumer technology."
Along with fitness applications -- Samsung's recently-unveiled followup to its much-derided Galaxy Gear smartwatch includes fitness-tracking -- the next generation of smart watches has considerable potential for the medical market.
Huawei also released a number of other products at the media launch, including the MediaPad X1, a 7-inch Android-powered "phablet" that is expected to challenge Samsung's Nexus 7 and Apple's iPad mini.
Samsung is set to unveil its latest product -- widely understood to be its Galaxy S5 -- on Monday.

Today's five most popular stories
Part of complete coverage on
Mobile World Congress
March 13, 2014 -- Updated 1157 GMT (1957 HKT)

Mobile World Congress spans the full spectrum of untethered gadgetry, from the next generation of mobile phone networks to wireless charging technology.
February 26, 2014 -- Updated 1554 GMT (2354 HKT)

Big Data is like teenage sex: everyone talks about it, nobody really knows how to do it, everyone thinks everyone else is doing it, so everyone claims they are doing it.
February 26, 2014 -- Updated 1106 GMT (1906 HKT)

After three-plus years, the world's largest social media outlet is pulling the plug on its little-used e-mail service.
February 26, 2014 -- Updated 1446 GMT (2246 HKT)

Mobile World Congress returned to form this year, with Samsung, Sony, and Huawei all choosing to launch flagship devices in Barcelona. These are my picks from the show:
July 16, 2014 -- Updated 1142 GMT (1942 HKT)

Mobile World Congress begins in Barcelona Monday and amid the hoopla of new super-phones, largely unknown technologies will be revealed. And it will be these that change our lives.
February 24, 2014 -- Updated 1342 GMT (2142 HKT)

With a lack of gender diversity in the tech sector, the time has come to make women in ICT a norm rather than the exception
February 25, 2014 -- Updated 1025 GMT (1825 HKT)

The medical and healthcare sectors are in the midst of rapid change, and it can be difficult to see which new technologies will have a long-lasting impact.
February 25, 2014 -- Updated 2026 GMT (0426 HKT)

Facebook founder Mark Zuckerberg said WhatsApp was "worth more than $19 billion" during a speech given at Mobile World Congress in Barcelona Monday.
February 24, 2014 -- Updated 1944 GMT (0344 HKT)

Sony has announced a tie-up with the estate of Michael Jackson, allowing them to use his music to promote the release of a new smartphone.
May 1, 2014 -- Updated 1929 GMT (0329 HKT)

Financial transactions have always been at the heart of our society, but growing smartphone and Internet penetration are inspiring new, disruptive approaches.
February 24, 2014 -- Updated 1039 GMT (1839 HKT)

Google has heard all the concerns about Glass, its digital headset expected to hit the market by the end of the year.
February 18, 2014 -- Updated 1305 GMT (2105 HKT)

Looking for a new way to reach your fitness goals? Now's the time to check out some of the hottest fitness apps as 2014 gets underway.
October 31, 2014 -- Updated 1710 GMT (0110 HKT)

What if Facebook spent $19 billion on something and most people never noticed?

See full coverage from the world's biggest mobile technology conference in Barcelona, Spain.