Facebook's WhatsApp adding voice calls
STORY HIGHLIGHTS
Facebook bought popular texting service WhatsApp last week
WhatsApp adding voice calls to its messaging service
CEO announces the plan at Mobile World Congress in Spain
(CNN) -- WhatsApp, the globally popular texting app that Facebook just acquired for a whopping $19 billion, is adding phone calls to its list of services.
At the Mobile World Congress in Barcelona, Spain, WhatsApp CEO Jan Koum said the voice service will be free and begin rolling out to users within the next few months.
Currently, WhatsApp offers unlimited text and voice-mail messages between users. Its service is free for the first year, then costs 99 cents annually.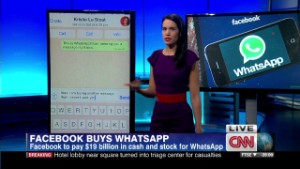 Why did Facebook buy WhatsApp?
"We want to make sure people always have the ability to stay in touch with their friends and loved ones really affordably," Koum said in a speech at Mobile World Congress.
As reported by multiple news outlets, Koum also announced that WhatsApp now has 465 million monthly users and 330 million daily users. The latter is 15 million more than what was made public last week when Facebook announced the purchase.
Voice service will come first to Apple devices and Google's Android operating system, with Windows phones and Blackberry to follow.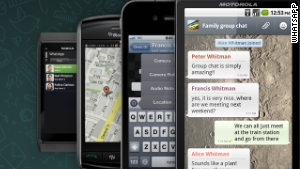 WhatsApp now has more than 330 million daily users and is popular in places such as India, South Korea and Germany.
The move puts WhatsApp in competition not only with other messaging apps that offer voice but chat tools such as Skype and even mobile carriers. WhatsApp's unlimited texting has already helped establish it in places where smartphones and fancy data plans are less common.
It has 40 million users in India and another 38 million in Brazil, two countries highly coveted by tech companies such as Facebook for their large populations and emerging mobile customer base. WhatsApp hasn't released figures for the United States, where it is less popular.
Last week, Facebook shocked the business world when it announced it was buying WhatsApp for up to $19 billion in cash and stock -- by far the social network's largest acquisition to date.

Today's five most popular stories
Part of complete coverage on
Mobile World Congress
March 13, 2014 -- Updated 1157 GMT (1957 HKT)

Mobile World Congress spans the full spectrum of untethered gadgetry, from the next generation of mobile phone networks to wireless charging technology.
February 26, 2014 -- Updated 1554 GMT (2354 HKT)

Big Data is like teenage sex: everyone talks about it, nobody really knows how to do it, everyone thinks everyone else is doing it, so everyone claims they are doing it.
February 26, 2014 -- Updated 1106 GMT (1906 HKT)

After three-plus years, the world's largest social media outlet is pulling the plug on its little-used e-mail service.
February 26, 2014 -- Updated 1446 GMT (2246 HKT)

Mobile World Congress returned to form this year, with Samsung, Sony, and Huawei all choosing to launch flagship devices in Barcelona. These are my picks from the show:
July 16, 2014 -- Updated 1142 GMT (1942 HKT)

Mobile World Congress begins in Barcelona Monday and amid the hoopla of new super-phones, largely unknown technologies will be revealed. And it will be these that change our lives.
February 24, 2014 -- Updated 1342 GMT (2142 HKT)

With a lack of gender diversity in the tech sector, the time has come to make women in ICT a norm rather than the exception
February 25, 2014 -- Updated 1025 GMT (1825 HKT)

The medical and healthcare sectors are in the midst of rapid change, and it can be difficult to see which new technologies will have a long-lasting impact.
February 25, 2014 -- Updated 2026 GMT (0426 HKT)

Facebook founder Mark Zuckerberg said WhatsApp was "worth more than $19 billion" during a speech given at Mobile World Congress in Barcelona Monday.
February 24, 2014 -- Updated 1944 GMT (0344 HKT)

Sony has announced a tie-up with the estate of Michael Jackson, allowing them to use his music to promote the release of a new smartphone.
May 1, 2014 -- Updated 1929 GMT (0329 HKT)

Financial transactions have always been at the heart of our society, but growing smartphone and Internet penetration are inspiring new, disruptive approaches.
February 24, 2014 -- Updated 1039 GMT (1839 HKT)

Google has heard all the concerns about Glass, its digital headset expected to hit the market by the end of the year.
February 18, 2014 -- Updated 1305 GMT (2105 HKT)

Looking for a new way to reach your fitness goals? Now's the time to check out some of the hottest fitness apps as 2014 gets underway.
October 31, 2014 -- Updated 1710 GMT (0110 HKT)

What if Facebook spent $19 billion on something and most people never noticed?

See full coverage from the world's biggest mobile technology conference in Barcelona, Spain.