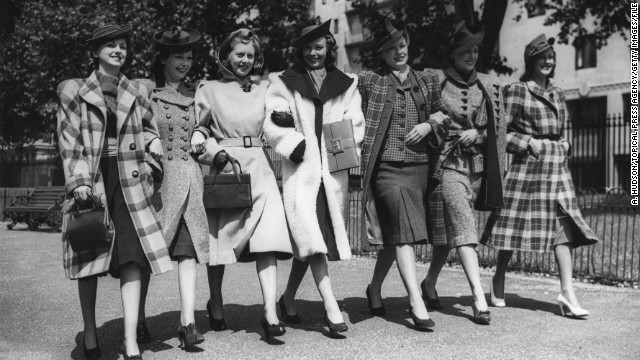 These American models from 1940 know how to dress to impress. But how has women's work wear evolved over the last century? And who were some of the pioneering power dressers who helped shape it?
Casual, chic, Coco. The French designer's stylish suits -- pictured here in 1929 -- were part of a new era of comfortable fashion for women.
One of the world's first supermodels, American Dorian Leigh, wears a cinched-waist jacket from designer Vera Maxwell. In the 1930s Maxwell created the "weekend wardrobe" -- "It was for women who had busy lives, who might travel for their work, and needed ready-to-wear things," said fashion history professor, Rebecca Arnold.
Coco Chanel once dismissed her rival, Elsa Schiaparelli, as: "That Italian artist who makes clothes." Indeed, the designer (pictured right, wearing the "trousered skirt") was known for her whimsical, surrealist-inspired pieces, even collaborating with Salvador Dali.
The Second World War was an interesting time for women's work wear, with many taking on the jobs of men away in battle -- such as the London Underground cleaner pictured on the left, and the bus conductor on the right. Rations also meant luxuries like stockings were in short supply. The center image shows a make-up artist drawing lines on the backs of bare legs, to give the illusion of stocking seams.
The 1950s saw a return to a more feminine style, with designer Anne Fogarty (pictured) leading the way. "Fogarty had the tiniest, tiniest waist, and made all these corseted dresses -- but also was a successful career woman herself," said Arnold. "It was a combination of being very 'housewifey' but also very powerful and dramatic."
It's hard not to think of 1960s office attire without conjuring images of the flawlessly tailored cast of "Mad Men." Here, actress Christina Hendricks' hourglass figure is emphasized with a streamlined dress fitted to perfection. "In the 1960s you have a continuation of the 1950s tailored look -- but breaking it up with more color," said Arnold.
British Airways staff show off their new uniforms in 1977. Over the years, many airlines have commissioned outfits from top designers, such as Yves Saint Laurent for Qantas in the 1980s, Giorgio Armani for Alitalia in the 1990s, and Christian Lacroix for Air France in the 2000s.
Big collars and bigger hair didn't get in the way of Charlie's Angels (Farrah Fawcett, Jaclyn Smith, and Kate Jackson) doing their job in the the 1970s TV series.
Investigative journalist Murphy Brown wore the pants (and the blazer) in 1980s TV series of the same name. This was the decade of the power suit, with everyone from Princess Diana to Margaret Thatcher donning the ubiquitous shoulder pads.
The 1980s also saw a return of fussy ruffles and bows, as seen in this Christian Dior taffeta dress.
In the 1990s, the suit jacket took on a softer look. "It was very understated," said Arnold. "Phenomenally expensive and luxurious, but not really embellished. "
Working girls
Coco Chanel
Vera Maxwell
Elsa Schiaparelli
Ration fashion
Anne Fogarty
The secretary
Airline attire
Angels at work
Power suit
Fancy dress
Slick style
STORY HIGHLIGHTS
How do women dress to impress in the workplace?
Look back at a century of (sometimes outrageous) office fashion
From WW2 uniforms, to 1950s princess dresses, and modern day suits
Female fashion designers created signature pieces -- but still have a way to go
Editor's note: Leading Women connects you to extraordinary women of our time -- remarkable professionals who have made it to the top in all areas of business, the arts, sport, culture, science and more.
(CNN) -- Cast your eye across a line-up of world leaders and it might look a little something like this: Man in dark suit, man in dark suit, man in dark suit, Angela Merkel in fire engine red two-piece.
Or it could be mint green. Maybe electric blue. It doesn't really matter which part of the rainbow the German Chancellor chooses to swathe herself in, her multi-colored power suits have become as much a part of political fashion mythology as Margaret Thatcher's shoulder pads or Jacqueline Onassis' pearls.
Ok, so while Merkel isn't going to be invited to the front row of the world's biggest fashion weeks -- kicking off in New York, Paris, and London this month -- anytime soon, there's no denying the powerful politician's equally imposing wardrobe.
But then, how do women dress to impress in the workplace? And how has it changed over time?
From the severe khaki uniforms of World War Two, to romantic princess frocks of the 1950s, and fierce power suits of the 1980s, CNN takes a look at women's work wear in the 20th century -- and the pioneering female designers behind them.
Function vs fashion
"Women have worn tight pencil skirts and high heels at various times, which isn't necessarily functional, but they might feel they have to wear them in their workplaces to be taken seriously, " said Rebecca Arnold, professor of fashion history at London's Courtauld Institute of Art.
"I think women's work wear is more to do with being mentally comfortable, fitting in, and being seen as respectable."
Of course each workplace is different. As Arnold says: "Someone who's a lawyer is going to dress in a very different way from someone working in a shop."
Working it
Gaze across some of the most popular workplace fashions of the last 100 years, and they often act as a mirror to much bigger social trends.
Women's work wear is more to do with being mentally comfortable, fitting in, and being seen as respectable
Rebecca Arnold
"What you see from the 1920s onwards, is this negotiating of public space -- using dress to visualize the way women are seen at work, and how they want to be seen," said Arnold.
"In the 1970s you had lots of debates around what women should wear to be feminist and still be taken seriously. Some really felt you should wear trousers and others thought that was wrong because it was being seen as a man."
And just because it's workplace fashion, doesn't mean it has to be fashionable.
"We've still got shirts that look like men's shirts, we've still got suits based on men's fitting," said Arnold. "Workplace fashion doesn't move quite as fast as fashion itself."
By women, for women
Then there's the female designers who helped redefine women's wear in the modern age. From Coco Chanel's suit dress in the 1920s, to Diane von Furstenberg's casual wrap dress in the 1970s, some of the most pioneering pieces were created by women.
Still, many of the top fashion houses are still dominated by male names -- think Christian Dior, Yves Saint Laurent and Gianni Versace.
"Perhaps in the wider culture, men have traditionally been more successful at marketing themselves and having authority over their customers," said Arnold.
"I think that's gradually changing -- but I don't think you're going to see more women in fashion until you see more women in all kinds of roles across the board."
Read: Meet the new generation of 'modelpreneurs'
See: Lyndsey Scott -- she's a beauty and a geek
Watch: What next for Russia's billionaire 'Tsarina?'