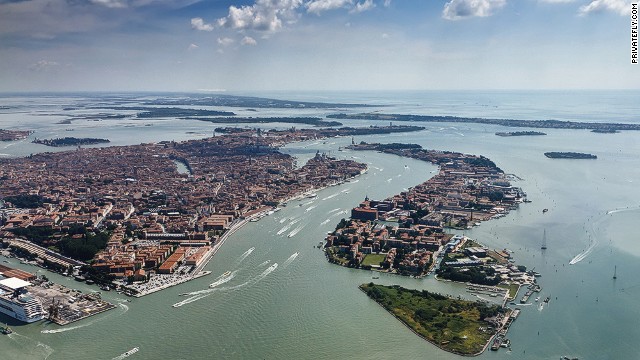 Water, and lots of it, in view on the approach to Italy's city of canals - one airport among this selection from the PrivateFly.com shortlist. Sit on the right of the aircraft for the best view, says one judge in the poll.
Dramatically restricted space makes this a teeth-clenching landing, but the view of "Africa, Europe and the Rock" is an "antidote to boring bus-stop airline flights," says another judge.
"You descend over the Black Sea, watching the city and Olympic Park unfold in front of you, with a beautiful mountain backdrop," writes one fan.
"The most incredible approach, with views of Guanabara Bay," says a PrivateFly.com voter.
A landing at this James Bond ("Tomorrow Never Dies") stunt scene -- used by private aircraft -- gets the blood pumping for the Alpine snow action to follow.
Arriving at this airport used for charter and private flights is "sublime ... in any season, surrounded by banks of pine trees, mountains and a river" reads one commendation.
A palette of Caribbean Ocean blues spreads out beneath you as you approach this airport named after the island's former reigning monarch.
The only airport in the world with scheduled runways landing on a beach, Barra's runway is submerged at high tide.
"You arrive as the African dawn is breaking over one of the continent's most dramatic mountain ranges. Below is the sprawl of squatter shacks that put this natural beauty in perspective," says veteran British travel editor Graham Boynton.
Informally known as Chek Lap Kok, H.K.'s main airport was built on land specially reclaimed for the purpose.
Views of Westminster, the London Eye, Tower Bridge, and St. Pauls are possible as you approach this single-runway airport by the Thames.
It's hard to imagine a more quintessential city view than the cluster of skyscrapers almost scratching your undercarriage as you approach Manhattan.
There's a "beautiful approach from the north-east over the Alps, then Monaco, or west with the red Estérel Mountains on the left and blue Med on the right," says the aviation journalist Sylvie Peron.
The plunge into this steep valley containing secluded Bhutan's only international airport is as beautiful as it is challenging -- only eight pilots in the world are qualified to land here.
Venice Marco Polo Airport, Italy
Gibraltar International Airport
Sochi International Airport, Russia
Rio de Janeiro-Galeão International Airport, Brazil
Courchevel Altiport, France
Squamish Airport, Canada
Queen Beatrix International Airport, Aruba
Barra International Airport, Scotland
Cape Town International Airport, South Africa
Hong Kong International Airport
London City Airport, UK
JFK International Airport, New York
Nice Côte d'Azur International Airport, France
Paro International Airport, Bhutan