STORY HIGHLIGHTS
NBA veteran Jason Collins announced last April that he was gay
After being out of work all season, he recently signed with the Nets
His Brooklyn jersey is now the top-seller on the NBA's website
(CNN) -- Last week, Jason Collins wasn't even on an NBA team. In two weeks, he might not be on one.
But for now, Collins -- the first openly gay, active player in the United States' four big sports leagues -- is, by jersey sales, the NBA's most popular player.
NBA Senior Vice President Vicky Picca said Tuesday that Collins' No. 98 Brooklyn Nets uniform is the top-seller on NBA.com, besting the likes of LeBron James, Kevin Durant and Blake Griffin. The interest is coming from the fans Collins has earned since announcing last year, when he was still unemployed, that he was gay.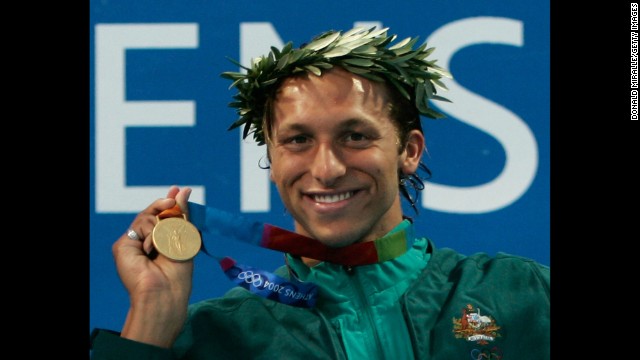 Swimmer Ian Thorpe, seen here in 2004 with one of his five Olympic gold medals, told an Australian news outlet that he is gay in an interview that aired on Sunday, July 13. Click through to see other openly gay athletes.
Former Missouri defensive end Michael Sam told ESPN and The New York Times that he is gay on February 9. Sam later became the first openly gay player to be drafted by a NFL team when he was taken by the St. Louis Rams in the seventh round.
Robbie Rogers became the first openly gay male athlete to play in a professional American sporting match when he took the field for Major League Soccer's Los Angeles Galaxy during a match against the Seattle Sounders on May 26.
"I didn't set out to be the first openly gay athlete playing in a major American team sport. But since I am, I'm happy to start the conversation," NBA player Jason Collins said in a Sports Illustrated article.
Sheryl Swoopes, a retired WNBA star and coach of the Loyola University Chicago's women's basketball team, came out in 2005.
Brittney Griner, selected No. 1 in the 2013 WNBA draft by the Phoenix Mercury, is openly gay.
In an exclusive interview with CNN, former San Francisco 49ers player Kwame Harris came out as gay after rumors circulated in the media.
Rugby player Gareth Thomas of Wales spoke about being gay to a British news channel in 2009.
Justin Fashanu became the first openly gay soccer player in Europe when he came out in 1990. Eight years later, he took his own life.
Tennis great Martina Navratilova came out in 1981.
After his retirement in 2007, basketball player John Amaechi announced he was gay.
After retiring from professional football in 1972, David Kopay acknowledged to the Washington Star that he was gay.
Villanova University's Will Sheridan came out to his teammates in 2003.
In 2012, U.S. women's soccer player Megan Rapinoe confirmed in Out magazine that she was a lesbian.
Champion figure skater Johnny Weir confirmed in his 2011 memoir, "Welcome to My World," that he was gay.
Australia's Matthew Mitcham came out in an interview with the Sydney Morning Herald in 2008.
In 2012, Orlando Cruz became the first active professional fighter to publicly announce that he was gay.
Openly gay British dressage rider Carl Hester helped his team win gold at the 2012 Olympics.
English cricketer Steven Davies announced he was gay in 2011.
Germany's Judith Arndt won the silver medal in cycling at the 2012 Olympics.
Billy Bean, a former Major League Baseball player, discussed being gay in a 1999 New York Times article.
Tennis legend Billie Jean King was outed by a former female partner in 1981.
In 2002, professional football player Esera Tuaolo came out on HBO's "Real Sports."
French tennis player Amelie Mauresmo came out in 1999.
Greg Louganis, who won four Olympic golds for the United States during his diving career, has been openly gay since 1995.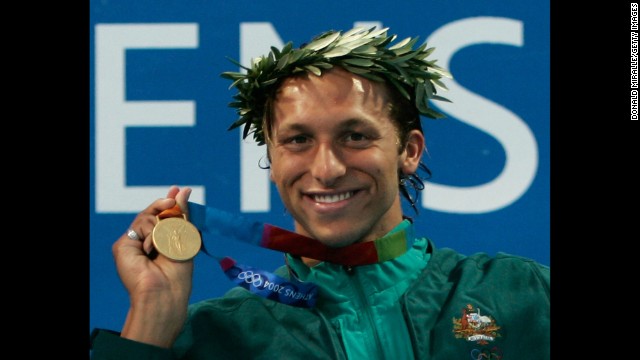 Photos: Openly gay athletes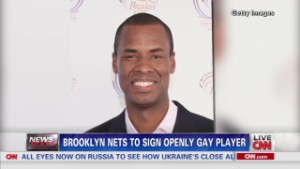 Brooklyn Nets signs Jason Collins
"Jason Collins' return to the league represents a historic moment, and fans continue to show their support by (buying) Jason's jersey," said Picca.
Not bad for a player who, just last week, inked a 10-day contract with the Nets. And the Stanford graduate hardly dominated in his lone game back on the court, going scoreless while compiling two rebounds and five personal fouls in a win over the Los Angeles Lakers.
In fact, Collins had never been a headline player. A journeyman with stops with New Jersey, Memphis, Minnesota, Atlanta, Boston and Washington, he's known more for his defensive prowess and rebounding than his offensive output, having averaged 3.6 points per game over his 12-year career.
The warm reception he received during and after that game from his teammates, competitors like Kobe Bryant and league officials reflects more on Collins' reputation as a player and person around the league, as well as his historic announcement.
"I know everyone in the NBA family is excited for him and proud that our league fosters an inclusive and respectful environment," said NBA Commissioner Adam Silver after Collins' signing last Sunday.
Whether Collins stays around remains to be seen. At age 35, he's not bringing fresh legs to Brooklyn. And the team has no obligation to keep him on the roster.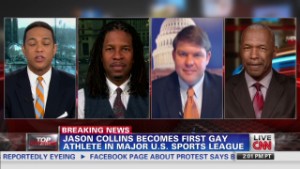 Jason Collins: First Out Athlete in NBA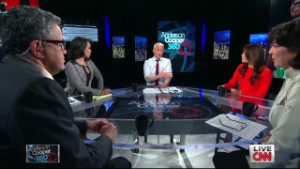 Jason Collins: Living in the public eye
Still, whether or not he's a go-to player, Collins has very much become a symbol for the gay rights movement since disclosing his sexuality in an April column in Sports Illustrated magazine.
"I didn't set out to be the first openly gay athlete playing in a major American team sport. But since I am, I'm happy to start the conversation," he wrote.
"I wish I wasn't the kid in the classroom raising his hand and saying, 'I'm different.' If I had my way, someone else would have already done this. Nobody has, which is why I'm raising my hand."
There's no escaping the symbolism in his jersey number: He chose 98 in honor of Matthew Shepard, the gay University of Wyoming student beaten to death in 1998.
The news that the Nets jersey was selling so well (despite the fact that Collins hasn't even worn it yet, having at first donned a No. 46 for the Lakers game) struck a chord online.
Some on Twitter praised the development, like one who wrote, "He's a piece of history, and this is really significant for a lot of people."
Many others, though, were less enthusiastic -- including some who used gay slurs and suggested Collins was profiting because he is gay. (In fact, NBA players don't get more or less money based on how many of their jerseys are sold.) Some questioned why Collins was being held out as an icon while, in their view, athletes who publicly profess their Christianity are criticized.
A few people questioned the jersey sales not because of Collins' sexuality, but because of what they considered his sub-par play.
"Jason Collins' jersey was actually a top-seller?" tweeted one. "Wow...I mean I'm glad he came out and all but #CmonMan."