Rio's slums the hot World Cup destination?
February 26, 2014 -- Updated 1314 GMT (2114 HKT)
STORY HIGHLIGHTS
Staying at a hostel could cost as much as $400 a night during the World Cup
About 600,000 foreign fans are expected during the tournament
Rooms in Rio's favelas could go for as little as $50 a night
Security in some favelas remains a concern
Rio de Janeiro, Brazil (CNN) -- High above the beaches in Rio de Janeiro's hillside slums, you can get some of the best views in town. And now, they come from some of the cheapest rooms as well.
With the World Cup less than four months away, residents in many once infamous favelas are opening their doors to tourists, renting beds, rooms or even entire houses, and building youth hostels.
"If you want to see the World Cup, see some football matches and experience true Brazilian life you should really check this out," says Michael Blommers, a Dutch backpacker staying at a hostel in the Vidigal shantytown.
Beds at hostels in Copacabana and Ipanema beaches, which usually go for around $40 a night, are expected to cost as much as $400 during the World Cup. Hotels are even more expensive, with many requiring multiple-night stays.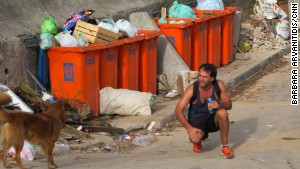 A tourist in Rio's Vidigal favela calls to a dog on a street.
But a bunk at Alto Vidigal Hostel will set guests back just $65 -- four times the usual price, but still a relative bargain.
Of course, visitors staying in Rio's favelas will likely be confronted with more than just a modest room. Garbage in these areas often piles up along the roads, while electricity, water and sewage services are spotty at best. Transportation can be precarious.
The biggest concern, though, is security. Just a few years ago, Rio's favelas were controlled by drug lords. Police have since stormed many of them, in a process dubbed "pacification," driving out armed gangs in an effort to make it relatively safe for residents and visitors. But they've had mixed results.
Periodic gun battles continue in many favelas. Just last week, drug traffickers shot at police posts in Rocinha, one of the biggest shantytowns in Rio.
Maria Clara dos Santos says she could hear the recent shootouts from her terrace. She rents rooms in her bright yellow house to foreign tourists and says safety depends on knowing where not to go and following rules.
"Don't use drugs, don't bring girls home, keep it a nice environment," she says.
A Los Angeles native, Elliot Rosenberg has launched a website with an eye on the World Cup allowing residents to rent out rooms to foreigners.
With some 600,000 foreign fans expected over the course of the tournament, there could be plenty of demand. But Rosenberg believes that many of those looking for rooms will be attracted by more than just the about $50 price tags on many rooms.
"They want more authentic, lively, meaningful experiences," he says. "They want to see the real Rio."
And, of course, those great views don't hurt either.
Curitiba stadium retains World Cup status

Part of complete coverage on
September 23, 2014 -- Updated 2009 GMT (0409 HKT)

The U.S. and several Arab nations carried out airstrikes against ISIS in Syria, intensifying the campaign against the militant group.
September 23, 2014 -- Updated 1218 GMT (2018 HKT)

Her friends were raped and her brother was killed by ISIS, but 15-year-old "Aria" managed to escape.
September 23, 2014 -- Updated 1058 GMT (1858 HKT)

Emma Watson lent her name and her glittery profile to the cause of feminism at the United Nations.
September 23, 2014 -- Updated 0106 GMT (0906 HKT)

From Gadhafi to Ahmadinejad, Bush to Chavez: look back at memorable moments from past UNGA sessions. Richard Roth reports.
September 23, 2014 -- Updated 0741 GMT (1541 HKT)

Just days after NASA's Mars orbiter reached the Red Planet, India's first mission could follow suit and make history.
September 23, 2014 -- Updated 2014 GMT (0414 HKT)

Khorasan, al Qaeda's new branch, seeks new ways to attack America and Europe.

Alibaba officially became the biggest initial public offering of all time, confirming that in the final tally it raised $25 billion.
September 23, 2014 -- Updated 0257 GMT (1057 HKT)

Do the Chinese really like to mix their Bordeaux with Coca-Cola?
September 23, 2014 -- Updated 0936 GMT (1736 HKT)

In the largely male-dominated world of the motorsport, South African super bike racer Janine Davies is an anomaly.
September 23, 2014 -- Updated 1130 GMT (1930 HKT)

The Lilongwe Wildlife Center houses over 200 animal victims and helps rehabilitate them back into the wild.
September 23, 2014 -- Updated 1052 GMT (1852 HKT)

Each day, CNN brings you an image capturing a moment to remember, defining the present in our changing world.

Browse through images from CNN teams around the world that you don't always see on news reports.

Today's five most popular stories