STORY HIGHLIGHTS
Security officers to be stationed at Everest to resolve disputes
Last year "brawl" took place on mountain between European climbers and Sherpas
Flat rate climbing fee also hoped to improve safety
(CNN) -- The world saw another side of Nepalese mountaineering in April last year when a brawl was reported between European climbers and Sherpas 22,000 feet up Mount Everest.
Now Nepalese authorities plan to station security officials at the base of the world's highest peak from the spring climbing season beginning in March.
Up to nine officers from the police and army will be sent to the mountain to try to resolve conflicts on the spot rather than having to appeal to authorities in Kathmandu.
"The police will be the state's representative at the mountain to verify incidents that have to be reported to the authorities," said Dipendra Poudel, a mountaineering official.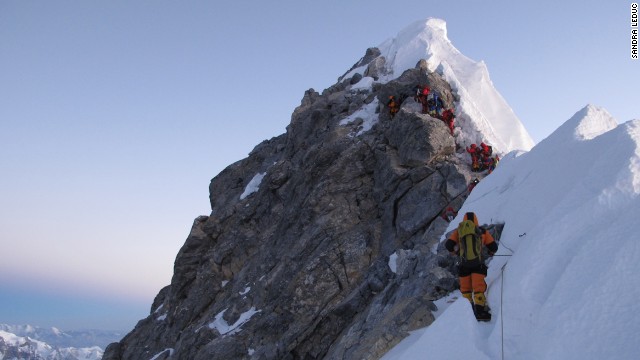 Mount Everest is a journey that challenges human nature on every level. Sandra LeDuc captured this photo as climbers approached the Hillary Step, before the Everest summit. Click through our gallery to see more photos from climbers taken on Everest during 2012.
Yak trains are used to carry the pounds of gear it requires to climb Everest. Jon Kedrowski's photo captured these yaks on the way to base camp.
A helicopter flies into base camp. Rescue helicopters can't fly above Camp 2 on Everest to reach stranded climbers.
A photo shows Jon Kedrowski crossing a crevasse in the Khumbu Icefall on a ladder.
Jon Kedrowski snapped this photo at 6:30 p.m. on May 19th, 2012, at 26,000 feet as he looked out from his tent. He thought the climbers were beginning their summit attempt, but many clustered at the top were just beginning to come down from the top.
The tents from Camp 1 appear incredibly small against the backdrop of Everest.
Nadav Ben Yehuda (left), Aydin Irmak and a Sherpa after Ben Yehuda rescued Irmak.
Ben Yehuda's hand after frostbite set in.
Ben Yehuda's photo of a lone tent at Camp 3 shows the loneliness that can reign on Everest.
The peak of Nuptse, just over a mile southwest of Everest, is visible amongst the clouds in the Nepalese Himalayas.
Climbers on Everest work to help someone in distress.
Sandra at Everest base camp with the team Sherpas.
The mesmerizing view from Everest's Pumori Camp 1, showing the visual effects of the atmosphere.
Sandra LeDuc captured this photo of a triumphant and relieved Jon Kedrowski reaching the summit of Mount Everest on May 26, 2012.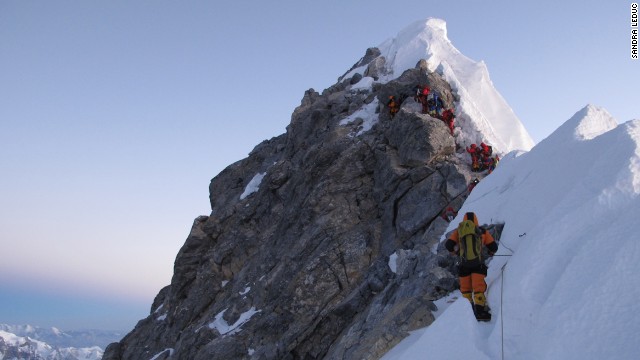 Everest: from base camp to the summit
"It's [part of] our effort to make mountaineering respectable."
Confrontation with Sherpas
The Swiss mountaineer Ueli Steck and the Italian Simone Moro were ascending Everest by a new route last April when they were reportedly confronted by a group of Sherpas laying ropes for other climbers who accused them of getting in the way.
The Europeans said the Sherpas threatened and then attacked them, including throwing rocks.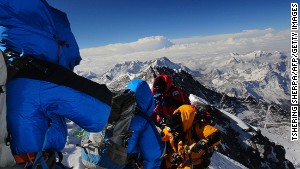 Around 300 people attempt to climb Everest every year.
The Sherpas said the climbers had caused ice to drop on them and had ignored requests not to advance until the ropes had been laid.
The issue was resolved after a meeting mediated by a Nepalese army official leading an expedition.
With police at base camp, Nepalese liaison officers -- who accompany expeditions to ensure they abide by local laws -- will no longer have to report incidents at the nearest police station a seven-day trek away, said Gyanendra Shrestha, who has worked as such an officer.
Beginning this year, the Nepalese government will also have a secretariat headed by a civilian at Everest base camp, to which security officials will report.
"We plan to have a meteorologist and communications expert at the secretariat, too," Poudel said.
Everest men: On top of the world in 1963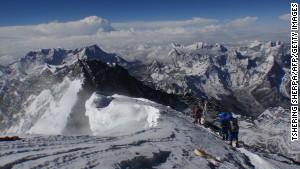 Some have called for climbing permits to be restricted to experts.
Mountain traffic jams
While the quarrel between mountaineers and Sherpas made headlines in 2013, Nepalese authorities came under fire in 2012 for allowing "traffic jams" to build up on the mountain, allegedly contributing to accidents.
There have been calls to restrict climbing permits to expert mountaineers, preventing novices from attempting the peak.
"We are looking into the basis for setting [the] criteria [for climbing]," Poudel said.
For the past several years, around 300 foreign climbers have attempted to ascend Everest each spring.
To further regulate traffic, beginning this year the government has revised its royalty fees for climbing the mountain.
Last year the fee went down from $25,000 per climber to $10,000 if there were more than seven in a team.
The result was that climbers who didn't know each other clubbed together in "artificial" teams to pay significantly lower royalties.
But under new regulations, each foreign climber will pay a flat rate of $11,000 irrespective of the number of climbers.
Poudel said it was hoped this would improve safety and make managing teams easier.
Climbers recount deadly traffic jam on Everest
Manesh Shrestha is a journalist based in Kathmandu.