Hong Kong newspaper editor Kevin Lau fights for life after stabbing
February 27, 2014 -- Updated 0019 GMT (0819 HKT)
STORY HIGHLIGHTS
Former Ming Pao chief editor Kevin Lau stabbed three times
Lau is in critical condition; attackers are still at large
Lau was sacked as editor last month, stirring outcry about Hong Kong's press freedom
Hong Kong (CNN) -- Hong Kong newspaper editor Kevin Lau, who became the center of controversy last month after being sacked from his post, is fighting for his life after being stabbed multiple times by an unknown attacker in Hong Kong, police say.
Lau, who was walking to his car at the time of the attack early Wednesday, was left bleeding with life-threatening injuries to a lung, his wife told journalists. Lau was taken to the city's Eastern Hospital.
The assailant escaped after jumping onto a motorcycle that was being driven by another man, police say.
Last month, journalists were outraged when Lau was suddenly sacked from his post as the chief editor of Ming Pao, a newspaper known for its hard-hitting reporting on China. Over 90% of Lau's staff filed a petition demanding an explanation for Lau's removal, and some Ming Pao writers left their columns blank in protest.
'Outraged'
Hong Kong's chief executive C.Y. Leung issued a statement Wednesday, saying he was "indignant" and "outraged" at the attack on Lau.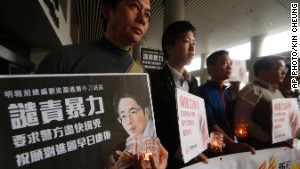 Protesters hold a picture of former Ming Pao editor Kevin Lau outside a hospital in Hong Kong.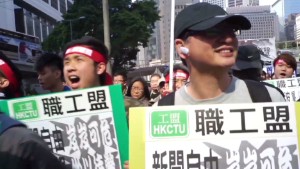 Hong Kong journalists protest censorship
"Hong Kong is a society ruled by law, and we will not tolerate this kind of violence," he said.
Hong Kong Journalists Association vice-chairman Shirley Yam said she felt "terrified."
"No journalist should be subject to violence," she told CNN. "I have known Kevin for 30 years and I cannot think of any reason why anyone would try to kill him."
Worrying trend
The attack on Lau comes in the wake of Sunday's demonstration by thousands of Hong Kongers protesting what they see as rapidly escalating efforts by China's Communist Party to control Hong Kong's media.
During the protest many of Lau's former colleagues spoke, saying Lau's dismissal reflected a worrying trend of media repression in the former British colony.
Wednesday's incident is not the first example of a physical attack on Hong Kong's media. Last June, knife-wielding arsonists threatened workers and burnt 20,000 copies of the Apple Daily, another Hong Kong newspaper critical of the government.
The Foreign Correspondents Club of Hong Kong released a statement Wednesday. "The growing number of attacks against members of the press in Hong Kong needs to be taken seriously by the local administration," the document said.
"Hong Kong's reputation as a free and international city will suffer if such crimes go unsolved and unpunished."
French-based Reporters Without Borders ranked Hong Kong 61st worldwide in press freedom in 2014 -- a far cry from its 18th place ranking in 2002, when its surveys were first conducted.
READ MORE: Hong Kong press freedom at all-time low

Today's five most popular stories
Part of complete coverage on
December 15, 2014 -- Updated 1144 GMT (1944 HKT)

A Chinese couple allegedly threw hot water on a flight attendant and threatened to blow up the plane, forcing the Nanjing-bound plane to turn back to Bangkok.
December 15, 2014 -- Updated 0503 GMT (1303 HKT)

China's 1.3 billion citizens may soon find it much harder to belt out their national anthem at will.
December 10, 2014 -- Updated 0021 GMT (0821 HKT)

Like Beijing today, Los Angeles in the last century went through its own smog crisis. The city's mayor says LA's experience delivers valuable lessons.
December 6, 2014 -- Updated 0542 GMT (1342 HKT)

At the height of his power, Zhou Yongkang controlled China's police, spy agencies and courts. Now, he's under arrest.
December 5, 2014 -- Updated 0826 GMT (1626 HKT)

China says it will end organ transplants from executed prisoners but tradition means that donors are unlikely to make up the shortfall.
December 5, 2014 -- Updated 0648 GMT (1448 HKT)

China's skylines could look a lot more uniform in the years to come, if a statement by a top Beijing official is to believed.
December 3, 2014 -- Updated 0855 GMT (1655 HKT)

Despite an anti-corruption drive, China's position on an international corruption index has deteriorated in the past 12 months.
November 26, 2014 -- Updated 1201 GMT (2001 HKT)

A daring cross-border raid by one of Russian President Vladimir Putin's associates has -- so far -- yet to sour Sino-Russian relations.
November 24, 2014 -- Updated 0051 GMT (0851 HKT)

A 24-hour Taipei bookstore is a hangout for hipsters as well as bookworms.
November 25, 2014 -- Updated 0153 GMT (0953 HKT)

China is building an island in the South China Sea that could accommodate an airstrip, according to IHS Jane's Defence Weekly.
November 19, 2014 -- Updated 1057 GMT (1857 HKT)

North Korean refugees face a daunting journey to reach asylum in South Korea, with gangs of smugglers the only option.
November 21, 2014 -- Updated 2319 GMT (0719 HKT)
China and "probably one or two other" countries have the capacity to shut down the nation's power grid and other critical infrastructure.