In yet another honor for Lupita Nyong'o, the actress was named one of Glamour's Women of the Year. She's had a busy 2014, as the following images show.
Nyong'o's striking looks have wowed audiences and critics, who have singled her out for her wardrobe and beauty.
Nyong'o hugs "12 Years a Slave" director Steve McQueen after winning the best supporting actress Oscar.
She won multiple accolades for "12 Years," including best supporting actress at the 19th Annual Critics' Choice Movie Awards.
"12 Years A Slave" was Nyong'o's first feature film.
The actress delivers an emotional performance with her portrayal of Patsey.
"12 Years A Slave" chronicles the true story of Solomon Northup, a free black man who was kidnapped and sold into slavery (played by Chiwetel Ejiofor, right).
"There is something about acting that's mysterious and magical, because there is only so much I can do to prepare, and then I have to just let go and breathe and believe that it will come through," Nyong'o said.
In the film, Nyongo's character is a young slave who has a volatile relationship with her erratic slave master.
Nyong'o poses after her win at the annual Screen Actors Guild Awards as best female actor in a supporting role award on January 18.
Nyong'o attends the 14th annual AFI Awards Luncheon in Beverly Hills, California, on January 10.
"In praising me, I feel like (Patsey's) spirit is being uplifted," Nyong'o said, "because what I met in those pages of Solomon Northup's book was heartbreaking."
Breaks were crucial on the set. "Having those moments of lightness and separation from the work we were doing on set was very important," Nyong'o said.
"12 Years A Slave" has been hailed by many as one of the best movies of the year.
Lupita Nyong'o
Lupita Nyong'o
Lupita Nyong'o
Lupita Nyong'o
Lupita Nyong'o
Lupita Nyong'o
Lupita Nyong'o
Lupita Nyong'o
Lupita Nyong'o
Lupita Nyong'o
Lupita Nyong'o
Lupita Nyong'o
Lupita Nyong'o
Lupita Nyong'o
Lupita Nyong'o
STORY HIGHLIGHTS
Lupita Nyong'o won best supporting actress Oscar in a fairy-tale rise in Hollywood
Michaela Angela Davis: She is a "pop of color" in neutral landscape of awards season
Davis: She gave a brilliant performance as the slave Patsey; now she's the It Girl
Her deep, rich skin tone and beauty inspire women and girls of color, Davis says
Editor's note: Michaela Angela Davis, a writer and activist, was the executive fashion, beauty and culture editor at Essence, editor in chief of Honey magazine and fashion director for Vibe magazine.
(CNN) -- "No matter where you are from, your dreams are valid."
Dignified, inspiring words spoken by young woman who looked like a fairy princess on Hollywood's most spectacular night. Lupita Nyong'o won the Academy Award for best supporting actress -- and black, brown and "other" women and girls all around the world exhaled with relief and cheered with delight.
The Cinderella story endures because deep down, people want to believe in improbable beauty and equal access to happily ever after. You know how it goes: A kind young girl alone and far from home is placed in a hostile environment, ignored and abused. Against all odds, she finds the power of her imagination, transforms into a graceful beauty and becomes the belle of the ball.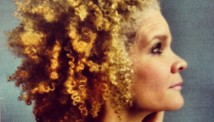 Michaela Angela Davis
Nyong'o's ascent into media stardom mirrors this legendary narrative. This is from Facebook: "I admit it. I can't go more than three days without looking at a picture of her. #LupitaNyongo."
That's one of the scores of daily posts on every social media platform about the breakout actress, mostly from women and girls of color. The image of Nyong'o is feeding an old hunger familiar to the hearts of women of African decent and quenching a newfound thirst for everyone else.
She is refreshing. She added, as they say in the fashion world, a "pop of color" to the neutral landscape of types in the 2014 awards season.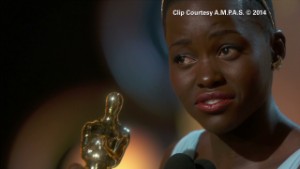 Lupita's Oscars speech the best ever?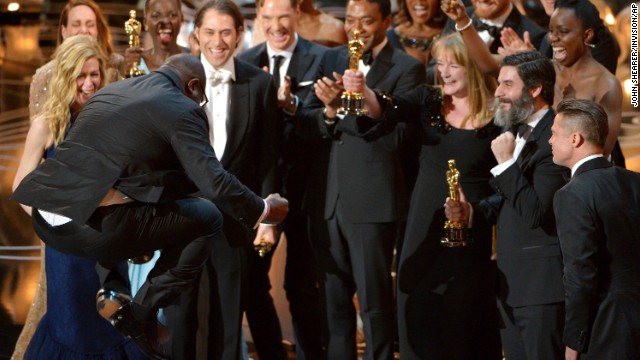 Director Steve McQueen, left, celebrates with the cast and crew of "12 Years a Slave" as they accept the Academy Award for best picture on Sunday, March 2.
Brad Pitt passes a slice of pizza to Meryl Streep after host Ellen DeGeneres took orders from the crowd.
Leonardo DiCaprio, left, congratulates Matthew McConaughey for winning the best actor Oscar for "Dallas Buyers Club." DiCaprio, who starred in "The Wolf of Wall Street," was also up for the award.
Cate Blanchett reacts after winning best actress for her role in "Blue Jasmine."
Angelina Jolie and Sidney Poitier present Alfonso Cuaron with the best director Oscar for "Gravity."
Pink sings "Over the Rainbow" while scenes from "The Wizard of Oz" are projected in the background. The performance was a tribute to the film's 75th anniversary.
DeGeneres channels Glinda the Good Witch from "The Wizard of Oz."
Glenn Close presents the annual "In Memoriam" tribute.
Bette Midler sings "Wind Beneath My Wings" during the "In Memoriam" segment.
Lupita Nyong'o hugs McQueen after winning best supporting actress for her role in "12 Years a Slave."
Amy Adams greets Bill Murray on stage. While reading the names of those nominated for best achievement in cinematography, Murray also mentioned director Harold Ramis, his "Ghostbusters" co-star who died last month at the age of 69.
DeGeneres takes a moment during the show to orchestrate a selfie with a group of stars. Bradley Cooper, seen in the foreground, was holding the phone at the time. "If only Bradley's arm was longer," DeGeneres tweeted. "Best photo ever." It reportedly became the most retweeted post of all time.
U2 performs its Oscar-nominated song "Ordinary Love" from the movie "Mandela: Long Walk To Freedom."
Darlene Love sings while accepting the award for best documentary feature ("20 Feet from Stardom").
Karen O of the Yeah Yeah Yeahs and Ezra Koenig of Vampire Weekend perform a duet of "The Moon Song."
DeGeneres gives Cooper scratch-off lottery tickets -- a "consolation prize" because he didn't win the Oscar for best supporting actor.
Nyong'o dances with Pharrell Williams during his performance of "Happy."
Jared Leto shakes hands with an audience member after winning the best supporting actor Oscar for his role in "Dallas Buyers Club."
Anne Hathaway presents the award for best supporting actor.
DeGeneres takes a selfie on stage near the start of the show.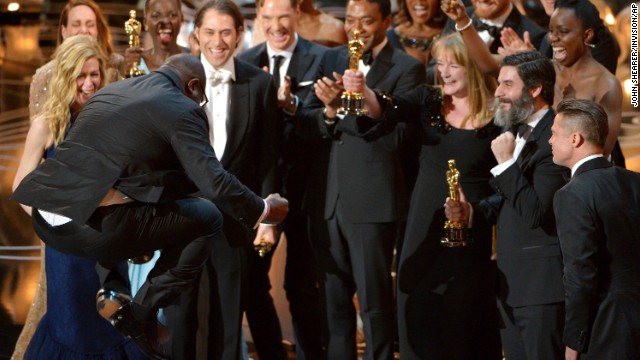 Oscars 2014: Show highlights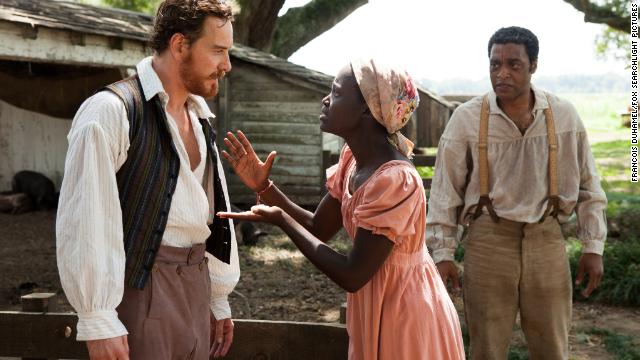 Best picture: "12 Years a Slave"
Best director: Alfonso Cuaron, "Gravity"
Best actor: Matthew McConaughey, "Dallas Buyers Club"
Best actress: Cate Blanchett, "Blue Jasmine"
Best supporting actor: Jared Leto, "Dallas Buyers Club"
Best supporting actress: Lupita Nyong'o, "12 Years a Slave"
Best original screenplay: Spike Jonze, "Her"
Best adapted screenplay: John Ridley, "12 Years a Slave"
Best animated feature: "Frozen"
Best documentary feature: "20 Feet from Stardom"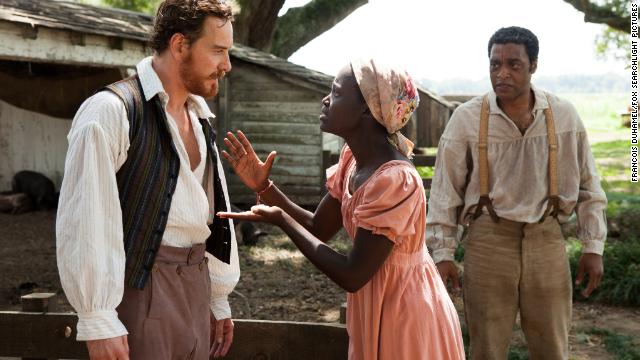 Oscars 2014: Winners
The beginning of Nyong'o's fairy-tale rise to Hollywood's new It Girl began with her brilliant portrayal of Patsey, a filthy, psychologically abused and violently beaten slave in the best picture winner, "12 Years a Slave." And yet in a matter of months, the prevailing image of her is an exquisite beauty queen conquering every red carpet and glossy fashion page she's graced. And there have been many.
The Golden Globe Awards were Nyong'o's first major glamorous arrival. She didn't take home the best supporting actress award for which she was nominated, but from Vogue to tumblr, she reigned on all the best-dressed lists.
It was a Cinderella moment. It wasn't the stunning fire-engine-red winged column dress by Ralph Lauren Couture that made her splash so significant. It was her unlikely beauty, her exquisite "otherness" that made the style media explode with excitement. And she has been slaying every other appearance ever since.
Hollywood can be a hostile and stubborn place for diversity: Only 31 black people have won an Oscar in the 85-year history of the Academy Awards.
It can be especially treacherous and narrow when it comes to images of women. And the women on the silver screen set the gold bar for the standard of beauty for much of the world's media.
Analyze any parade of actresses on any major awards show red carpet, and the message is clear: The criteria for a position in the elite clique of beauties are to be white and thin, with hair that blows in the wind.
Though Nyong'o certainly has a near-fatless body, her deep, rich skin tone and the length and texture of her hair are a sharp detour away from the standard. Unfortunately, it's not rare that just one woman of color was nominated for major acting awards this year. Out of her many nominations, in addition to her Oscar win, she's also won the Screen Actors Guild Award for best supporting actress, the NAACP Image Award for outstanding supporting actress and the Broadcast Film Critics Association Award for best supporting actress.
Other black women who have won the Academy Award in the best supporting actress category are Hattie McDaniel, Whoopi Goldberg, Jennifer Hudson, Mo'nique and Octavia Spencer.
What stands out about Nyong'o is that she is top-model gorgeous, classically trained and impossibly elegant and has an indisputable African name. She's the first black African to ever win.
Nyong'o can wear practically any gown that has ever been on a couture runway. She fits the high-fashion role while simultaneously expanding it. She is old-Hollywood elegant and new-school African.
At the Oscars, it was her dark, luminous skin and short, tightly coiled hair that made the billowy cornflower princess gown by Prada look so dreamy. Like art and life, beauty without contrasts isn't interesting. Nyong'o is a ravishing contrast against the pale landscape of beauty possibilities most women and girls are given from Hollywood and high-fashion media. She represents a possibility of another kind of dream girl.
Young women of color from Nairobi to New Orleans can see a bright star that reflects them.
Follow us @CNNOpinion on Twitter.
Join us at Facebook/CNNOpinion.
The opinions expressed in this commentary are solely those of Michaela Angela Davis.