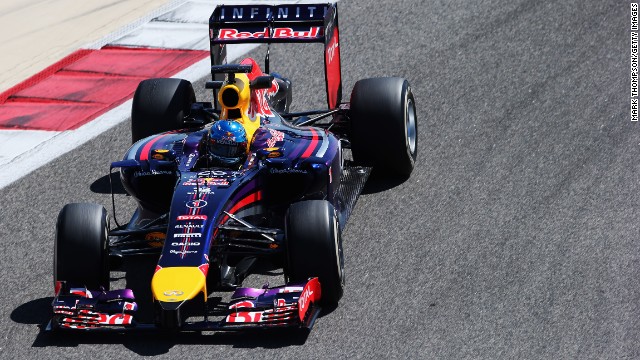 Red Bull and Sebastian Vettel has endured a frustrating preseason ahead of the 2014 Formula One world championship. Only Lotus have completed fewer laps than Red Bull during preseason, casting doubt over whether Vettel can defend his title ahead of the year's first grand prix in Melbourne on March 16.
It's far cry from the end of the 2013 season, which saw Vettel celebrate a fourth successive drivers' championship. Red Bull also took the constructors' championship for a four straight year.
Meanwhile Lewis Hamilton enjoyed a successful weekend in Bahrain, the venue for the final preseason test of 2014. The Mercedes driver, who is about to start his second season with the German team, set the fastest lap time on Sunday.
However the fastest time of the weekend was set by Felipe Massa, the Brazilian who is preparing for his first grand prix at Williams after ending an eight-year stay with Ferrari.
The first race of 2014 will be the Australian Grand Prix, staged at Albert Park in Melbourne.
Red Bull's bad run
Awesome foursome
Happy Hamilton
Felipe's fresh start
Start your engines...
STORY HIGHLIGHTS
Red Bull completed fewer preseason testing laps than any other team apart from Lotus
Sebastian Vettel has won the world championship in each of the past four seasons
Mercedes' Lewis Hamilton set the quickest time on the final day of testingin Bahrain
The 2014 season will start with the Australian Grand Prix on March 16
Follow us at @WorldSportCNN and like us on Facebook
(CNN) -- Red Bull has enjoyed complete dominance over Formula One for the past four years but as the 2014 season approaches, is that about to change?
The all-conquering team and its four-time world championship-winning driver Sebastian Vettel have endured a less-than-satisfactory preseason testing period.
The marque, which has also won the constructors' championship four years in a row, completed fewer laps in preseason than any other team apart from Lotus -- which missed three of the four tests.
"Right now, nothing is lost -- no race has been run, no point has been allocated -- but when I listen to some media we are right in the middle of a huge disaster," Vettel told Formula One's official website after the final test event in Bahrain at the weekend as he outlined the case for the Red Bull defense.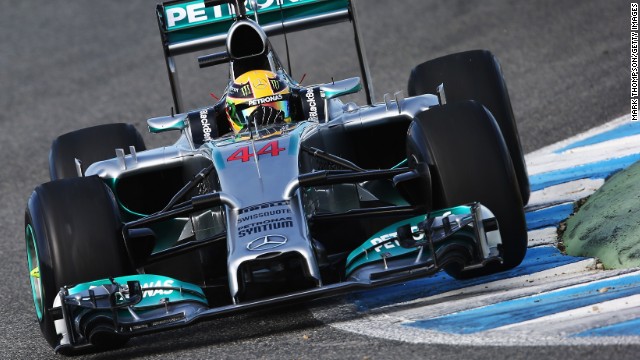 Mercedes is running a message of support for Michael Schumacher on its 2014 Formula One car. The Mercedes, piloted by Lewis Hamilton, was the first 2014 car to take to the track as winter testing opened in Jerez, Spain.
It's back to work for Red Bull's Sebastian Vettel, who is chasing a fifth world title when the F1 season begins in March.
Team Red Bull launches its new car at the Jerez track in Spain on the morning of the opening winter test, when teams find out if their new cars are fast and reliable.
Ferrari unveiled their latest F1 car -- the F14 T -- on Saturday. The Italian team is also running a message of support for Schumacher on its livery.
British F1 team McLaren have also declared their hand, revealing the MP4-29 at their Surrey base on Friday.
A sideview of the MP4-29 which will be raced by 2009 world champion Jenson Button and rookie Kevin Magnussen.
Sauber revealed its new car and the Swiss team said in a statement: "Perhaps the most visually striking element of the Sauber C33-Ferrari is the very low, snout-like nose."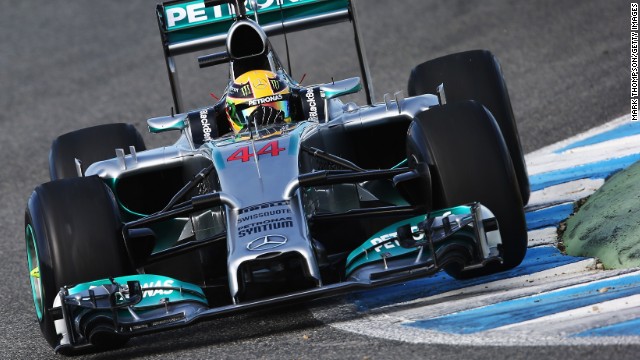 F1 teams unveil new cars for 2014 season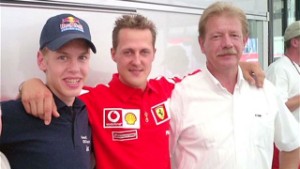 Mentoring Vettel and Schumacher
"There is massive hype and most people don't know what they are talking about," added Vettel.
"Yes, sometimes you make mistakes, but there is no team in the paddock who can say that they can run a day without any issues.
Despite Red Bull's struggles, Vettel insisted it would be foolish to write off the team's chances ahead of the season-opening Australian Grand Prix on March 16.
"True there are some that have had less than we have, but we will fight through it. Everybody in the team -- including me -- is ready to fight," added the German.
"We have been growing together to such an extent that we are strong enough to dive through tough times."
What has made this preseason so challenging is the raft of rule changes brought into the sport for 2014.
F1's hulking V8 engines have been consigned to the scrapheap and replaced by hybrid 1.6-liter V6 models, while fuel and weight limits have also been imposed.
Interactive: F1 rips up the rulebook
The move away from the loud V8s is a development that concerns F1 supremo Bernie Ecclestone, who is worried the sport may lose some of its drama through the subsequent noise reduction.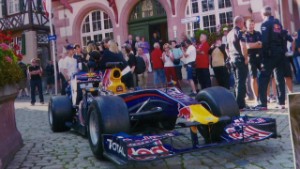 Sebastian Vettel's hometown pride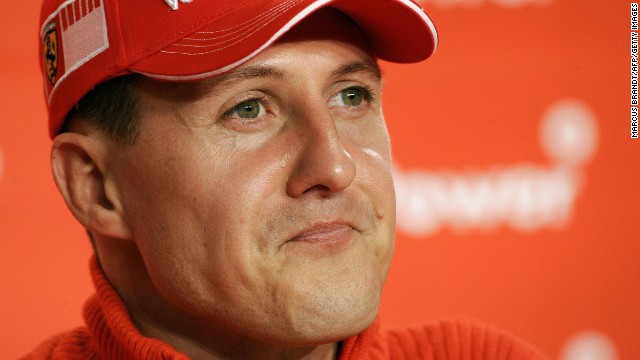 Seven-time Formula 1 champion Michael Schumacher was hospitalized December 29 after suffering "severe head trauma" from a ski accident in the French Alps. He is no longer in a coma and has since been transferred to a hospital in Lausanne, Switzerland for rehabilitation. Here's a look back at his personal and career highlights:
Schumacher is hoisted by his pit crew at the Australian Grand Prix track in Adelaide, Australia, after winning the Formula 1 World Drivers Championship in 1994.
Schumacher holds up the victory trophy, left, and the French Republic President's trophy after winning the French Formula 1 Grand Prix in Magny Cours, France, in 1995.
Schumacher meets Pope John Paul II in 1999.
King Juan Carlos of Spain congratulates Schumacher after he won the Spanish Formula 1 Grand Prix in 2001.
Schumacher checks out an Enzo Ferrari at Frankfurt's International Motor Show in 2003.
Schumacher steers his Ferrari in front of a Eurofighter on the track of a military airport in Grosseto, Italy, in 2003.
Schumacher sits in his car before the start at the inaugural Chinese Grand Prix in 2004 in Shanghai.
A man rides past a poster with Schumacher's likeness in Bahreman, Iran, in 2005.
Felipe Massa hugs Schumacher after Massa won first place in the Formula 1 Grand Prix of Turkey in Istanbul in 2006.
Schumacher drives during a practice session at the Australian Formula 1 Grand Prix in Melbourne in 2006.
Schumacher celebrates his win at the Formula 1 Grand Prix of Germany in 2006 in Hockenheim, Germany.
Schumacher's pit team works on his car during the Formula 1 Grand Prix of China in Shanghai in 2006.
Schumacher arrives for an awards ceremony in Oviedo, Spain, in 2007.
Schumacher autographs the T-shirt of an earthquake victim in Costa Rica in 2009.
Shumacher presents the new Mercedes SLS AMG, also the 2010 Formula 1 safety car, in Geneva in 2010.
Schumacher visits the European Parliament in Strasbourg, France, to test eSafety technologies in 2011.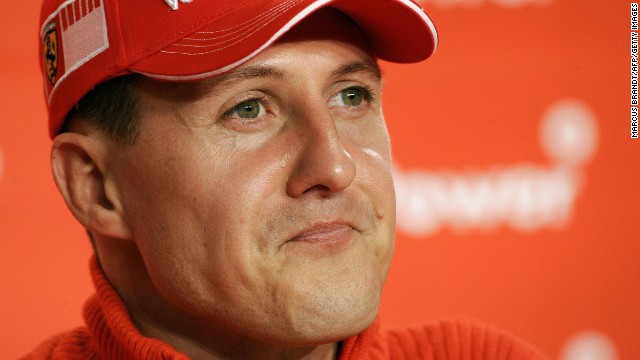 Formula 1 champion Michael Schumacher
"I'm not at all happy with the sound of the new engines, to be honest," Ecclestone recently told CNN.
"It doesn't sound like F1, but that's my opinion, let's wait and see what the public think."
If Red Bull is under pressure ahead of the Melbourne curtain-raiser, then Mercedes will be looking forward to it with relish.
The German manufacturer, which finished second in the team standings in 2013, had a fruitful time in Bahrain, with 2008 world champion Lewis Hamilton setting the pace on Sunday.
"We are driven to fight for the championship -- that all is super positive," said Hamilton after an encouraging day at the Bahrain International Circuit.
"But let's keep the feet on the ground: right now -- even if all indications look great -- it is still difficult to know who is hot and who is not.
"You go to Australia not knowing who the hell will be in the lead. Reliability will be a huge factor -- for every single person in the team. For everyone."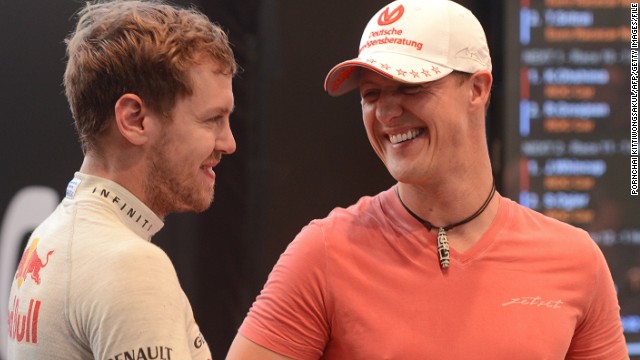 Sebastian Vettel is proving to be a worthy successor to fellow German driver Michael Schumacher (right) as the biggest star in Formula One.
Seven-time world champion Michael Schumacher made his Formula One debut in 1991. Shortly after making his bow, the German posed for this photograph at the go-kart circuit in his hometown of Kerpen where he began his racing career.
German karting coach Gerhard Noack helped shape the careers of Schumacher and four-time world champion Sebastian Vettel at the Kerpen track. CNN presenter Amanda Davies went to meet Noack for a rare television interview.
When Noack spotted Vettel's talents, he hoped to make him the next German prodigy. Here Vettel is an 18-year-old about to drive an F1 car for the first time in a 2005 private test for BMW Sauber.
A young Vettel (shown here in 2008) says he looked up to Schumacher in his early F1 career -- but soon he would edge closer to his hero's achievements.
Schumacher won five of his seven world titles in the scarlet colors of the Ferrari team. Noack expects Vettel to one day leave Red Bull as he seeks to add to his titles -- will he join Ferrari?
There were solo celebrations for Vettel at the 2013 Indian Grand Prix as another victory clinched his fourth straight world title with the supreme Red Bull team. The 26-year-old is tipped to one day surpass Schumacher as the sport's most decorated driver.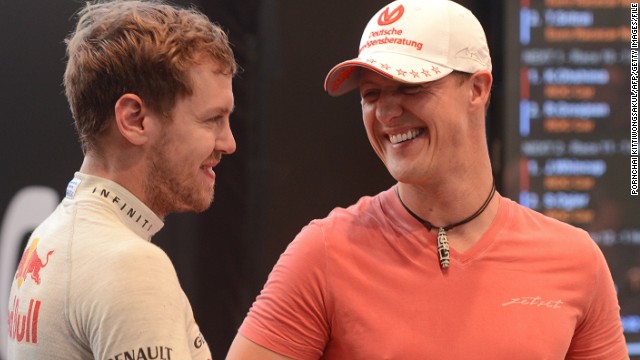 Vettel and Schumacher's route to success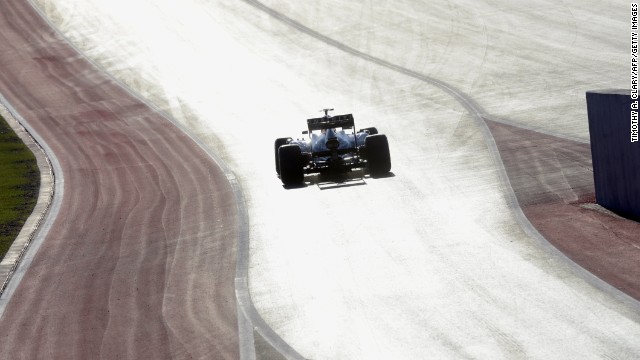 Sebastian Vettel has got used to having the open road between his Red Bull and his rivals in the 2013 season. He has won 13 of the 19 races up for grabs.
Vettel has spent the second half of the 2013 Formula One season as a lone racer, winning all the races from Belgium to Brazil. He has set a new record for consecutive wins in a single season and equaled the record for nine straight wins over two seasons.
Vettel's speed in 2013 saw him pick up the DHL Fastest Lap Award. The Red Bull racer set the fastest lap during the races seven times during the season -- and for the German every record counts.
The four time world champion literally sailed off into the sunset at the Abu Dhabi Grand Prix, winning the twilight race by a huge 30.8 seconds.
Not everyone has been so happy about Vettel's dominace. The German was booed on the podium after another dominant victory at the Singapore Grand Prix.
Mercedes driver Lewis Hamilton (left) says Vettel has been able to cruise to wins this season but he is one of several top drivers aiming to stop the German's era of dominance when new rules changes shake up the sport in 2014.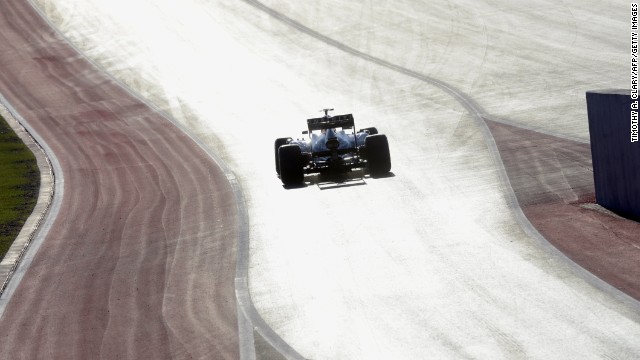 Sebastian Vettel: The loneliness of the F1 champion
Hamilton is anticipating a start similar to the 2012 season -- when seven different drivers won the first seven races of the year -- with a number of teams jostling for early-season honors.
"It could easily be like that," said the 29-year-old Briton.
"Fortunately the Mercedes is such a good engine: you have Williams, who look like they could be a competitive team, and you have Force India who could be much further ahead.
"Maybe Felipe Massa will take the Williams to the front! Who knows?"
Brazilian Massa is a new arrival at Williams after eight years at Ferrari and he's made a promising start to his career with the British team.
The Brazilian set the fastest lap time of the weekend on Saturday, while his rookie teammate Valtteri Bottas was also near the top of the timesheets in fourth position.
"The team has done a great job and thank you also to Mercedes-Benz (Williams' engine supplier)," Finland's Bottas told the team's official website.
"We still need to work very hard in these next two weeks but I overall I'm happy with how testing has gone for us.
"I am looking forward to picking up where we left off when we get to Melbourne."
Read: Jacques Villeneuve to make Indy 500 comeback
Read: Sochi F1 fantasy becomes reality