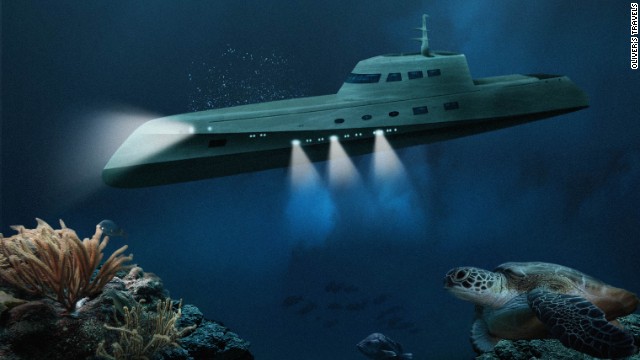 Lovers Deep is geared up to take wealthy holidaymakers under the sea for £175,000 ($292,000) per night.
High-end vacationers can choose how to deck out the interior. Here's an artist's impression of the lounge.
No need to worry about privacy -- the captain, chef and butler on board occupy separate, soundproof quarters.
The bathroom can be made up to any specification. Oliver's Travels suggests a double shower as an option for honeymooners.
To date no one has paid up the six-figure sum for a night's stay, but the company is confident the first booking will come in soon.
Mile low club
Party room
No one within earshot
XL shower
Waiting patiently
STORY HIGHLIGHTS
Travel company offers a submarine for couples to the bottom of the ocean
The experience will cost you £175,000 per night
For that, you get your own bespoke submarine with captain, chef and butler
Artist's impression makes it look akin to the underwater lair of a James Bond villain
(CNN) -- "A service allowing travelers who like to get their thrills between the sheets to get them beneath the waves at the same time."
The description provided by luxury travel company Oliver's Travels of its latest offering couldn't be more frank.
The new service, called the Mile Low Club, targets couples who seek physical excitement underwater in a private submarine nicknamed Lovers Deep (in case the rest of the clues aren't obvious enough).
The innovative holiday destination -- the submarine in question is moored in the Caribbean -- was launched by the British travel company to mark its 10th anniversary.
"We started in business 10 years ago focusing on French chateaus initially, but launched Oliver's Travels in November, the focus being on more quirky and unique properties," says Oliver's Travels co-founder Oliver Bell. "In order to get life to the new brand, we needed to get some exceptional property ideas.
"We had a meeting where we asked, 'where's the coolest place to stay?' We started with the moon and obviously realized that wouldn't be possible so a submarine was the next realistic target, and we found a submarine company with the capability to make it bespoke."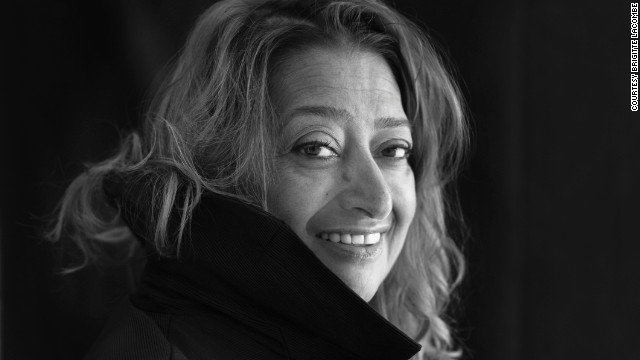 Meet Zaha Hadid, the world's most famous female architect.
The 63-year-old Iraqi-born Briton is perhaps best known for her white, sweeping, space-age buildings. Now she's turned her attention to superyachts.
The six concept yachts, designed for German shipbuilders Blohm+Voss, range from a 128-meter "master prototype" to a 90-meter version called "Jazz."
"The idea was that the frames could be like veins," explained Hadid. "I like this kind of project because every time you do them, you learn about some other type of parameters which you had not always considered."
"Unfortunately, architecture, as much as we'd like it to float, it doesn't. That's one thing that's different -- architecture is tied to gravity," she said.
In the last decade, Hadid has enjoyed huge success. In 2004 she became the first woman to win the Pritzker Prize -- regarded as architecture's Nobel -- and last year was awarded an DBE from the Queen, for her services to the industry.
Hadid's first completed building was the Vitra Fire Station in Weil am Rhein in 1993. She recently returned for 20th anniversary celebrations. "When I go back, buildings look very different -- they're either smaller or not as you expect them," she said.
Hadid won an international design competition to build Rome's contemporary art gallery. Featuring overlapping limbs, MAXXI has often been held up as her finest work, awarded a Stirling prize in 2010 for British architects.
Hadid's Aquatic Centre, built for the London 2012 Olympic Games, featured a distinctive sweeping ceiling. "An undulating roof sweeps up from the ground as a wave, enclosing the pools of the Centre with its unifying gesture," she says on her website.
Hadid's biggest office outside of London is in China, so it's unsurprising that she has designed a number of buildings in the country, including the Galaxy Soho entertainment and office complex (pictured), the Guangzhou Opera House in 2010, and the Wangjing SOHO towers complex, set to be completed next year.
Last month Hadid opened the new Serpentine Sackler Gallery in London's Hyde Park, featuring her distinctive sweeping, space-age roof.
Set to be completed this year, Hadid said she was particularly pleased with the design for the Heydar Aliyev Cultural Center in Azerbaijan.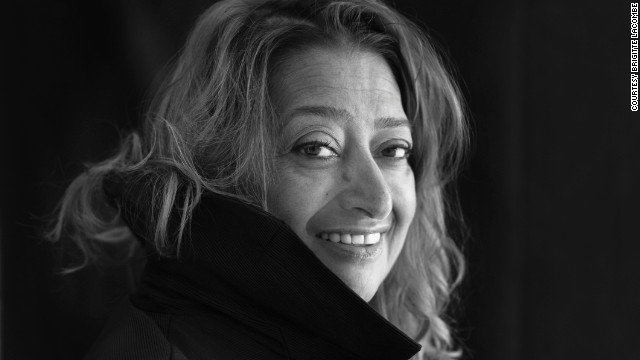 Architect Zaha Hadid's space-age superyacht designs
Ocean deep. Pockets, too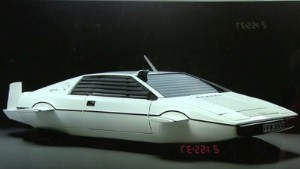 James Bond's submarine car auctioned off
The only catch is you'll need pockets as deep as the ocean -- the special voyage costs an eye-watering £175,000 ($292,000) a night.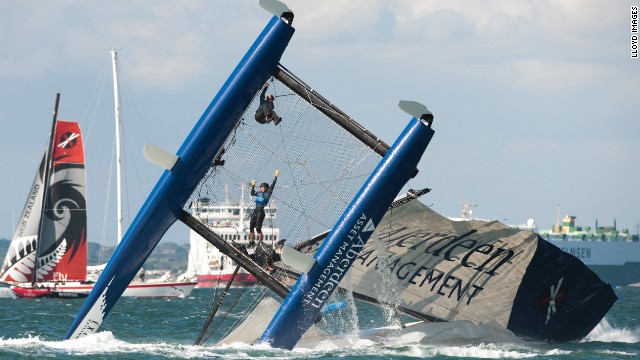 The Extreme Sailing Series provides volatile racing action, as the Aberdeen Asset Management crew found when capsizing in Cowes, England.
Sailors are stretched to their limit throughout the events. Here, Realteam bowman Thierry Wasem holds on by his feet as he tries to keep his crew on track.
The series is about close, stadium racing, enabling boats such as Holmatro (pictured) to get tight to rivals and spectators alike.
The margins between triumph and disaster tend to be very fine, as BT Betterworld's crew know all too well.
Among the competitors are a host of well-known teams, including former America's Cup winner Alinghi.
Perhaps the most high-profile entrant this year is America's Cup winner Ben Ainslie, who will skipper his own crew when the competition starts in Singapore.
For all his experience, though, Ainslie has been warned about the perils of the series, where crashes and damage to multimillion-dollar catamarans are not uncommon.
Unlike many other top-class sailing events, fans and spectators are able to get up close and personal with the competitors.
The series travels to all manner of venues across the globe after the first "act" (as each regatta is known) in Singapore starting February 20.
No venue is too small, apparently, with crews even battling it out on the narrow canals of Amsterdam, Holland, in recent years.
The series plays host to a variety of breathtaking backdrops, such as this one in Portugal last season.
The man to beat this year is British skipper Leigh McMillan, who is targeting a hat-trick of series titles with his boat The Wave Muscat.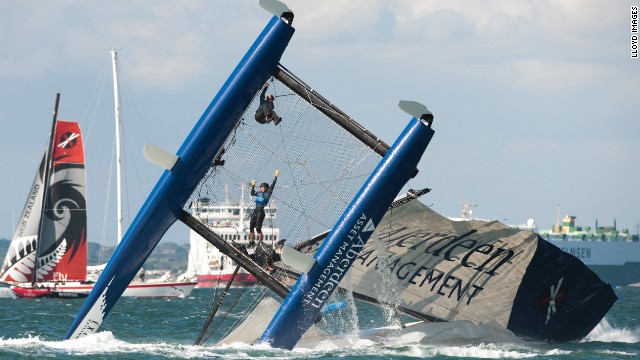 Sailing in the extreme
The venture was launched, appropriately, for Valentine's Day, but to date no one has paid up the six-figure sum for a night's stay.
Bell is confident the first booking is on the cards.
"We've obviously had some joke inquiries but I'd say we have about five realistic inquiries so I expect one to be booked in very soon," he says. "Obviously if that happens, it'll be high fives all around the office."
So what exactly do you get for your £175,000 a night?
Exactly what you want.
As part of the service, you choose how to deck out the submarine -- which is currently hired by a variety of different businesses for quirky brand launches -- exactly as you like from bedroom to bathroom, and bar to ballroom.
You have to pay for your own flights, but a speedboat will be on hand to take you to and from your submarine.
An artist's impression has been done to mock up how the romantic hideaway might look and how you can get under the waves as well as under the covers.
The company emphasizes that the crew (captain, chef and butler) will considerately occupy separate, soundproof living rooms at the other end of the vessel.
Barry White included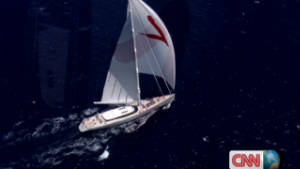 Superyachts: Floating works of art
While the sub is currently in the Caribbean, it can be moored wherever you desire.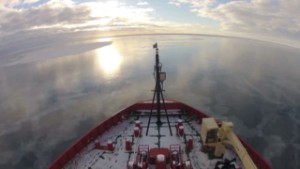 Time-lapse: Breaking ice in Antarctica
The chef can also offer his in-house aphrodisiac menu including everything from oysters to a fondant of chocolate with an essence of pomegranate.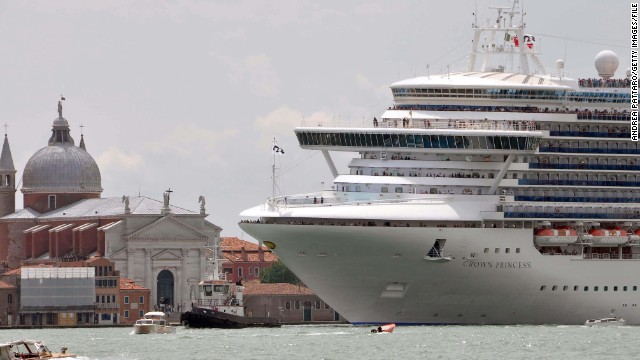 The Crown Princess, which docked in Los Angeles on Sunday with 158 passengers and 14 crew members suffering from norovirus, is shown here in 2009. The ship's passengers were also sickened with norovirus during an April 2014 sailing.
A federal judge has ruled Carnival liable and responsible for the engine fire that left the ill-fated Triumph cruise adrift in the Gulf of Mexico in February 2013. More than 4,200 passengers endured power outages, overflowing toilets and food shortages.
Princess Cruises' Caribbean Princess, seen here, cut its seven-day trip short after at least 165 passengers and 11 crew members reported being ill, the cruise company said January 31.
Nearly 700 crew and passengers fell ill aboard Royal Caribbean's Explorer of the Seas, which returned home to New Jersey on January 29. It is the highest number of sick people reported on any cruise ship in two decades, according to the Centers for Disease Control and Prevention.
In 2013, the Silver Shadow, run by Silversea Cruises, failed a CDC health inspection over concerns about hiding food in crew cabins.
On Memorial Day last year, a fire aboard Royal Caribbean's Grandeur of the Seas cut short a seven-day cruise to Port Canaveral, Florida, and the Bahamas. The ship changed its course and sailed under its own power to Freeport in the Bahamas.
Carnival Legend, shown here in 2012, had to cancel a scheduled March stop on Grand Cayman after propulsion system problems hampered its sailing speed. It arrived in Tampa, Florida, hours ahead of schedule.
The Carnival Dream, shown here at its North American debut in November 2009, lost power in March, and some of its toilets stopped working temporarily. For a time, no one was allowed to get off the vessel, docked at Philipsburg, St. Maarten, in the eastern Caribbean.
During a surprise visit in August 2012, CDC inspectors found multiple sanitation violations on the Holland America ship ms Veendam (shown here in March 2012). The CDC found enough violations, including brown liquid dripping on clean dishes and a fly on the buffet, to give the Veendam a failing grade.
A fire in the Carnival Splendor engine room in November 2010 crippled the cruise ship, stranding passengers off the coast of Mexico for several days without air conditioning or hot showers.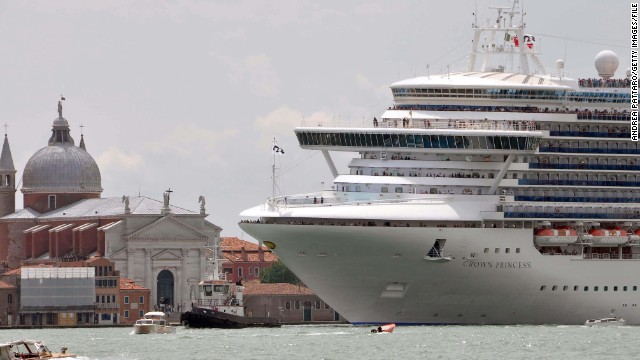 Photos: Cruise ship mishaps
Not enough to get you in the mood?
On its website, the company promises the smooth tones of Barry White singing "You're the first, the last, the everything" over the sound system.
"Well, the Barry White thing's a bit of a joke really," says Bell. "It's all great fun putting this together but we're also deadly serious about this.
"We know it's not in our usual customer's price bracket, this is very, very high end, but we think that people with that sort of money will have very specific tastes.
"It'll take 12 weeks to kit it out and customers can have exactly what they want."
Bell's one warning is that however wealthy you might be, it's probably not one for the claustrophobes out there.
From the artist's impression, there's an element of a Bond villain lair to the submarine, akin to the Atlantis home of the character Karl Stromberg, the villain in "The Spy Who Loved Me."
"To me, it looks really, really cool but you can have it to whatever taste you like," Bell says.
Bell has yet to visit the submarine in question but, because of the increasing interest, he's planning a trip to the Caribbean to find out what's in store and how his customers can find love on the ocean floor.