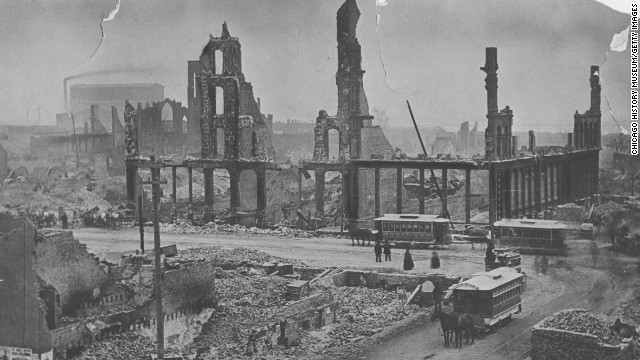 It's hard to believe Chicago started out as a small trading post at the mouth of the Chicago River. It incorporated as a city on March 4, 1837, and grew exponentially in the decades that followed. Most of its buildings were made of wood. During the dry summer of 1871, a massive fire broke out, destroying more than 17,000 buildings across Chicago and killing 300 people. The cause of the fire was never determined. This photo shows the fire's devastation at the corner of State Street and Madison Street.
Editor's note:
An earlier version of this gallery had an image of downtown Chicago that was removed because its authenticity was in question. After further review with the source, CNN found the image was misrepresented as an historical photograph. It was in fact a still from the 1937 movie "In Old Chicago." CNN regrets the error.
It didn't take long for Chicago to rebuild after the devastating fire of 1871. To celebrate its return, Chicago hosted the World's Fair in 1893. Several buildings were designed for the event, including the Agricultural Building, seen here. That year's fair was known as "The White City," and it is the backdrop for Erik Larson's nonfiction novel "The Devil in the White City." The book is reportedly being made into a film starring Leonardo DiCaprio.
A soda parlor is seen on Chicago's South Western Avenue in 1895. The Chicago Tribune newspaper, shown here being sold for 1 cent, is still in publication today.
Chicago's famous "L" (short for "elevated" train) started moving residents around town in 1892. That makes it the second-oldest transit system in the country behind the one in Boston. Here, a steam-powered "L" train comes down the railway on Market Street near Lake Street on June 30, 1895.
One of the worst tragedies to strike Chicago happened on July 24, 1915, when the SS Eastland capsized in the Chicago River with 2,500 passengers aboard. The passenger ship was docked at the time. The cause of the disaster is still unclear. Some have speculated that the Eastland had a faulty ballast system or additional lifeboats that made it top-heavy. More than 840 people died after passengers spilled into the river, while others -- mostly women and children -- were trapped in underwater cabins. Here, survivors stand atop the capsized vessel.
Chicago's National League baseball team started out as the White Stockings in 1876 before a newspaper's nickname prevailed and the team adopted the "Cubs" nickname. A shortened version of their old name went to the American League team in Chicago, and the two teams played each other in an all-Chicago World Series in 1906. The White Sox won.
This 1921 photo shows baseball commissioner Judge Kenesaw Mountain Landis, rear left, during the investigation of the infamous "Black Sox" scandal in Chicago. Eight White Sox players received life suspensions from baseball after being accused of accepting bribes to lose the 1919 World Series.
The Chicago Bears football team plays during the 1920s. The Bears, one of the founding franchises of the National Football League, started out as the Decatur Staleys in 1919.
Cars prepare to race at Soldier Field. The stadium, on Chicago's South Side, first opened in 1924 and is still the home of the Chicago Bears today.
An aerial view of Chicago, circa 1930. The large white building on the Chicago River is the Merchandise Mart, with 4 million square feet of floor space spanning two city blocks and rising 25 stories. It was the largest commercial building in the world when it opened in 1930.
Police and spectators gather in front of the garage on Chicago's North Clark Street, where members of Al Capone's gang, disguised as policemen, shot and killed seven members of a rival gang on February 14, 1929. The St. Valentine's Day Massacre became a symbol of the extreme violence of the Chicago underworld and crime boss Al Capone.
Al Capone -- on the left, wearing the all-white hat -- leaves a Chicago courtroom in the custody of U.S. marshals in October 1931. Capone ran gambling, prostitution and bootlegging operations across Chicago until he was indicted in 1931 for tax evasion. He was convicted and spent the next 11 years in prison.
Bartenders at Sloppy Joe's bar in downtown Chicago pour a round of drinks in 1933 to celebrate the repeal of the 18th Amendment and the end of the Prohibition era.
Famous bank robber John Dillinger met his demise at Chicago's Biograph Theater, where he attended a performance with Anna Sage, a friend and brothel madam and -- unbeknownst to Dillinger -- an FBI informant. Dillinger was shot and killed after he emerged from the theater on July 22, 1934. This aerial view shows Dillinger's body being taken from a funeral home in Chicago two days after his death.
Armed with guns, clubs and tear gas, Chicago police put down a crowd of striking workers outside Chicago's Republic Steel plant on May 30, 1937. They killed 10 unarmed demonstrators and injured dozens in what was later called the Memorial Day Massacre. News cameras captured the brutality.
A Chicago subway station is seen on July 18, 1944.
Queen Elizabeth II enters the Grand Ballroom of the Hilton Hotel in Chicago on July 6, 1959. She was attending a banquet held by Chicago Mayor Richard J. Daley, seen at left in the bow tie. Daley and his son, Richard M. Daley, presided over Chicago as mayor for 42 combined years.
Chicago police drag away one of 80 civil-rights marchers who were arrested after staging a rush hour sit-in on a downtown street in Chicago on June 28, 1965. Leaders of the march, dissatisfied with results of a two-hour meeting with the mayor, ordered marchers to assume "arrest position."
Members of the New York delegation protest the Vietnam War at the 1968 Democratic National Convention, which was held in Chicago. Chicago is a popular city for national political conventions, having hosted more than two dozen in its history. But the city was not quite prepared for the mayhem in 1968, despite a contingent of federal troops to help keep the peace.
United Airlines Flight 553 plowed through a row of bungalows and burst into flames about a mile and a half south of Chicago's Midway Airport on December 8, 1972. The crash killed 45 people, two of them on the ground. Eighteen passengers survived. Investigators later ruled that pilot error caused the crash.
Chicago Bears head coach Mike Ditka is carried off the field by his players after the team won Super Bowl XX in January 1986. It is the Bears' only Super Bowl victory.
Anyone who watched Michael Jordan play for the Chicago Bulls in the 1980s and 1990s knows why he's widely considered to be the greatest basketball player of all time. Jordan led the Bulls to six NBA titles in an eight-year span.
Against the backdrop of Chicago's Sears Tower, sailboats are set for the start of the Chicago Yacht Club Race to Mackinac in July 2003. It is the world's longest annual freshwater race, having started in 1898.
One of Chicago's most famous residents, Oprah Winfrey, sits atop a brand new car -- one of hundreds that she gave away to audience members in 2004 -- outside her Chicago studios. Winfrey moved her talk show to Chicago's West Loop in 1988, purchasing an 88,000-square-foot facility in the neighborhood, which was struggling at the time. She is now reportedly considering selling Harpo Studios, which helped revitalize the neighborhood.
The Chicago White Sox celebrate after winning the 2005 World Series with a four-game sweep over the Houston Astros. It was the team's third World Series title and first since 1917.
Every year since 1961, the downtown section of the Chicago River has been dyed green to celebrate St. Patrick's Day.
Barack Obama and his family celebrate in Chicago's Grant Park after he won the presidential election on November 4, 2008. Obama first moved to Chicago after college to work as a community organizer. He went on to finish Harvard Law School and returned to Chicago to teach constitutional law at the University of Chicago. He worked as a civil rights attorney and a state senator before being elected to the U.S. Senate in 2004. First lady Michelle Obama was born and raised on Chicago's South Side.
Downtown Chicago's skyline, as it looks today.
Chicago: From trading post to global city
Chicago: From trading post to global city
Chicago: From trading post to global city
Chicago: From trading post to global city
Chicago: From trading post to global city
Chicago: From trading post to global city
Chicago: From trading post to global city
Chicago: From trading post to global city
Chicago: From trading post to global city
Chicago: From trading post to global city
Chicago's historical events in photos
Chicago: From trading post to global city
Chicago: From trading post to global city
Chicago: From trading post to global city
Chicago: From trading post to global city
Chicago: From trading post to global city
Chicago: From trading post to global city
Chicago: From trading post to global city
Chicago: From trading post to global city
Chicago: From trading post to global city
Chicago: From trading post to global city
Chicago: From trading post to global city
Chicago: From trading post to global city
Chicago: From trading post to global city
Chicago: From trading post to global city
Chicago: From trading post to global city
Chicago: From trading post to global city
Chicago: From trading post to global city
STORY HIGHLIGHTS
"Chicagoland" is a nonscripted, eight-part docuseries about issues facing the city
The CNN Original Series airs Thursdays at 9p/10pET
Not familiar with Chicago? Here you'll find some things you might not know
For example: Do you know what Dibs is? How about a jibarito? Ever pass through a gangway?
(CNN) -- In the pilot episode of "Gilmore Girls," 16-year-old Rory meets her soon-to-be boyfriend, Dean, the new kid in town. Dean tells Rory that he has moved there from Chicago.
Rory's response: A monotone, "Chicago. Windy. Oprah."
Is your knowledge of Chicago limited to just its clichés and celebrities?
There's so much more to the Windy City (for example, don't ever call it that), which just celebrated its 177th birthday.
So let's sift through some of the things you really should know about Chicago:
1. The Food
Chicago is very food-centric, but it isn't all hot dogs and pizza.
"Chicago is such a diverse city, and it's a city of neighborhoods," explained writer Britt Julious, a lifelong resident, "a city comprised of all different types of ethnicities, that we have so many specifically regional food traditions that that makes it a great place to be. I'm always really surprised when I go to other places and I realize they don't have jibarito sandwiches."
What's a jibarito sandwich?
"It's a sandwich but it's not made using bread," said Julious. "So instead of bread it's made using fried plantains. It's so good and it's so rich and it's amazing. It's the only thing that you'll eat for the day: it includes meats, cheese, lettuce, and sometimes tomato, but it varies from place to place."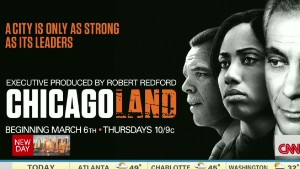 'Chicago is quintessential American city'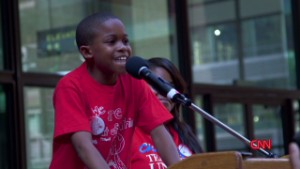 3rd grader to Rahm: 'We are not toys'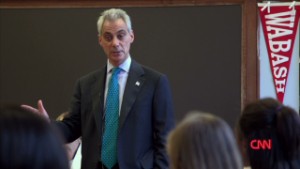 Politics and social issues collide
The sandwich, Julious explained, was created about 40 years ago at the Puerto Rican restaurant Borinquen in Humboldt Park. Other places in Chicago make jibaritos, but Borinquen is considered the original.
Julious also told CNN that most Chicagoans don't actually like Chicago-style deep-dish pizza.
They'll usually eat the other Chicago pizza -- the one people don't talk about -- which is thin crust, cut in squares, usually with cheese and sausage.
"I didn't have the stereotypical deep-dish pizza until I was about 15," Julious said.
Chicago does have more than its fair share of hot dog stands.
Eatocracy: Chicago dogs that cut the mustard
Rule #1: Poppy seed bun. Always. No exceptions. Whatsoever.
Rule #2: No ketchup. Ever. No exceptions. Whatsoever.
"Even if you're getting fries, you have to figure out your own way of getting ketchup," said Julious.
2. Willis Tower? Does not compute! Does not compute!
It'll always be the Sears Tower. Apparently, the 108-story, 1,451-foot skyscraper -- once the tallest building in the world -- was officially renamed Willis Tower nearly five years ago (Does not compute!). The second-tallest building in the U.S. ("I think I see my dad"), and the eighth-tallest freestanding structure in the world remains one of the city's most popular tourist destinations, attracting over 1 million visitors (who think they see their dads) to its observation deck annually.
Julious mentioned some other places whose new names will never quite sit right: "U.S. Cellular Field? No! That's Comiskey Park. It will always be Comiskey Park. It's so funny because I forget what the new names are. U.S. Cellular Field is an awful name."
On a similar note, the public sculpture that everybody refers to as "The Bean" is actually called Cloud Gate.
"I had to think about what the actual name of it was," Julious exclaimed.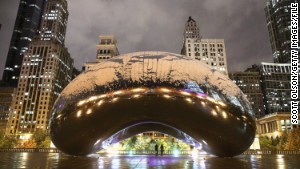 Cloud Gate (also known as The Bean) in Milennium Park.
Cloud Gate is the official name of the sculpture, created by Indian-born British artist Anish Kapoor, "but the only people I know who call it Cloud Gate are people who are not even from the state, really."
3. Dibs!
Even though Chicago has an extensive public transportation system, it also has a very heavy car culture. The harsh winters, in turn, give way to a seasonal occurrence known as Dibs.
"Dibs happens in winter when it snows, which it does a lot in Chicago," said Julious. "Because people oftentimes don't have garages, they will shovel out the space around their cars (parked on the street) and shovel out a space for themselves and then they will put lawn chairs or tables or kids' toys in the parking spot to call dibs on it."
The stuff remains in the spaces all day (Yep, there's a Tumblr), while the Dibs-caller is out working, shopping, socializing, etc. Some people totally respect Dibs, others get very angry about it.
Julious has witnessed many Dibs-fueled arguments, ranging from ridiculous squabbles to nasty notes to all-out street fights.
"Some people don't like Dibs at all," she said, "so I've seen incidences where people will go up and down a block and collect all of the furniture that was put out on the street -- and it's usually things like lawn chairs."
"This was the worst year for Dibs," because of the huge amounts of snow, Julious told CNN. "One of my neighbor's tires got slashed because someone thought she'd taken their Dibs spot, when in fact someone else during the day had just moved a lawn chair, parked there, and then left. So my neighbor parked there and then they slashed her tires."
4. Chicago is 'a city of neighborhoods'
Chicago is not a particularly glamorous city (although you can certainly find premium shopping, dining and housing). In fact, there are very few buildings in the city that existed prior to the Great Chicago Fire of 1871. For the most part, the buildings are under 115 years old.
"It's very much a hardscrabble working-class union town," said Julious, "so a lot of the traditions that make the city so great are based around that sort of culture."
Map: Explore Chicago's neighborhoods
Pride in one's neighborhood, from huge parks to lots of green space to beautiful waterfronts, sets Chicago apart from a lot of other cities.
"In other cities, neighborhoods have names," said Julious, "but Chicago is a city of neighborhoods. So there's neighborhood names and sub-neighborhood names. For example: Officially it's Lake View, but there's Lake View, there's East Lake View, there's Boystown, there's Wrigleyville, there's DePaul. People who are from here don't always use the actual official names. Officially, I live in West Town, but I live in the East Village area of Ukrainian Village, and someone who's from here is going to know what those terms are. As someone who's lived here my whole life, 26 years, whenever I meet someone who doesn't know what the East Village is, I know that they probably just moved here."
5. The traditions
Yes, the Chicago River is dyed green in honor of St. Patrick's Day and yes, it's very touristy, but by and large, Chicagoans enjoy the festivities.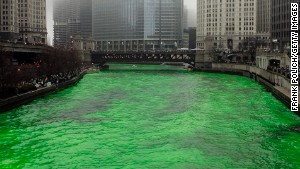 The Chicago River is dyed green for the annual St. Patrick's Day celebration.
"It's a really nice family event," said Julious. "The things that locals tend to avoid are the South Side parade and the drunkenness that follows. ... That will bring in a lot of 20-somethings who live in the suburbs. That's the sort of thing that people tend to avoid, whereas the dyeing of the river happens around 9 o'clock in the morning, and it's usually lots of families, and it's very sweet and wholesome. I've been to it a couple of times. The events that Chicagoans tend to avoid are things like Taste of Chicago, that's a bit of a hot mess.
Julious mentions another Chicago tradition: music and dance.
"Chicago has this huge, rich musical history which, yes, blues, but also stepping, house music, which was born here in the '80s, and now juking music is popular with young black South Side Chicagoans, and that's made its way across the globe as well."
CNN iReport: What do you love about Chicago?
Chicago-style stepping, for example, originated on the South Side. A style of dancing that's typically popular with African-Americans in their 40s, 50s, and 60s, stepping is generally done to R&B and funk.
"It's pretty big here," said Julious. "There are a lot of stepping parties, stepping contests, stepping events."
The house scene is also still very much alive, as house music was born in Chicago, she said.
"House music was invented here by Frankie Knuckles, and it still has a culture here. And that's why we have the most dance music festivals in the entire country," said Julious.
6. Why Chicago is really called the Windy City
Theories abound, and one of them focuses on politics.
Even though Chicago is plenty blustery and full of gusts, gales and breezes off Lake Michigan, some people think the term Windy City refers to politicians' pronouncements -- blowing hot air, if you will.
Julious says many Chicagoans consider their city a bastion of classic big-city corruption.
"The thing about Chicago is that you know who you're voting for but you don't actually know if your vote counts," said Julious, "and everyone runs under the assumption that everyone else is corrupt. ... There's the phrase 'Chicago Works' -- Chicago 'works' in its own way."
In other words, certain things get done and certain things never get done.
"Things just happen and that's just how things work, and it might not work well but it's sort of what people are used to, so they don't question it very often."
All that being said, Chicagoans under no circumstances call their hometown the Windy City. They don't call it Chitown either.
7. Don't call it a sneaker
It's been here for years, and it's known as a gym shoe, thank you very much.
"Sneaker is a horrible name," said Julious. "I hate it."
Incidentally, the gym shoe is also the name of a unique but in-demand Chicago sandwich.
In addition, Chicagoans say "pop," not "soda." The train is called the El (which stands for elevated train), even if it's underground, and a gangway is a passage similar to an alley that very narrowly separates two buildings or homes.
Chicagoans, tell us what we missed! List the things about Chicago that everyone needs to know in the comments section below or submit your story with a photo or short video to iReport.
What stereotypes need to be debunked? What are your favorite uniquely Chicagoan traditions? What do you love and/or hate about the city's history, geography, culture and politics?