First officer on missing jet was transitioning to 777-200s
March 10, 2014 -- Updated 0153 GMT (0953 HKT)
STORY HIGHLIGHTS
Fariq Ab Hamid, 27, had recently switched to the Boeing 777-200
He landed it in a flight captured on video last month by CNN
It was a textbook-perfect landing, the captain said of Hamid's work
(CNN) -- The first officer aboard Malaysia Airlines MH370 when it disappeared early Saturday from radar was transitioning to work on the Boeing 777-200.
Fariq Ab Hamid, a 27-year-old Malaysian, helped fly the plane from Hong Kong to Kuala Lumpur, where he landed it under the supervision of a senior pilot as well as a safety captain, according to CNN aviation correspondent Richard Quest, who was also in the cockpit.
The network was shooting video of the landing for use in a "CNN Business Traveler" program.
"It was interesting to watch the way he brought the aircraft in to land," Quest recalled about the February 19 landing, which the captain described as textbook-perfect.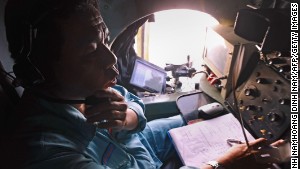 Questions swirl after airliner vanishes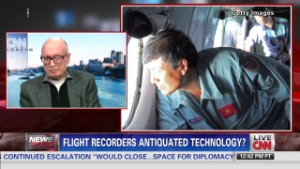 Are flight recorders 'antiquated?'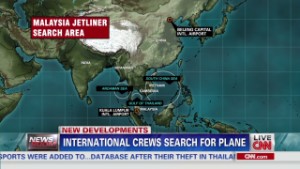 International crews search for plane
Hamid, who has 2,763 flying hours, joined Malaysia Airlines in 2007. He had been flying another jet and was transitioning to the Boeing 777-200 after having completed training in a flight simulator.
The airline's first officers are trained to the same standards as the captains, Quest said he was told by airline officials. "The captain was very much in control, but the first officer was flying the aircraft."
The missing plane was piloted by Capt. Zaharie Ahmad Shah, a 53-year-old Malaysian with 18,365 flying hours who joined the airline in 1981.

Today's five most popular stories
Part of complete coverage on
May 28, 2014 -- Updated 2229 GMT (0629 HKT)

What was believed to be the best hope of finding the missing plane is now being called a false hope.
September 8, 2014 -- Updated 1127 GMT (1927 HKT)

The story began as a puzzling news bulletin. A Malaysia Airlines passenger jet with 239 people on board had vanished from radar screens as it was flying from Kuala Lumpur to Beijing.
September 5, 2014 -- Updated 1130 GMT (1930 HKT)

The mapping of the main search area for Flight 370 has found parts of the ocean floor that are unusually hard.
August 29, 2014 -- Updated 0800 GMT (1600 HKT)

Brianna Keilar reports on the new developments that will shape the coming renewed search of MH370.
August 29, 2014 -- Updated 0529 GMT (1329 HKT)

Flight MH370 may have turned south earlier than originally thought.
June 25, 2014 -- Updated 0033 GMT (0833 HKT)

Erin Burnett speaks to Miles O'Brien about the latest in the search for Malaysia Airlines Flight 370.
June 18, 2014 -- Updated 1653 GMT (0053 HKT)

Ten experts say that the search for MH370 should move hundreds of miles away from the previous search area.
June 17, 2014 -- Updated 1322 GMT (2122 HKT)

His wife never came home from her flight on MH370, and now K.S. Narendran is left to imagine the worst of possible truths without knowing.
June 9, 2014 -- Updated 1455 GMT (2255 HKT)

Relatives of passengers are launching an effort to raise $5 million for investigations and a "whistle blower" reward.
June 9, 2014 -- Updated 0731 GMT (1531 HKT)

Making sure another plane is never "lost" again is the immediate priority for the airline industry.
May 30, 2014 -- Updated 1536 GMT (2336 HKT)

Was the sound of Malaysian Airlines Flight MH370 striking the water captured by ocean devices used to listen for signs of nuclear blasts?