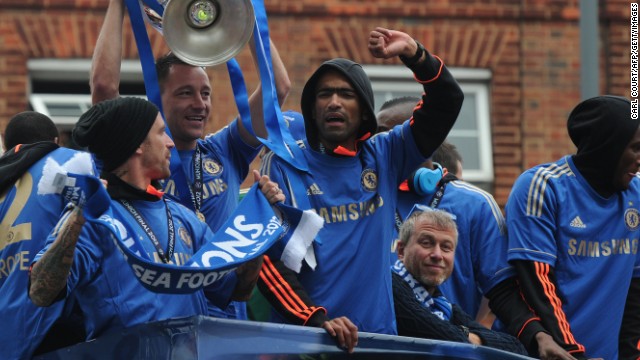 Chelsea Football Club's owner, Russian billionaire Roman Abramovich, celebrates the 2012 Champions League trophy with players John Terry, Raul Meireles and Jose Bosingwa. He bought the club in 2003 for reported $234 million.
Russian Internet holding company DST, backed by Russian Yuri Milner, owns around 5% of Facebook shares.
Mikhail Prokhorov, Russia's metal tycoon, bought NBA team New Jersey Nets in 2009, built a new arena in New York City and rebranded the team as the Brooklyn Nets.
The Marussia Formula One Team is owned by Russian Marussia Motors supercar marque.
Of the 42 surviving Imperial Faberge eggs, 20 belong to Russians. Queen Elizabeth II owns three. The lavish jeweled Easter eggs were commissioned from Faberge by Tsar Alexander III in 1885 as Easter gifts for his wife, the Tsarina Maria Feodorovna.
Skorpios island in Greece is reportedly owned by Ekaterina Rybolovleva, the daughter of oligarch Dmitry Rybolovlev. In 1968, the island was the site of Jackie Kennedy's wedding with the former owner of the island, Aristotle Onassis. (Skorpios is just off the coast of Greek island of Lefkada, pictured.)
UK's leading bookseller, Waterstones, is owned by Russian millionaire Alexander Mamut. There are around 300 stores through the UK and Europe.
Kaspersky Lab, a Russian computer security company, was co-founded by Eugene Kaspersky and Natalia Kaspersky in 1997. Considered one of the most innovative companies worldwide, Kaspersky Lab operates in almost 200 countries.
Both The Independent, one of UK's daily national newspapers, and London's widely read freebie the Evening Standard are owned by Russian billionaire Alexander Lebedev.
A big chunk of the International Space Station belongs to Russia, and is called the Russian Orbital Segment. Since the retirement of the American space shuttle program, NASA astronauts cannot get to and from the ISS without their Russian counterparts, who now operate the only space shuttles.
The top floor penthouse at 15 Central Park West became the most expensive apartment ever sold in Manhattan when the daughter of Russian investor Dmitry Rybolovlev bought it last year, at a cost of $88 million. The building is believed to be the world's most expensive property in terms of price per square foot and its residents include Sting, Denzel Washington and Goldman Sachs CEO Lloyd Blankfein.
Chelsea FC
Facebook
Brooklyn Nets
Marussia Formula One Team
Faberge eggs
Skorpios island
Waterstones
Kaspersky Lab
The Independent
International Space Station
NYC most expensive apartment