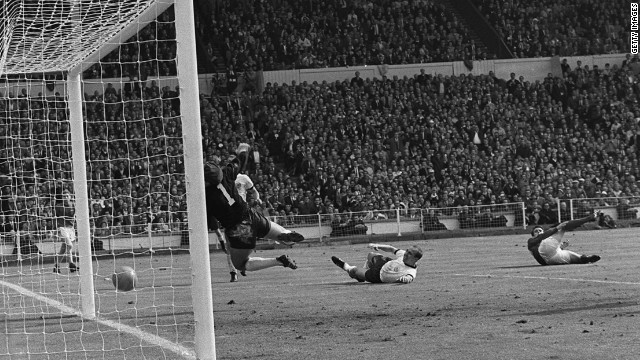 Deciding whether or not a shot has crossed the line has long been an issue in football. Arguably the most famous incident was in the 1966 World Cup final, when England's Geoff Hurst saw his shot in extra-time bounce down off the underside of the West Germany crossbar. A goal was awarded, giving England a 3-2 lead, with the hosts going on to win the match 4-2.
Hurst's goal was awarded after referee Gottfried Dienst consulted Azerbaijan linesman Tofik Bakhramov who judged the ball had bounced beyond the line. Azerbaijan's national stadium is named after folk hero Bakhramov, who even had a statue modelled in his honour.
England have been at the center of some of the most famous goal-line controversies. At the 2010 World Cup, England and Germany met again in the round of 16. With Germany leading 2-1, England's Frank Lampard hit a shot which struck the bar and landed well over the goal line, but no goal was awarded, and Germany won 4-1.
At the Euro 2012 tournament, England were involved in controversy for a third time. Co-hosts Ukraine needed to beat England to advance from the group stage, but fell behind to a Wayne Rooney header. Artim Milevskiy thought his shot had crossed the line before John Terry was able to hook it clear, but once again no goal was given and Ukraine crashed out.
Two months earlier Terry had been involved in another goal-line incident, this time for club team Chelsea. In an FA Cup semifinal with Tottenham Hotspur, Chelsea's Juan Mata hit a shot which was inadvertently blocked by Terry, but a goal was given and Chelsea won 5-1.
Hawkeye ball-tracking technology was first used in tennis in 2006, with players able to challenge calls by umpires and line judges. Each player is allowed three challenges in each set, but they do not lose a challenge if it the technology shows the umpire or line judge made the wrong call.
Other sports have embraced video technology. Cricket uses the Decision Referral System (DRS) to rule on leg before wicket (lbw) calls. Hawkeye ball-tracking software is used to see whether a delivery was in line to strike the stumps before hitting the batsman's leg.
Both rugby codes -- league and union -- use a video referee to rule on whether a try should be awarded. The video referee was first introduced at the rugby league Super League World Nines tournament in 1996 and the "Television Match Official" is widely used in possible point-scoring situations.
A legacy of controversies
Azerbaijan folk hero
History repeated
Ukraine unlucky
A Mata of inches
Hawkeye
Decision Referral System (DRS)
Television Match Official (TMO)
STORY HIGHLIGHTS
Michel Platini reiterates his preference for extra officials over technology in football
UEFA president says the cost of installing goal-line technology is prohibitive
GLT was introduced in the English Premier League at the start of the 2013-14 season
Platini defends UEFA's decision to expand the European Championships to 24 teams
Follow us at @WorldSportCNN and like us on Facebook
(CNN) -- It makes its World Cup debut in Brazil later this year and is already being used by the English Premier League, but the head of European football remains resistant to the introduction of goal-line technology (GLT) for Europe's top competitions.
The technology allows referees to make almost instant decisions on awarding goals if the ball has crossed the line.
However, UEFA president Michel Platini advocates using extra officials behind the goal, a method used in the Champions League, Europa League and Italy's top division.
The Frenchman, who won the European Championships with his country in 1984, prefers UEFA to invest in grassroots football and develop young players rather than spend millions of dollars on installing GLT in stadia.
England

The Hawk-Eye Goal Decision System was introduced into the English Premier League at the start of the 2013-14 season.

Italy

Italy's Serie A has used extra officials behind the goals since 2012. Additional officials are also deployed in the Champions League and the Europa League.

Germany

A decision on whether or not to introduce GLT in the Bundesliga and the Bundesliga 2 will be made before the end of the current season.

Spain

Speaking in April last year, La Liga chief executive Francisco Roca said Spain would look to implement GLT within two or three years.
"I prefer that we have more referees to see if there is a penalty foul and if the ball is going over the line," Platini told CNN. "We don't need perfect camera to see the ball.
"For the Champions League, it's too expensive," added Platini, who despite his philosophical opposition to GLT, admitted it could be used during Euro 2016 if that was the consensus of UEFA's executive and referee committees, set to be held in France.
Estimating that GLT woud costs €52 million to use in Champions League matches, Platini said: "I prefer to give these millions of euros to grassroots, to the young players in football, to some infrastructures so they can play football."
England's top flight adopted GLT for the first time at the start of the 2013-14 season, while the Dutch Eredivisie also uses the technology.
Germany's top two divisions will make a decision on whether to use GLT for the 2014-15 campaign before the end of the current season.
Bayer Leverkusen's "ghost goal" against Hoffenheim in October, when Stefan Kiessling's header went into goal through a hole in the side of the net, illustrated the mistakes that can be made when techonology isn't used.
But Platini insisted the example of Italy shows how using more officials can reduce refereeing errors.
Read: Platini back Russia's World Cup inclusion
"If you want to make a point about five referees, you have to go to Italy because it's been implemented for two years and is working very well," he added. "Thirty five national associations are using the five referees in the world.
"But in Africa, there is only one referee. They don't have the money to afford GLT. There is no money. It's easier to have five referees that you don't pay."
Platini's homeland will host an expanded European Championships in 2016 -- with 24 teams set to compete compared to 16 in 2012 -- before the tournament changes format ahead of the 2020 edition.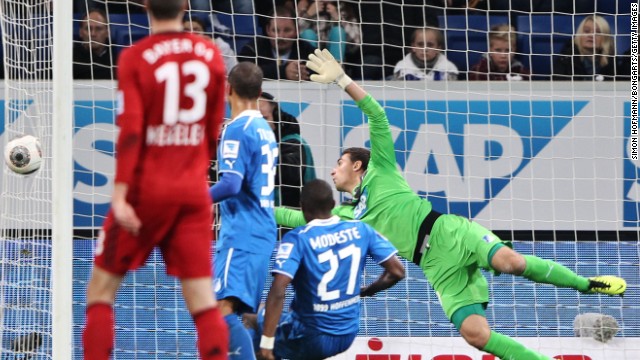 Stefan Kiessling's 70th minute header against Hoffenheim goes into the side netting but referee Felix Brych awarded a goal in their 2-1 away win.
Kiessling clearly has mixed feelings as he is congratulated by teammates after the controversial award of the goal.
Kiessling is surrounded by the media after giving evidence to the DFP tribunal into his 'ghost' goal against Hoffenheim. It ruled the result would stand.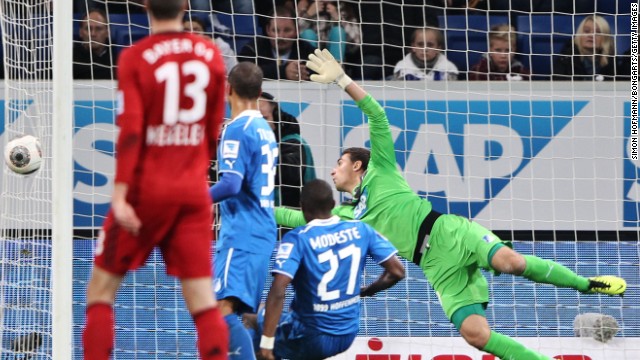 Bundesliga 'ghost' goal result stands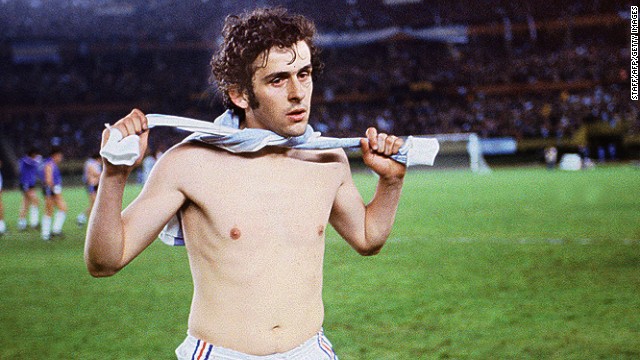 Michel Platini says he had misgivings about traveling to Argentina for the 1978 World Cup but chose to go to a country under notorious military rule in order to air his views in public.
Dutch legend Johan Cruyff was believed to have missed the 1978 World Cup because of a political boycott, but in 2008 he revealed that his decision to stay away from a tournament where his nation reached the final was because of a kidnap threat against him in 1977.
People hold portraits of missing relatives at the trial of former Argentina ruler Reynaldo Bignone in 2010. Charged with kidnap and torture, Bignone was sentenced to 25 years in prison -- and the 86-year-old has been convicted of other crimes since.
Pro-Ukrainian supporters demonstrate in Dublin where delegates have been arriving for the European Peoples Party conference.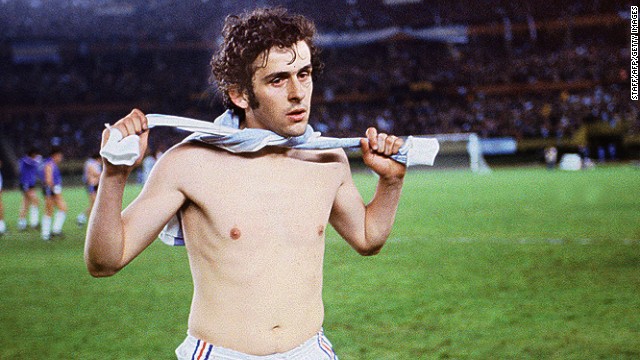 Sporting Concerns
Rather than one single country hosting Euro 2020, it will be played across 13 different European cities with the venues set to be announced following a vote in September.
Blog: Can football change the world?
The pan-European format is Platini's way of marking the 60th "birthday" of the tournament and the former Juventus player wants to see Turkey host the final.
"Turkey lost against my country 6-5 (in the vote for Euro 2016) and it is a long time that they have been bidding for some things," added Platini.
"They bid for the Euros, they bid for the Olympic Games and I think in the end it will be a beautiful festival for one week with the semifinal in a big country, a beautiful country ... like Istanbul," said Platini, referring to the Turkish city.
Critics have argued the expansion of teams in the Euros will dilute the quality of the competition, but Platini dismissed those fears.
"I am a man of football, I never will propose to the national association something which is not good for the football," he said. "Never.
"I have to receive the feedback of the fifty-four national associations. Fifty-two were in favor, two were not in favor: Germany and England, but they say we move with the majority.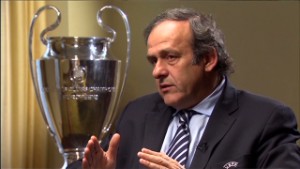 Platini outlines UEFA's racism reforms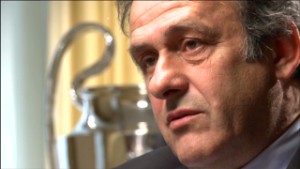 Platini: Bundesliga raises the bar
"I think 24 teams in Europe are good (enough) to win. That means that the quality of the football is not a problem.
"I have to take care about what is good for the football and I only do it for the football. And to me, it was good for the football to extend to 24."
Platini has been head of UEFA since 2007 and a bid by him for the presidency of FIFA, football's global governing body, has been mooted.
The current FIFA president Sepp Blatter has been in the position since 1998 and he had announced his intention to step down from the role ahead of a presidential election in 2015.
But he has since said he will reverse that decision if the FIFA members ask him to remain.
Platini, a FIFA vice president, was tight-lipped on whether he will be running against Blatter and his fellow Frenchman Jerome Champagne, who announced his intention to run for the presidency in January.
"I didn't think about that a lot because I am very busy and it's so far, one year from now and we don't know what could be," said Platini. "I have to speak with the national association of Europe, I have to travel and I don't take the time to think about that.
"I am working here. We have many projects ... After this work, perhaps I will think about FIFA ... perhaps I don't know."