Bringing the 200-year-old clockwork boy back to life
March 13, 2014 -- Updated 1501 GMT (2301 HKT)
STORY HIGHLIGHTS
The 200-year-old mechanical boy can write poems and draw pictures
Charles Penniman first saw him as a boy
Today, he is caretaker for the automaton
Editor's note: Art of Movement is CNN's monthly show exploring the latest innovations in art, culture, science and technology.
Philadelphia, PA (CNN) -- The boy wears an expressionless porcelain face and holds his right arm outstretched.
Standing still, he could be a clothing store dummy. But crank the handle on the box below, and row after row of brass wheels begin to turn.
The 200-year-old boy lowers his pencil to write.
Guardian The mechanical automaton sits in the Franklin Institute in Philadelphia, PA, writing his three poems in intricate, scrolling cursive -- as he has since Charles Penniman first set eyes on him over 75 years ago.
Penniman was six or seven years old then, he remembers, and was instantly transfixed by the way the revolving brass discs made the boy move with fluid, lifelike movements.
Now 85, Penniman is the boy's caretaker, and passes on the mechanism's secrets to the next generation.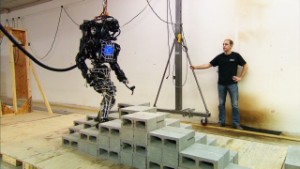 Could this robot help disarm landmines?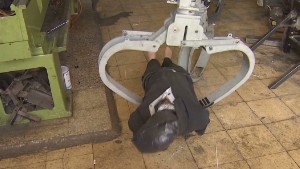 Could a robot will help sniper victims?
The "Draughtsman-Writer," as the boy is known, is the most complex automaton of its kind.
Clockwork boy It was created in London in the late 18th Century. But when it arrived at the Franklin Institute, the identity of its inventor was unknown.
Once set to work, the boy told all: "Written by the automaton of Maillardet" says a line traced along the edge of one of his ornamented poems.
Having left the workshop of Henri Maillardet, the famed Swiss clockmaker responsible for the bewildering mechanism inside the boy, the automaton's journey from London to Philadelphia is largely a mystery -- although it is known he toured Europe for a time.
Friendship Now, at least, it has found a home with Penniman, who speaks fondly of his old friend.
After all these years, the bond is stronger than ever: "The longer I know him, the more respect I have for the mysteries of how he works."
Watch the video above to find out more about Charles Penniman and the clockwork automaton.

Today's five most popular stories
Part of complete coverage on
December 23, 2014 -- Updated 1809 GMT (0209 HKT)

Ever since musician Eduardo Miranda met a patient with locked in syndrome 11 years ago, he has been on a mission to create a way for the paralyzed to make music.
August 25, 2014 -- Updated 1938 GMT (0338 HKT)

For thousands of years, man has looked to the stars in search of answers. Who are we? Why are we here? Are we alone?
November 16, 2014 -- Updated 1510 GMT (2310 HKT)

From the realms of science fiction to science fact, Rosetta mission's scientists succeeded in landing a washing machine-sized probe named Philae on a moving comet.
October 10, 2014 -- Updated 1700 GMT (0100 HKT)

Armed with the most advanced marine technology available, archaeologists have recovered new treasures from the ancient shipwreck.
December 17, 2014 -- Updated 1443 GMT (2243 HKT)

Meet KAO=S, a band of spellbinding musicians fusing Japanese cultural icons against a backdrop of rock and musical theater.
November 18, 2014 -- Updated 1134 GMT (1934 HKT)

Earthbound audience captivated as surreal Twitter conversation takes place 300M miles away.
December 5, 2014 -- Updated 1243 GMT (2043 HKT)

The slightest movement by this man's hand can change the behavior of at least 100 people.
November 11, 2014 -- Updated 1541 GMT (2341 HKT)

"A living painting is many things," says artist and designer Aerosyn-Lex Mestrovic. "It's a painting in process, it's a work of film, it's an actual tactile painting."
September 12, 2014 -- Updated 0938 GMT (1738 HKT)

For half a century, "Alvin" has quietly traveled through the seven seas, uncovering the ocean's mysteries.
August 25, 2014 -- Updated 1943 GMT (0343 HKT)

From Earth, the sun appears as a constant circle of light, but when viewed in space a brilliant display of motion is revealed.