Underwater wonder: Surreal sunken art in the Maldives
March 13, 2014 -- Updated 2206 GMT (0606 HKT)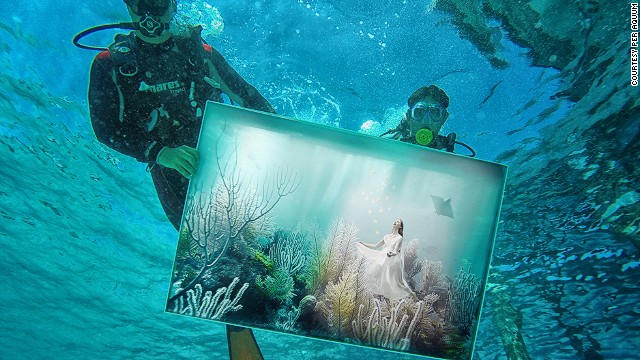 Viennese artist Andreas Franke's latest underwater exhibit went on display in the Maldives this week. Divers set up the artwork valued at $15,000 per piece.
Titled "Phantasy Fairytale," the exhibit can be seen from Huvafen Fushi resort and NIYAMA resort's underwater club, Subsix.
Seawater and algae provide final touches on the artwork.
While divers visiting shipwrecks could swim around Franke's previous exhibits, visitors aren't allowed to dive among the artworks in the new display.
"Little Red Riding Hood" can be seen from LIME Spa at Huvafen Fushi resort.
Franke's previous exhibitions include The Vandenberg Project, which was installed against the sunken USNS General Hoyt S.Vandenberg off the coast of Florida.
Approximately 10,000 divers visited the Vandenberg underwater exhibit.
Franke's Stavronikita Project was displayed on the sunken SS Stavronikita, off the coast of Barbados.
Last year, the World War II warship USS Mohawk, off Sanibel Island near Fort Myers, Florida, became yet another underwater art gallery for Franke's work.
Setting up underwater art exhibit
Watery installation
Seaworthy
Through the glass
Visual therapy
The Vandenberg Project
Come closer
Stavronikita Project
Mohawk Project
STORY HIGHLIGHTS
Fairy tale-themed underwater art exhibits go live at two Maldives resorts
Plexiglas-encased artworks are priced at $15,000 each
Viennese artist Andreas Franke specializes in exhibitions on shipwrecks
(CNN) -- Personally, we'd rather not have anything obstructing the incredible views from a Maldives resort.
We could stare out the window for months -- especially if those windows are underwater.
But we have to admit the surreal, sea-themed fantasy art of Viennese artist Andreas Franke looks pretty cool set amid the clear waters of the Indian Ocean.
More: World's best underwater attractions
This week, two Maldives resorts launched underwater art exhibitions featuring Franke's new work.
Huvafen Fushi and NIYAMA resorts, both owned by Per AQUUM, have installed the artworks outside the windows of their respective LIME Spa and Subsix music club.
Both venues are located underwater.
Known for his ghostly underwater exhibitions on shipwrecks, the artist turned to fairy tales for his latest theme.
Titled "Phantasy Fairytale," the Maldives exhibitions feature characters from fairy tales such as "Sleeping Beauty," "The Snow Queen" and "Little Red Riding Hood," but with the backdrops changed from gloomy forests to seabeds.
In contrast to Franke's previous exhibitions, visitors aren't allowed to dive among the paintings.
MORE: Best Maldives resorts for every type of vacationer
Setting up the exhibition was no simple task, with divers carefully handling the Plexiglas-encased artworks, valued at $15,000 each.
The exhibits will be showing until May 31.
Each resort is offering a special four-night package to mark the event.
Huvafen Fushi; +960 66 44 222; Phantasy Fairytale package starts at $1,157 per night
NIYAMA, +960 67 62 828, Phantasy Fairytale package starts at $883 per night
MORE: Underwater hotel room opens on remote African island

Today's five most popular stories
Part of complete coverage on
October 13, 2014 -- Updated 0925 GMT (1725 HKT)

Based on the votes of over 330 industry experts, the 2014 winners include bars from 27 cities in 14 countries.
October 12, 2014 -- Updated 2231 GMT (0631 HKT)

Careening down an active volcano at 95 kph on a thin board? It happens only at Cerro Negro in Nicaragua.
October 10, 2014 -- Updated 1337 GMT (2137 HKT)

Tips and techniques for those who want to turn their vacation into a rewarding family history lesson.
October 9, 2014 -- Updated 1953 GMT (0353 HKT)

From savory power snacks to beloved Indian ice cream, here's how to do Delhi street food right.
October 8, 2014 -- Updated 2208 GMT (0608 HKT)

Long before our traveling friends had Facebook and Instagram to taunt us, they had postcards.
October 8, 2014 -- Updated 0625 GMT (1425 HKT)

After slurping down noodles in 1,000 stores, the "ramen guy" untangles the complex flavors of Japan's diverse dish
October 13, 2014 -- Updated 1655 GMT (0055 HKT)

Mayor of Paris says 125-year-old landmark's new attraction will prove to critics the city still has some magic.
October 10, 2014 -- Updated 0244 GMT (1044 HKT)

These days, some of the best running trails can be found in the world's busiest places.
October 7, 2014 -- Updated 0625 GMT (1425 HKT)

Midlife crisis males have nothing on Bugatti-obsessed brothers behind vast sports car collection.
October 7, 2014 -- Updated 1311 GMT (2111 HKT)

When it comes to air travel, courtesy and common sense are often the first two things to fly out the departure gates.