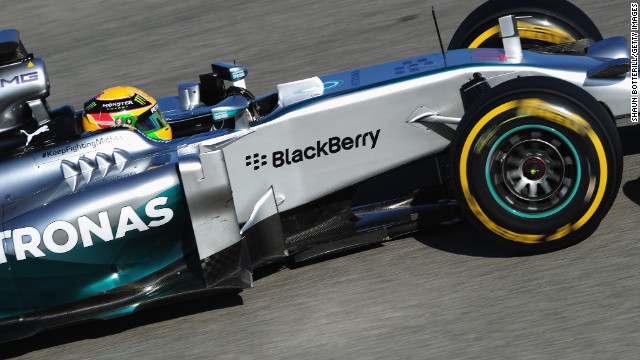 The 2014 Formula One season begins in Australia on March 16. Mercedes driver Lewis Hamilton has enjoyed a productive preseason, topping the timesheets on the final day of the closing test event in Bahrain.
A raft of regulation changes have been introduced for 2014, including the return of turbo-powered engines. Renault's engines completed the fewest laps during preseason, meaning it was a frustrating series of tests for Red Bull and quadruple world champion Sebastian Vettel.
The 2014 F1 cars feature one controversial modification. This year they sport droopy, "anteater" noses, and have been branded the ugliest in the sport's history.
Williams struggled last year but hopes are high for the nine-time world champion after an impressive preseason, led by new signing Felipe Massa. The former Ferrari driver recorded the fastest lap time at the final test in Bahrain.
Ferrari enters the 2014 season with a formidable pairing of two-time world champion Fernando Alonso and the returning Kimi Raikkonen -- the last driver to win the title for the Italian manufacturer back in 2007.
Three rookies will line up in Melbourne. Denmark's Kevin Magnussen (pictured) debuts for McLaren while Sweden's Marcus Ericsson makes his bow at Caterham and Russian Daniil Kvyat comes in at Toro Rosso.
Changes have also taken place off the grid, with Eric Boullier (pictured) leaving Lotus to become race director at McLaren, which is yet to replace team principal Martin Whitmarsh.
The final race of 2014 has more at stake than ever, with double points on offer in Abu Dhabi. Whoever takes the checkered flag at the Yas Marina Circuit will pocket a potentially title-winning 50 points.
Start your engines...
Teething problems
The ugliest F1 cars ever?
A winning Williams?
Ferrari's dream team?
Rookies raring to go
All change
Double your money
STORY HIGHLIGHTS
The first race of the 2014 Formula One season takes place in Australia on Sunday
Turbo engines are back in the sport, with each car boasting a 1.6-liter V6 hybrid
Former F1 winner Jody Scheckter expects F1 technology to trickle down to road cars
For the first time in the sport's history, double points will be awarded at the year's final race
Follow us at @WorldSportCNN and like us on Facebook
(CNN) -- The big winners of this Formula One season could be road drivers rather than F1 racers, according to one former world champion.
Jody Scheckter, who took the drivers' title in 1979, hopes a raft of technological changes -- notably smaller, hybrid engines that promise greater fuel efficiency -- will help improve road cars' performance.
"It's very positive for the sport, this is the first time you've seen the sport bring in regulations that really push the envelope of technology for every type of car," the South African told CNN.
"They are trying to take efficiency from everywhere they can on a car."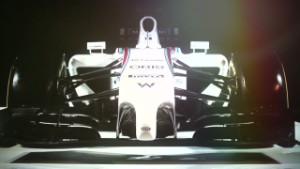 F1's big design changes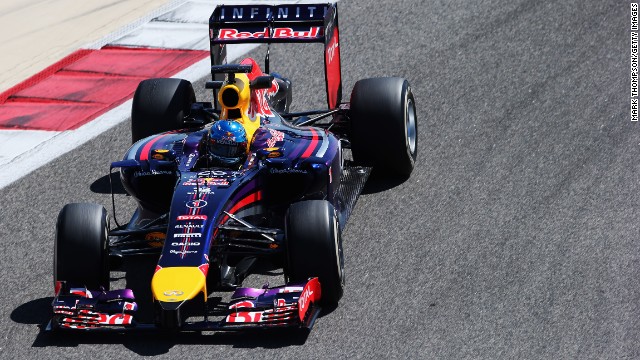 Red Bull and Sebastian Vettel has endured a frustrating preseason ahead of the 2014 Formula One world championship. Only Lotus have completed fewer laps than Red Bull during preseason, casting doubt over whether Vettel can defend his title ahead of the year's first grand prix in Melbourne on March 16.
It's far cry from the end of the 2013 season, which saw Vettel celebrate a fourth successive drivers' championship. Red Bull also took the constructors' championship for a four straight year.
Meanwhile Lewis Hamilton enjoyed a successful weekend in Bahrain, the venue for the final preseason test of 2014. The Mercedes driver, who is about to start his second season with the German team, set the fastest lap time on Sunday.
However the fastest time of the weekend was set by Felipe Massa, the Brazilian who is preparing for his first grand prix at Williams after ending an eight-year stay with Ferrari.
The first race of 2014 will be the Australian Grand Prix, staged at Albert Park in Melbourne.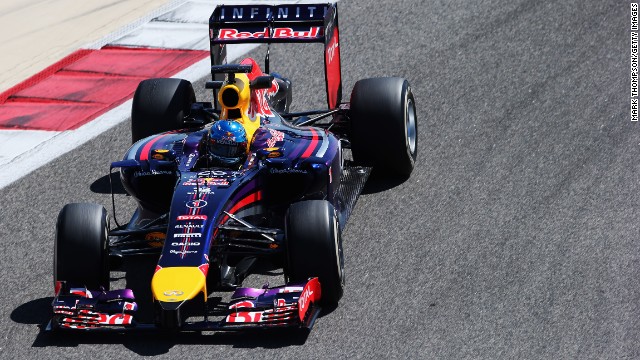 Formula 2014: New season, new champions?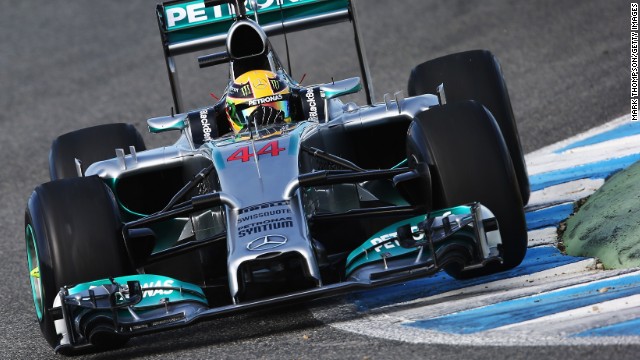 Mercedes is running a message of support for Michael Schumacher on its 2014 Formula One car. The Mercedes, piloted by Lewis Hamilton, was the first 2014 car to take to the track as winter testing opened in Jerez, Spain.
It's back to work for Red Bull's Sebastian Vettel, who is chasing a fifth world title when the F1 season begins in March.
Team Red Bull launches its new car at the Jerez track in Spain on the morning of the opening winter test, when teams find out if their new cars are fast and reliable.
Ferrari unveiled their latest F1 car -- the F14 T -- on Saturday. The Italian team is also running a message of support for Schumacher on its livery.
British F1 team McLaren have also declared their hand, revealing the MP4-29 at their Surrey base on Friday.
A sideview of the MP4-29 which will be raced by 2009 world champion Jenson Button and rookie Kevin Magnussen.
Sauber revealed its new car and the Swiss team said in a statement: "Perhaps the most visually striking element of the Sauber C33-Ferrari is the very low, snout-like nose."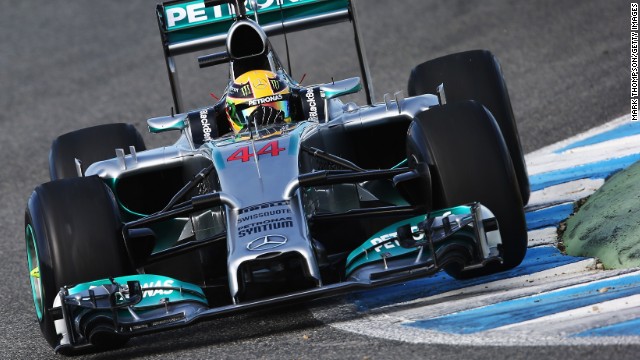 F1 teams unveil new cars for 2014 season
This year's race cars will boast an enhanced Energy Recovery System (ERS) and 1.6-liter V6 engines, compared to the 2.4-liter V8s on show last year.
The ERS uses heat generated when braking and thermal energy from exhaust gases to create extra power.
The Kinetic Energy Recovery System (KERS) has been used in F1 since 2009, but Scheckter says these latest advancements in the sport will only benefit everyday drivers.
"Wherever there is heat, they turn that into energy," added the former Ferrari driver. "From that point of view, that's what road cars are becoming more and more.
"They've taken this energy from the brakes and these different areas, that's what Formula One has done to a much higher degree than I've ever seen before. I think the technology will flow to road cars very quickly.
"It's very important for the global environment that they can make the technology work practically and then it can move into road cars."
Read: Formula One's "weird" trip into the unknown
On the track, Scheckter expects an unpredictable start to the championship as teams and drivers wrestle with the new regulations.
An encouraging preseason for Mercedes has fueled talk that Lewis Hamilton is the favorite for this weekend's Australian Grand Prix and in pole position to take the title.
Hamilton, a world champion in 2008, set the fastest time on the final day of the final test event in Bahrain, but the quickest lap time of preseason was set by Felipe Massa of Williams.
The Brazilian is a new arrival at the British team following nine years with Ferrari and Scheckter expects Massa and Hamilton to start well, but he stopped short of tipping either to be top of the pile at the end of the season.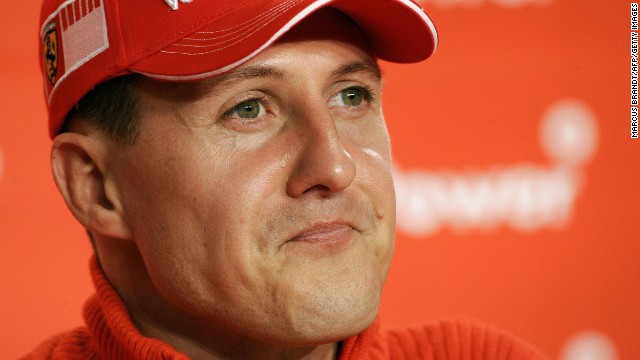 Seven-time Formula 1 champion Michael Schumacher was hospitalized December 29 after suffering "severe head trauma" from a ski accident in the French Alps. He is no longer in a coma and has since been transferred to a hospital in Lausanne, Switzerland for rehabilitation. Here's a look back at his personal and career highlights:
Schumacher is hoisted by his pit crew at the Australian Grand Prix track in Adelaide, Australia, after winning the Formula 1 World Drivers Championship in 1994.
Schumacher holds up the victory trophy, left, and the French Republic President's trophy after winning the French Formula 1 Grand Prix in Magny Cours, France, in 1995.
Schumacher meets Pope John Paul II in 1999.
King Juan Carlos of Spain congratulates Schumacher after he won the Spanish Formula 1 Grand Prix in 2001.
Schumacher checks out an Enzo Ferrari at Frankfurt's International Motor Show in 2003.
Schumacher steers his Ferrari in front of a Eurofighter on the track of a military airport in Grosseto, Italy, in 2003.
Schumacher sits in his car before the start at the inaugural Chinese Grand Prix in 2004 in Shanghai.
A man rides past a poster with Schumacher's likeness in Bahreman, Iran, in 2005.
Felipe Massa hugs Schumacher after Massa won first place in the Formula 1 Grand Prix of Turkey in Istanbul in 2006.
Schumacher drives during a practice session at the Australian Formula 1 Grand Prix in Melbourne in 2006.
Schumacher celebrates his win at the Formula 1 Grand Prix of Germany in 2006 in Hockenheim, Germany.
Schumacher's pit team works on his car during the Formula 1 Grand Prix of China in Shanghai in 2006.
Schumacher arrives for an awards ceremony in Oviedo, Spain, in 2007.
Schumacher autographs the T-shirt of an earthquake victim in Costa Rica in 2009.
Shumacher presents the new Mercedes SLS AMG, also the 2010 Formula 1 safety car, in Geneva in 2010.
Schumacher visits the European Parliament in Strasbourg, France, to test eSafety technologies in 2011.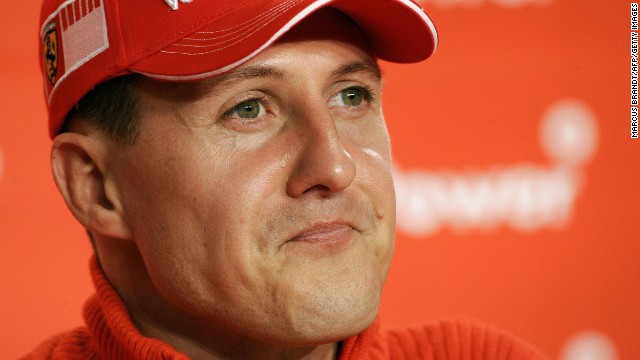 Formula 1 champion Michael Schumacher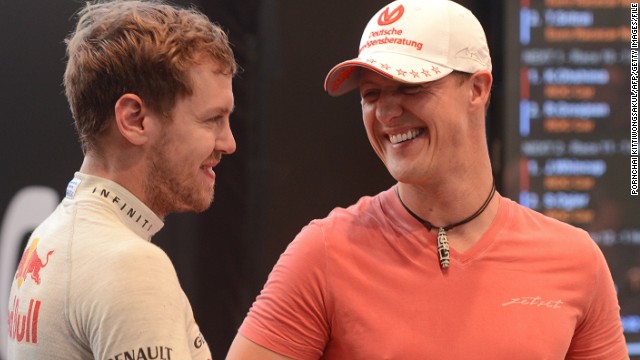 Sebastian Vettel is proving to be a worthy successor to fellow German driver Michael Schumacher (right) as the biggest star in Formula One.
Seven-time world champion Michael Schumacher made his Formula One debut in 1991. Shortly after making his bow, the German posed for this photograph at the go-kart circuit in his hometown of Kerpen where he began his racing career.
German karting coach Gerhard Noack helped shape the careers of Schumacher and four-time world champion Sebastian Vettel at the Kerpen track. CNN presenter Amanda Davies went to meet Noack for a rare television interview.
When Noack spotted Vettel's talents, he hoped to make him the next German prodigy. Here Vettel is an 18-year-old about to drive an F1 car for the first time in a 2005 private test for BMW Sauber.
A young Vettel (shown here in 2008) says he looked up to Schumacher in his early F1 career -- but soon he would edge closer to his hero's achievements.
Schumacher won five of his seven world titles in the scarlet colors of the Ferrari team. Noack expects Vettel to one day leave Red Bull as he seeks to add to his titles -- will he join Ferrari?
There were solo celebrations for Vettel at the 2013 Indian Grand Prix as another victory clinched his fourth straight world title with the supreme Red Bull team. The 26-year-old is tipped to one day surpass Schumacher as the sport's most decorated driver.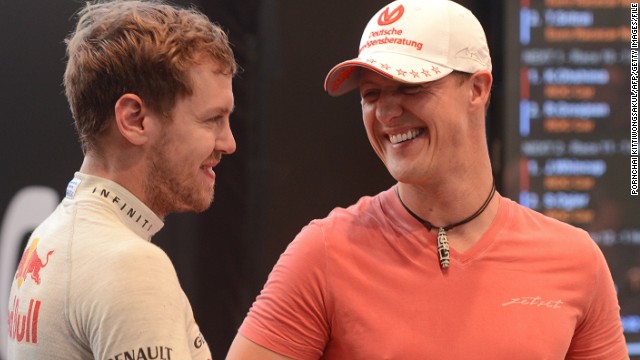 Vettel and Schumacher's route to success
"If you're going to follow some of the test results then you have to think that Mercedes and Williams have got an advantage at the beginning," he said. "How long it will take for other teams to catch up, who knows?
"I would've thought after the fourth, fifth race, you might see things settle down. Someone could make a modification and gain one second, two seconds per lap. That is a massive amount. So until things settle down I wouldn't want to back anybody."
The climax of the 2014 season is set to be a dramatic one, with double points set to be awarded to the driver who takes the checkered flag at November's Abu Dhabi Grand Prix, with the winner of that race awarded 50 points, rather than the usual 25.
It's a move that Scheckter thinks will see the fight for the world championship go down to the wire.
"What they are trying to do is make it so the last race determines the championship," he said.
"If somebody is quite far ahead and it looks like he's going to win the championship ... if he doesn't finish and another guy does he wins.
"Is that fair? No it's not, but it makes exciting racing. Or it makes you throw something at the TV!"
Interactive: 10 cars that changed Formula One
Read: Schumacher showing "encouraging" signs