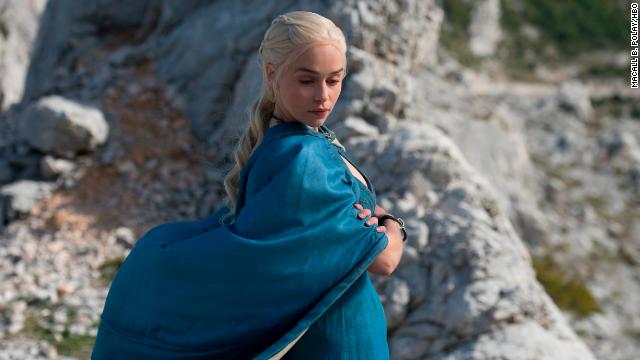 Emilia Clarke's character on "Game of Thrones" has inspired baby names. According to 2012 data from the Social Security Administration, 146 baby girls were given the name "Khaleesi," which is what Clarke's character is sometimes called. Of course, that's not the only unique baby name Hollywood has come up with:
Kate Winslet did not take our baby name suggestion for her newborn son with husband Ned Rocknroll. Instead of christening the infant "Long Live" --
Soleil Moon Frye is raising a second generation of uniquely named kids. The former "Punky Brewster" star welcomed her third child, a boy, on February 10, and
revealed on her website
that she named her son Lyric Sonny Roads Goldberg. Lyric's two older sisters are Poet Sienna Rose, 8, and Jagger Joseph Blue, 5.
changed her first name
to her stage moniker, Fergie, we shouldn't be surprised that she picked a unique name for her first child. Her husband, Josh Duhamel, said before
their baby's August 29 arrival
that their choice was different and potentially rock-inspired: The new parents settled on Axl Jack.
Considering that Stacy Ann Ferguson legally
Kim Kardashian and Kanye West are the proud parents of a baby girl named North. Full name: North West. Yep.
Madison told E!
in March. "I thought it was so pretty and unique!"
Holly Madison knew she was going to get criticism for naming her daughter, born in March 2013, Rainbow Aurora. So she explained when she revealed her choice that she intentionally wanted something different. "Growing up, there was a girl in my school named Rainbow, and I was so envious of that name,"
the couple announced in May 2011
that their newborn twins were named after Marilyn Monroe and a Moroccan-themed room in Carey's New York home, it did seem a little strange.
Compared with other names on this list, the ones Mariah Carey and Nick Cannon picked -- Monroe and Moroccan -- are pretty tame. Hey, at least they're spelled correctly! But when
Poppy Honey Rosie, Daisy Boo Pamela, Petal Blossom Rainbow and Buddy Bear Maurice. Those are the names chef Jamie Oliver and his wife, Jools, chose for their four children, seen here when the couple's son, Buddy, was a baby in September 2010.
that they even tried to trademark it
: Blue Ivy. They ended up losing their bid, as a Boston wedding planner already has a business by the name of Blue Ivy, and she'd petitioned to trademark it as well. "I was really blatantly shocked," the entrepreneur said at the time. "I didn't think it was true, because nobody names their daughter Blue Ivy."
Jay-Z and Beyoncé wanted a name so unique for their firstborn daughter
Moses is named after a song
Paltrow's husband, Coldplay's Chris Martin, wrote for her, while Apple's name was chosen because it "sounded so lovely and clean."
Gwyneth Paltrow's two kids, seen here with their superstar mom in 2011, are two of the most famous celebrity offspring thanks to their offbeat names.
In Jermajesty's family, it's his sibling Jeremy who's the odd man out. Jermaine Jackson's other son's name is Jaafar, who's seen here on the right. Jermajesty, left, fits right in.
We suppose magician Penn Jillette, seen here with his family and magic partner Teller in April 2013, really wanted magical names for his kids. His son's name, Zolten, is actually his wife Emily's maiden name, while his daughter's name is more creative: Moxie Crimefighter. "I love that it's a purely American word ... and I love that it stands for old-fashioned spunk and energy,"
Surely, Nicolas Cage was first in line to see the new Superman movie, "Man of Steel." We can only guess that his love for the superhero is what led to him bestowing Superman's kryptonian name, Kal-El, on his son.
At least Rachel Griffiths didn't settle on "Guitar." That doesn't roll off the tongue quite as well as the name she gave her son, seen here in 2007, Banjo.
Frank Zappa's brood all have funky names, such as Dweezil, Ahmet Emuukha Rodan and Diva Thin Muffin Pigeen. But for us, Moon Unit, seen here with Lou Reed in 1995, will always take the cake.
With one son named Kingston, Gwen Stefani and Gavin Rossdale had to up the ante with their second son, who was born in 2008. The inspiration behind the name Zuma Nesta Rock
they welcomed their son in May 2011
. Not everyone was a fan: The actress
was tied with Mariah Carey
for the top spot on BabyNames.com's worst celebrity baby name of 2012.
Alicia Silverstone and husband Christopher Jarecki decided on Bear Blu when
Rob Morrow's daughter Tu is 12 years older than Kanye West's daughter with Kim Kardashian, but we have a feeling they could become best friends. After all, with a last name like Morrow, Tu knows what North is going through.
Celebrity baby names: The best of the unique
Celebrity baby names: The best of the unique
Celebrity baby names: The best of the unique
Celebrity baby names: The best of the unique
Celebrity baby names: The best of the unique
Rainbow Aurora
Monroe and Moroccan
Poppy Honey Rosie, Daisy Boo Pamela ...
Blue Ivy
Apple and Moses
Jermajesty and Jaafar
Moxie Crimefighter
Kal-El
Banjo
Moon Unit
Zuma Nesta Rock
Bear Blu
Tu