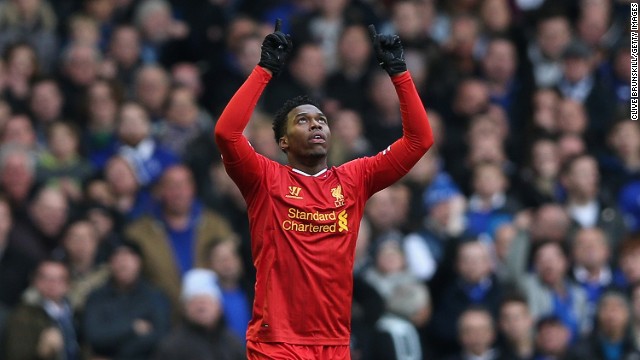 Daniel Sturridge's career has taken off since he joined Liverpool from Chelsea in January 2013. The 24-year-old doesn't know what's fueling his recent run of form, but says faith and hard work have helped.
Sturridge in action during Liverpool's 3-0 victory against Manchester United on Sunday. The win kept the Merseysiders second in the English Premier League.
Luis Suarez and Sturridge have scored 43 league goals this season. Their partnership, dubbed "SAS," has thrilled Liverpool supporters and raised expectations that the Merseyside club can clinch a first league title in 24 years.
Sturridge has prospered under the attacking style of play preferred by Liverpool manager Brendan Rodgers (left).
Sturridge (far left) scores for England against Denmark in a friendly match played at Wembley in early March.
Sturridge joined Chelsea from Manchester City in 2009, but endured a stop/start career at Stamford Bridge scoring 13 times in 63 league appearances.
Sturridge impressed when he was given a chance on loan at Bolton Wanderers in the second half of the 2010-11 season, scoring eight times in 12 EPL appearances including this goal against Everton.
As a teenager at City, Sturridge became the first player to score in the Premier League, FA Cup and Youth FA Cup in the same season -- here he finds the net against Derby on January 30, 2008 for his first top-flight goal.
Keeping the faith
Star performer
Brothers in arms
Managing success
England striker
Blue days at Chelsea
Loan star
Teen prodigy
STORY HIGHLIGHTS
Daniel Sturridge says his faith has helped him hit top form for Liverpool
The 24-year-old and strike partner Suarez will play each other at 2014 World Cup
Sturridge and Suarez have powered Liverpool this season with 43 goals between them
Three-time European champion seeking first English league title since 1990
Follow us at @WorldSportCNN and like us on Facebook
(CNN) -- In a city where football is a religion, Daniel Sturridge is fast becoming a deity.
The Liverpool striker's skyward salute -- he is a committed Christian -- has become a familiar sight around English Premier League grounds, with the 24-year-old netting 18 league goals so far this season.
With nine goals in nine league matches this year, scoring has come easy. Explaining his hot streak, however, is a bit more difficult.
"I'm not too sure," Sturridge told CNN's World Sport. "I just think that I've had my faith in God, been praying a lot, been working hard on the training field, and expressing myself, playing my natural game and playing my natural position also."
A switch from the wing -- where his former club Chelsea often deployed him -- to a more central attacking role at Liverpool has transformed Sturridge's scoring fortunes.
The statistics speak for themselves: 13 goals in 63 league appearances during four years at Stamford Bridge compared to 28 from 35 games in the 14 months since completing his £12 million ($20 million) move to Anfield.
Goals and a blossoming partnership with Uruguay striker Luis Suarez have propelled Sturridge to new heights of stardom, but his nimble feet remain firmly planted on the ground.
"Maybe off the pitch it's changed in terms of people paying more attention, but in terms of myself and my family and my friends nothing has changed," he says.
"I live the same lifestyle, I'm the same old happy self that I've been in my whole life."
Sturridge and Suarez have netted 43 times in the league this season, but come June 19 they will likely be lining up against each other when England take on Uruguay at the World Cup in Brazil.
"It will be strange but I'm looking forward to it," Sturridge says of the Group D clash.
"We play against each other in training and we have a lot of battles, but come game time we will be enemies and he'll be somebody that I'll be looking to take out if necessary because we got to win the game."
Sturridge's renaissance at club level has also been mirrored on the international stage, where he's gone from fringe player to first-team regular.
His fifth England goal in this month's 1-0 friendly win against Denmark at Wembley merely confirmed his growing stature and confidence ahead of the trip to South America.
"It's gonna be great to be involved in the World Cup because it's something I've dreamed of ... It's gonna be a great occasion and as I've said, if I'm selected, I'm looking forward to it," he says.
The priority now, though, is on domestic matters as Liverpool continue their quest for a first league title in 24 years.
Sunday's 3-0 drubbing of Manchester United at Old Trafford was Liverpool's fifth straight league win and confirmed Brendan Rodgers' team as genuine title contenders, although Sturridge refuses to be drawn on the subject.
"I think it's important that we just go out there, work as hard as we can as a team in every game and perceive what the future holds," he told CNN before the victory over Liverpool's northwest rivals.
Sturridge can look forward to home clashes against two of his former clubs -- league-leading Chelsea and Manchester City, the bookmakers' favorite -- as the EPL title race heads down the final straight in April.
"We're gonna play them both at Anfield. It's going to be a great occasion for myself and for the fans and my teammates of course. But it's important that we go out there and play the Liverpool way and enjoy it," he says.
Win those two games and Liverpool fans will be on the verge of Premier League heaven.