STORY HIGHLIGHTS
Venus Williams back in action at Miami Open this week
The 33-year-old feeling good despite battle with Sjogren's syndrome
Ranked 31 in the world and has won 45 WTA titles
Aiming to play at the 2016 Rio Olympic Games
Follow us at @WorldSportCNN and like us on Facebook
(CNN) -- All athletes have ups and downs in their career, but few have touched the troughs that Venus Williams has experienced.
Having topped the tennis rankings, winning Wimbledon five times and her home U.S. Open twice, she has had to rebuild her career after succumbing to injuries and a debilitating autoimmune disease.
But those rocky moments are providing a powerful motivation for the 33-year-old.
"I have to say I feel more confident on the court than I have in my life," Williams told CNN's Open Court ahead of the Miami Open which starts Wednesday.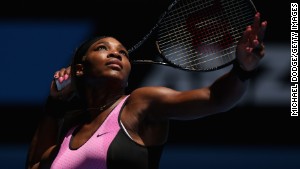 Serena Williams' best move?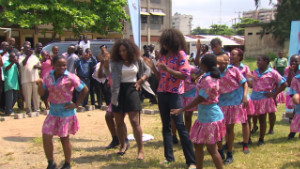 Serena: Venus was a great role model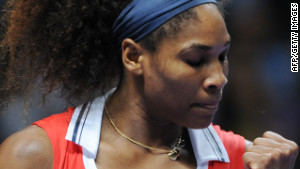 Serena Williams: 'I'm in awe' of Venus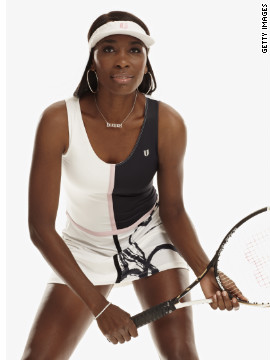 Tennis star Venus Williams has relaunched her clothing label EleVen ahead of the U.S. Open. The 32-year-old took time out of her playing career to graduate from fashion school.
Williams has had a distinctive look since she first burst onto the scene in the mid-1990s. As a teenager she was well known for her braided hair.
As her career continued and her interest in fashion grew, Williams began to experiement with her on-court outfits. At the 2010 Australian Open, the seven-time grand slam champion sported this neon yellow number.
Williams lit up the clay at a WTA event in Madrid in 2010 with this risque red and black dress.
The former world No. 1 caused a stir by wearing flesh colored shorts under a corset dress at Roland Garros in 2010.
The 2010 season proved to be one of Williams' most experimental. But the American proved she can also stand out when observing the strict all-white code at Wimbledon.
At the final grand slam of 2010, Williams opted for a short pink dress with sparkly decoration at her home U.S. Open.
She began 2011 in equally bold style, turning out at the Australian Open in a yellow lattice dress.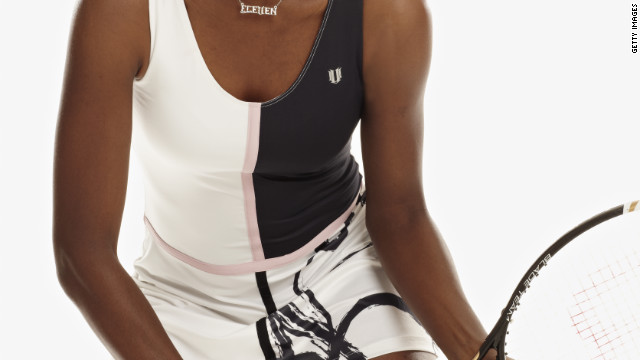 Venus Williams' fashion highs and lows
"I think it's because I have really been to the bottom, so once you get that far down and you get back up, you realize you really have nothing to lose. "
Not since 2008, when she won her seventh grand slam on the grass courts of Wimbledon, has Williams tasted success at the sport's biggest events.
She has struggled since being diagnosed with Sjogren's Syndrome -- an autoimmune disorder which causes joint pain and can deplete energy levels -- which she revealed publicly when pulling out during the 2011 U.S. Open.
By the end of that year she had plummeted outside the top 100 in the world rankings and faded into the background as her sister Serena -- who had to recover from potentially fatal blood clots on the lungs -- strengthened her reputation as the leading force in women's tennis.
While Serena has now won 17 grand slam titles, Venus has fought a very difficult battle -- coming to terms with her new condition, while trying to compete at the highest levels of the sport.
Her hard work was last month rewarded in Dubai, where she collected the 45th WTA title of her career and helped to quash doubts over her ability to compete against the very best.
A new vegan diet and an inexhaustible determination to overcome the syndrome has breathed new life into her tennis.
Such is Williams' confidence that she has already set her sights on competing at the 2016 Olympics in Rio de Janeiro.
Now ranked 31st, she has a special relationship with the Summer Games, having won four gold medals including the singles title in 2000.
The other three came after teaming up with her sister at Sydney, Beijing and most recently, London two years ago.
And while the calling of the Copacabana may be some way down the line, Williams is adamant she'll be ready for Brazil.
"The Olympics have been the most special moment for me and Serena in our lives," she said.
"Playing doubles as well has been amazing. I get to play with my sister and we get along and support each other.
"So the Olympics is definitely on our radar. It's only a couple of years away -- we think we can get there."
Read: Venus ends title drought
Follow us at @WorldSportCNN and like us on Facebook