Air Canada suspends flights to Venezuela
March 18, 2014 -- Updated 0838 GMT (1638 HKT)
STORY HIGHLIGHTS
Citing safety concerns, Air Canada suspended all flights to Venezuela
Violent clashes between opposition demonstrators and government forces ongoing for over a month
IATA CEO says Venezuelan government blocking airlines from repatriating $3.7 billion
(CNN) -- Canada's largest airline announced Monday it has suspended flights to and from Venezuela capital Caracas as violent protests continue in the country.
"Due to ongoing civil unrest in Venezuela, Air Canada can no longer ensure the safety of its operation and has suspended flights to Caracas until further notice," said the airline in a statement.
Air Canada said its last flight departed Caracas on Sunday, March 16.
Prior to the suspension, Air Canada operated three return flights per week between Toronto and Caracas. The airline said customers holding tickets for later flights will receive a refund.
"Air Canada will continue to monitor the situation and will evaluate the re-introduction of flights with the objective of resuming operations on the route once Air Canada is satisfied that the situation in Venezuela has stabilized," said the statement.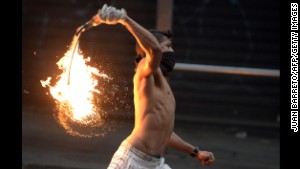 Violent protests have continued in Caracas for weeks.
For more than a month demonstrators have been clashing with security forces in Venezuela, marking the biggest threat President Nicolas Maduro has faced since his election last year.
Students and other anti-government protestors are unhappy with Venezuela's economy and rising crime.
Despite being one of the world's top 10 oil-producing countries, more than 25% of Venezuelans live below the poverty line. More than 20 people have been killed during the demonstrations, according to government figures.
MORE: Protests rage in Venezuela, one month on
IATA: Venezuela not playing by the rules
Air Canada's cancellation of its Caracas services comes amid a financial dispute between airlines and Venezuela's government.
International Air Transport Association's CEO Tony Tyler said in a speech March 12 that the Venezuelan government is stopping airlines from repatriating around $3.7 billion in earnings.
For several months, airlines have reportedly been unable to access money earned in ticket sales in Venezuela due to the company's tight currency controls. Ecuadorean flag carrier Tame suspended flights to Venezuela for three days in January over blocked payments.
"It is unacceptable that the Venezuelan government is not playing by the rules to which it is treaty bound," said Tyler.
"The impact of this blocked cash is quite easily seen when you consider that airlines this year will only make $18.7 billion globally. Of course this is cash and not pure profit.
"Airlines certainly cannot sustain operations indefinitely if they can't get paid. I have written to President Maduro asking for his urgent attention to this issue."
According to a report by Venezuela's Spanish-language daily el Nacional, Maduro told reporters on March 14 that any airline that pulls its operations from the country will not be allowed to return while he's in power.

Today's five most popular stories
Part of complete coverage on
October 20, 2014 -- Updated 1808 GMT (0208 HKT)

The guidebook asked staff, contributors and authors for well-known and lesser-known recommendations.
October 20, 2014 -- Updated 1607 GMT (0007 HKT)

An airport in Asia has stolen the crown from Manila's Ninoy Aquino, voted 'world's worst' three years in a row.
October 21, 2014 -- Updated 1620 GMT (0020 HKT)

It's time for a beef break, veal vacation, hog holiday or sinew sabbatical in a T-bone a-fide U.S. meatopolis.
October 20, 2014 -- Updated 1319 GMT (2119 HKT)

With so many awesome new attractions on the way, the next few years are going to be a roller coaster ride.
October 17, 2014 -- Updated 0107 GMT (0907 HKT)

Scientists are busy surveying Southeast Asia's Coral Triangle, home to 75 percent of all known coral species.
October 16, 2014 -- Updated 1350 GMT (2150 HKT)

Bounce Below transforms an abandoned slate mine into a surreal, springy world of fear and fun,
October 14, 2014 -- Updated 2316 GMT (0716 HKT)

With chopsticks or fingers? Wasabi or no? A double Michelin-starred Tokyo chef sets the record straight and shows us the sushi way.
October 13, 2014 -- Updated 2224 GMT (0624 HKT)

It may look like a gateway across time and space crafted with alien technology, but in reality it's a fruit and vegetable market.
October 13, 2014 -- Updated 0925 GMT (1725 HKT)

Based on the votes of over 330 industry experts, the 2014 winners include bars from 27 cities in 14 countries.
October 12, 2014 -- Updated 2231 GMT (0631 HKT)

Careening down an active volcano at 95 kph on a thin board? It happens only at Cerro Negro in Nicaragua.