Air Canada suspends flights to Venezuela
March 18, 2014 -- Updated 0838 GMT (1638 HKT)
STORY HIGHLIGHTS
Citing safety concerns, Air Canada suspended all flights to Venezuela
Violent clashes between opposition demonstrators and government forces ongoing for over a month
IATA CEO says Venezuelan government blocking airlines from repatriating $3.7 billion
(CNN) -- Canada's largest airline announced Monday it has suspended flights to and from Venezuela capital Caracas as violent protests continue in the country.
"Due to ongoing civil unrest in Venezuela, Air Canada can no longer ensure the safety of its operation and has suspended flights to Caracas until further notice," said the airline in a statement.
Air Canada said its last flight departed Caracas on Sunday, March 16.
Prior to the suspension, Air Canada operated three return flights per week between Toronto and Caracas. The airline said customers holding tickets for later flights will receive a refund.
"Air Canada will continue to monitor the situation and will evaluate the re-introduction of flights with the objective of resuming operations on the route once Air Canada is satisfied that the situation in Venezuela has stabilized," said the statement.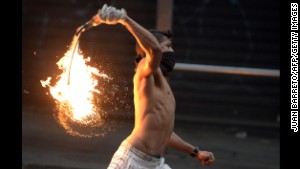 Violent protests have continued in Caracas for weeks.
For more than a month demonstrators have been clashing with security forces in Venezuela, marking the biggest threat President Nicolas Maduro has faced since his election last year.
Students and other anti-government protestors are unhappy with Venezuela's economy and rising crime.
Despite being one of the world's top 10 oil-producing countries, more than 25% of Venezuelans live below the poverty line. More than 20 people have been killed during the demonstrations, according to government figures.
MORE: Protests rage in Venezuela, one month on
IATA: Venezuela not playing by the rules
Air Canada's cancellation of its Caracas services comes amid a financial dispute between airlines and Venezuela's government.
International Air Transport Association's CEO Tony Tyler said in a speech March 12 that the Venezuelan government is stopping airlines from repatriating around $3.7 billion in earnings.
For several months, airlines have reportedly been unable to access money earned in ticket sales in Venezuela due to the company's tight currency controls. Ecuadorean flag carrier Tame suspended flights to Venezuela for three days in January over blocked payments.
"It is unacceptable that the Venezuelan government is not playing by the rules to which it is treaty bound," said Tyler.
"The impact of this blocked cash is quite easily seen when you consider that airlines this year will only make $18.7 billion globally. Of course this is cash and not pure profit.
"Airlines certainly cannot sustain operations indefinitely if they can't get paid. I have written to President Maduro asking for his urgent attention to this issue."
According to a report by Venezuela's Spanish-language daily el Nacional, Maduro told reporters on March 14 that any airline that pulls its operations from the country will not be allowed to return while he's in power.

Today's five most popular stories
Part of complete coverage on
November 24, 2014 -- Updated 0118 GMT (0918 HKT)

These quirky and beautiful subway stops make standing cheek-to-cheek with 45 strangers almost seem fun.
November 21, 2014 -- Updated 1314 GMT (2114 HKT)

Luxury vintage Land Rover tours explore Bedouin backwaters without bashing up precious dunes.
November 20, 2014 -- Updated 0250 GMT (1050 HKT)

Cities around the world have closed the brew gap, but the Oregon city's innovative scene continues to lead the beer parade.
November 19, 2014 -- Updated 2249 GMT (0649 HKT)

From gourmet hotdogs to Sevillian tapas, the food served in these London restaurants is worth lining up for.
November 20, 2014 -- Updated 1545 GMT (2345 HKT)

Plans are underway to build the world's tallest -- and quite possibly most terrifying -- roller coaster at an Orlando, Florida, theme park due to open in 2017.
November 18, 2014 -- Updated 1932 GMT (0332 HKT)

The 7th Annual Cruise Critic Editors' Picks Awards highlight the top cruise lines for North American travelers in 18 categories.
November 19, 2014 -- Updated 0206 GMT (1006 HKT)

Joining the ranks of pilgrims tackling Adam's Peak rewards with a spiritual awakening, or at least a stunning sunrise.
November 18, 2014 -- Updated 1313 GMT (2113 HKT)

Beautifully designed travel document reveals image of Northern Lights when placed under UV light.
November 18, 2014 -- Updated 0525 GMT (1325 HKT)

New concept offering luxury rooms in ancient dwellings helps spare beautiful villages from falling into ruin.
November 21, 2014 -- Updated 2247 GMT (0647 HKT)

Are you the butcher or the cattle? Tainted meat-obsessed fans are following the tracks of their favorite "Walking Dead" survivors.
November 17, 2014 -- Updated 0521 GMT (1321 HKT)

People never cease to find amazing ways to make water more incredible than it already is. Here are some powerful examples