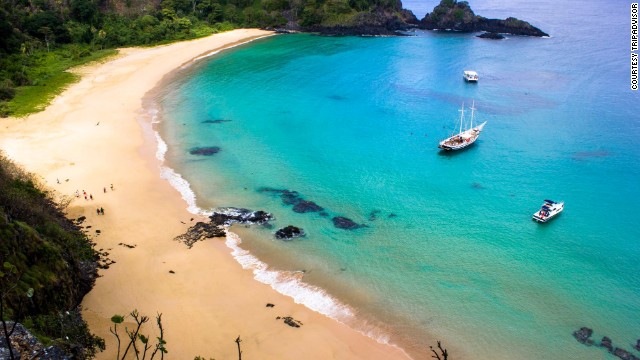 Baia do Sancho in remote Fernando de Noronha, Brazil, takes the top spot in TripAdvisor's 2014 Travelers' Choice best beaches list. Located on a volcanic archipelago, the beach jumped to the top spot from No. 4 last year.
Grace Bay in Providenciales, Turks and Caicos, held on to its No. 2 ranking for the second year.
Flamenco Beach in Culebra, Puerto Rico, jumped two spots from No. 5 to No. 3.
Last year's top-ranked spot, Rabbit Beach on the Sicilian island of Lampedusa, dropped to No. 4 this year.
Whitehaven Beach on Australia's Whitsunday Island dropped from No. 3 last year to this year's No. 5 spot.
Playa de ses Illetes on Formentera in Spain's Balearic Islands broke into the top 10 this year, jumping from No. 12 to No. 6.
Anse Lazio on Praslin Island in the Seychelles jumped 10 spots, from No. 17 last year to No. 7.
Lanikai Beach in Kailua on Oahu broke into the world's top 10 this year. Last year, the Hawaii beach was No. 5 in the United States, but it didn't make the global list.
Rhossili Bay in Swansea, Wales, moved up to No. 9 from last year's No. 10 spot. While certainly not the warmest of the world's spectacular beaches, the rugged landscape and sweeping views are undeniably lovely.
Playa Norte in Isla Mujeres, Mexico, jumped from No. 14 to No. 10 this year.
1. Baia do Sancho, Brazil
2. Grace Bay, Providenciales
3. Flamenco Beach, Culebra, Puerto Rico
4. Rabbit Beach, Lampedusa, Italy
5. Whitehaven Beach, Australia
6. Playa de ses Illetes, Formentera, Spain
7. Anse Lazio, Praslin Island, Seychelles
8. Lanikai Beach, Kailua, Oahu, Hawaii
9. Rhossili Bay, Swansea, Wales
10. Playa Norte, Isla Mujeres, Mexico