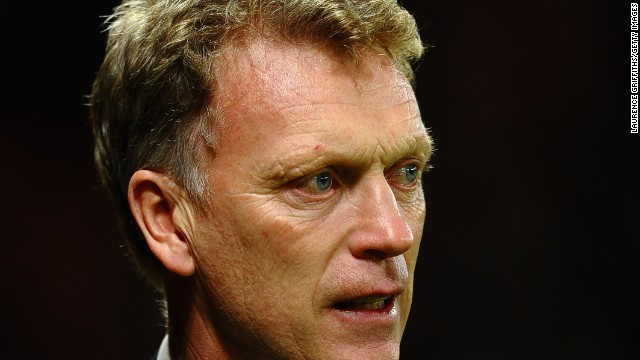 Manchester United manager David Moyes got much needed relief after his team beat Olympiacos 3-0 to advance to the Champions League quarterfinals. Robin van Persie scored a hat-trick for United, which trailed 2-0 after the first leg.
Van Persie got the ball rolling for United when he drilled home a penalty in the 25th minute.
The Dutchman celebrated with teammates when he made it 2-0 in first-half stoppage time.
Van Persie completed his hat-trick on a free kick early in the second half.
Not for the first time this season, Sir Alex Ferguson -- the man Moyes replaced -- was in attendance at Old Trafford.
Sebastian Kehl scored for Borussia Dortmund as the 2013 finalist advanced past Zenit St. Petersburg in the other Champions League game. Dortmund lost 2-1 Wednesday but went through 5-4 on aggregate.
Dortmund keeper Roman Weidenfeller could do nothing, however, on Hulk's stunning opening goal in Germany.
Champions League drama
Champions League drama
Champions League drama
Champions League drama
Champions League drama
Champions League drama
Champions League drama
STORY HIGHLIGHTS
Man United overturns a first-leg deficit and advances in the Champions League
Dutchman Robin van Persie scores a hat-trick in a 3-0 win over Olympiacos
The win at Old Trafford boosts United's under-pressure manager David Moyes
Borussia Dortmund also advances to the last eight in the competition
Follow us at @WorldSportCNN and like us on Facebook
(CNN) -- Manchester United was left reeling Sunday after a demoralizing loss to arch-rival Liverpool that kept it a dozen points adrift of a Champions League spot but there was respite for under-fire manager David Moyes and his team Wednesday.
The Red Devils advanced to the quarterfinals of this season's Champions League by thumping Olympiacos 3-0 thanks to a Robin van Persie hat-trick, thus overturning a 2-0 first-leg deficit.
They were joined in the last eight by 2013 finalist Borussia Dortmund, which like United is struggling domestically but has enjoyed success in Europe. Dortmund overcame Zenit St. Petersburg 5-4 on aggregate despite losing 2-1 Wednesday.
Before the game, Moyes -- one bookmaker lists Dortmund boss Jurgen Klopp as the favorite to succeed the Scot -- denied reports that he had clashed with Ryan Giggs and van Persie.
The 40-year-old Giggs was reinserted into the starting lineup at Old Trafford as part of four changes from the 3-0 defeat to Liverpool -- and he made an impact.
Also helping Manchester United was Olympiacos' poor record in England: The Greek side has played 12 times -- and now lost on each occasion.
"I said to (my team) on Monday morning we have to win 3-0, give the crowd something back because the crowd here has been incredible," Moyes, the successor to managerial giant Alex Ferguson at United, told Sky Sports. "They deserved a good night because we haven't given them many good nights this season.
"I'm not feeling pressure from inside the club. It's all coming from you people," Moyes added, referring to the media. "I know the job I have to do. It's a big job. It's way bigger than maybe we all expected when we came in.
"But the players have been great. I keep hearing about this one has fallen out or someone else has fallen out and I keep telling people it's rubbish -- and it is rubbish."
Van Persie, who led United to the league title last term, and Wayne Rooney were isolated in the loss to Liverpool, with the Dutchman spending the majority of his time in midfield instead of up front.
That wasn't the case Wednesday.
Bookings, a collision that left United winger Antonio Valencia with a swollen eye and a glaring miss by Olympiacos' Hernan Perez highlighted an action-packed opening 15 minutes.
And when Rooney struck the post in the 18th minute, some of the United fans must have thought this might not be their night.
Giggs, however -- and not for the first time in his stellar career -- split open the Olympiacos defense with a diagonal ball that reached van Persie. Referee Bjorn Kuipers pointed to the spot when the striker was pushed by Jose Holebas and van Persie made no mistake as he picked himself up in the 25th minute.
Olympiacos didn't crumble. It was always a threat on the counter and David De Gea, now firmly settled in Manchester, made a sparkling double save in the 40th minute.
But Olympiacos was dealt a blow when van Persie converted Rooney's low cross -- after Giggs' pivotal ball -- in first-half injury time.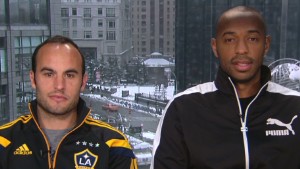 Donovan, Henry predict Champions League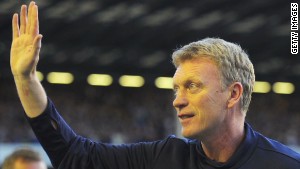 Man United names Moyes as new manager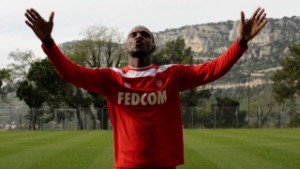 Footballer fights back after cancer
"I thought Giggsy was fantastic," said Moyes. "Sometimes you might be thinking, 'You'll need to come off after 60 minutes' but he's a freak. He really is. He's something different."
Only six minutes after the break van Persie completed his hat-trick with a low free kick.
Olympiacos pushed forward and although De Gea had to be sharp, he and the United defense held firm to the delight -- and relief -- of most of those at Old Trafford.
Van Persie limped off in the dying stages but Moyes said his injury "doesn't look that bad."
Dortmund progresses
Zenit St. Petersburg -- which named Andre Villas Boas as its new manager this week -- faced a difficult task since it trailed 4-2 after the first leg in Russia but Hulk's stunning long-range effort in the 16th minute provided the visitor with hope.
Once midfielder Sebastian Kehl leveled in the 39th, though, it was almost impossible for Zenit St. Petersburg to progress. Even after Jose Rondon made it 2-1 for Zenit in the second half, it still needed two more goals.
Dortmund's joy was tempered by a yellow card to striker Robert Lewandowski that rules the Pole out of the first game of the quarterfinals and Kehl was displeased with the home crowd, too.
"Maybe they wanted to see a 6-1 win, but that does not happen every day," he told reporters. "We have had a lot of injuries this season, but this result shows we are well prepared."
Defending champion Bayern Munich, Barcelona, Real Madrid, Chelsea, Atletico Madrid and Paris St-Germain join Manchester United and Borussia Dortmund in Friday's quarterfinal draw.