Michelle Obama arrives in China for official visit
March 20, 2014 -- Updated 1813 GMT (0213 HKT)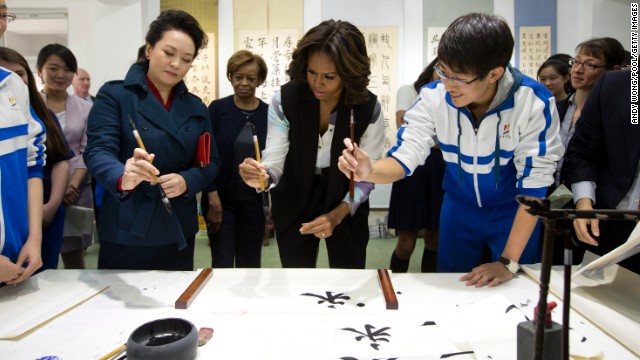 Peng Liyuan, wife of Chinese President Xi Jinping, left, shows first lady Michelle Obama how to hold a writing brush as they visit a Chinese traditional calligraphy class in Beijing on Friday, March 21. The first lady is on
an official visit
to expand relations between the United States and China. Click through the gallery to see her other international travels through the years.
The Obamas traveled to Senegal, South Africa, and Tanzania in June 2013. Here, Mrs. Obama participates in a discussion with students in Johannesburg.
The first family joined the President on a three-day trip to Northern Ireland and Germany where he attended his fifth G-8 Summit.
The first lady traveled to South Africa in June 2011, where she met with former President Nelson Mandela at his home. The visit included stops in Pretoria, Cape Town and Gaborne, Botswana, where she spoke at the Young African Women Leaders Forum.
In May 2011, the Obamas visited Dublin. It was the first stop on a six-day trip to Europe. Here, the first couple enjoy glasses of Guinness at the President's ancestral home of Moneygall, Ireland, at the famous Ollie Hayes Pub.
On her first solo trip in April 2010, Mrs. Obama traveled to Mexico City where she met with Mexican first lady Margarita Zavala and President Felipe Calderon.
The first lady and Dr. Jill Biden made a surprise visit to Haiti in April 2010. They visited a local school and took a helicopter tour of areas distressed from that year's earthquake.
Mrs. Obama traveled to India with the President in 2010. The trip included a visit to the University of Mumbai, the Diwali Candle Lighting Celebration, and dinner with Prime Minister Singh Rashtrapati Bhavan.
The first lady traveled to Copenhagen to represent the United States at the International Olympic Committee session in October 2009.
Michelle Obama's overseas trips
Michelle Obama's overseas trips
Michelle Obama's overseas trips
Michelle Obama's overseas trips
Michelle Obama's overseas trips
Michelle Obama's overseas trips
Michelle Obama's overseas trips
Michelle Obama's overseas trips
Michelle Obama's overseas trips
STORY HIGHLIGHTS
The U.S. first lady will meet with Chinese first lady Peng Liyuan on Friday
The two women have several activities planned
Mrs. Obama won't be talking politics during her week-long visit to three Chinese cities
Her mother and her two daughters are also joining the trip
(CNN) -- First lady Michelle Obama is in China for an official visit to expand Sino-American relations, but she will refrain from talking about political differences.
Mrs. Obama, who flew Wednesday from Washington, D.C., is making a week-long trip to three Chinese cities and will speak with children at several schools about the importance of education and youth empowerment.
The U.S. first lady has several activities and events scheduled Friday with Chinese first lady Peng Liyuan.
"Her visit and her agenda sends a message that the relationship between the United States and China is not just between leaders, it's a relationship between peoples," said Deputy National Security Adviser Ben Rhodes.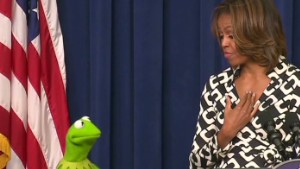 Kermit prefers Michelle Obama to ...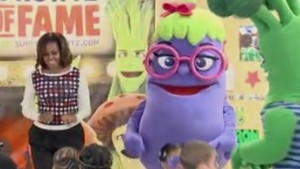 Why Michelle Obama dances with veggies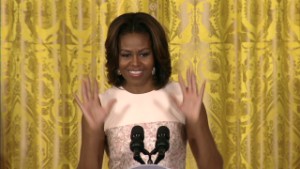 Hear Mrs. O rap for healthy foods
"That's critically important, given the roles that our two countries are going to play in the 21st century, that we maintain the very regular contacts that we have at the leader-to-leader level, but that we're also reaching out and building relationships with people, particularly young people."
President Barack Obama is expected to meet with Chinese President Xi Jinping next week during the Nuclear Security Summit at The Hague. White House officials told reporters on a conference call that issues on which the U.S. and China differ, such as human rights and trade, will be discussed directly between the two leaders and other representatives of the governments.
"We don't expect the people of China to agree with all of our policy positions at any given moment, but the more they understand the United States, the more they understand the President and the first lady and their values and their priorities, we think the better it is for both of our countries," Rhodes added.
Mrs. Obama plans to visit the cities of Beijing and Chengdu, where she will speak to students and discuss cultural exchanges and the benefits of studying abroad. China is the fifth most popular country for American students studying abroad, and more students from China study in the United States than from any other country.
Beyond her message on education, Mrs. Obama will join Madame Peng in a tour of the Forbidden City and the Great Wall. Mrs. Obama will then travel to Xi'an to see the Terra Cotta Warriors. In Chengdu, she will tour the Chengdu Panda Base, which houses approximately 50 pandas.
The first lady will be accompanied by her mother, Marian Robinson, and her daughters, Malia and Sasha, something that White House officials believe will resonate with the Chinese people.
"I think they understand the significance as well of family and of three generations of family traveling together, which I think the Chinese will appreciate, and will appreciate the ties and the bonds that the Obama family have with one another across generations," said the first lady's chief of staff, Tina Tchen.
"This is a great opportunity for the Obama family to experience that, and I think for the Chinese to see that as well in an American family."

Part of complete coverage on
July 20, 2014 -- Updated 1540 GMT (2340 HKT)

Some contend that larger weapons have come into Ukraine from Russia.
July 20, 2014 -- Updated 0057 GMT (0857 HKT)

Children and youth are often the victims of the violence in Gaza. CNN's Ben Wedeman reports.
July 22, 2014 -- Updated 0307 GMT (1107 HKT)

A nun, an AIDS researcher, an athlete and a family traveling on summer vacation. These were some of the victims aboard MH17.
July 18, 2014 -- Updated 0621 GMT (1421 HKT)

In an ambitious plan to upgrade urban India, Prime Minister Narendra Modi says he will build 100 "smart cities" across the country.
July 20, 2014 -- Updated 1127 GMT (1927 HKT)

Inspirational, creepy or just weird? CNN meets the 51-year-old man who dresses like a schoolgirl.

It's been 45 years since the first moon landing. And still the giant rock continues to intrigue.
July 18, 2014 -- Updated 1249 GMT (2049 HKT)

21 ICONS has captured intimate portraits of some of South Africa's most celebrated. Founder Adrian Steirn reveals the story behind the images.
July 17, 2014 -- Updated 1100 GMT (1900 HKT)

A British nanotech company has created what it says is the world's darkest material.
July 18, 2014 -- Updated 1112 GMT (1912 HKT)

Yoga, meditation and watching a snake eat a frog alive: these are some of the experiences to be had at this Himalayan yoga retreat.
July 17, 2014 -- Updated 1139 GMT (1939 HKT)

Just a few weeks ago, a boy tied to a bus stop in Mumbai barely received a glance from passersby. Now, he has a home, thanks to a local NGO.

CNN joins the fight to end modern-day slavery by shining a spotlight on its horrors and highlighting success stories.

Browse through images from CNN teams around the world that you don't always see on news reports.

Today's five most popular stories