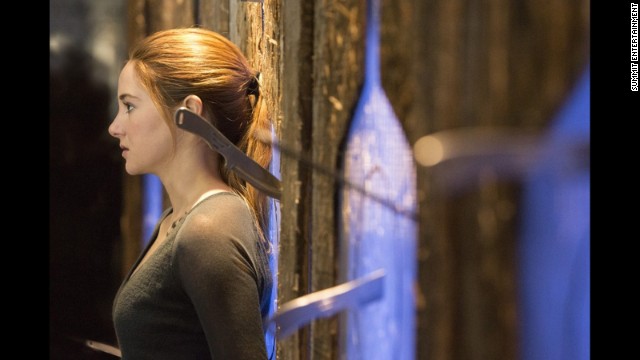 "Divergent" has cast some big names -- Kate Winslet, Shailene Woodley and Ashley Judd, to name a few -- and an even bigger expectation to blow out the box office when it opens on March 21. Whether you're already a fan who needs a refresher or brand new to the world of Beatrice "Tris" Prior and her struggle, consider this your initiation into the newest YA movie craze.
The series revolves around a teen named Beatrice "Tris" Prior who lives in a dystopian version of Chicago where the population is divided into five groups based on moral values in an attempt to keep peace.
The idea is the brainchild of Veronica Roth, who wrote "Divergent" and its sequels, "Insurgent" and "Allegiant." Roth, 25, released the first book in the series in spring 2011. Film rights to "Divergent"
In Roth's futuristic version of Chicago, everyone in society falls into one of five groups, or "factions": the highly intelligent are "Erudite," the artistic and peaceful are "Amity," the brutally honest are "Candor," the incredibly brave are in "Dauntless," and the selfless are in "Abnegation." Those who don't have a faction are left on the fringes of society, absent an identity or community to belong to.
Tris and her family, the Priors, fall into the "Abnegation" faction, where putting the needs of family and society above your own is paramount. Each faction's principles are reflected in their style, so those in the selfless category wear simple, neutral clothing to better demonstrate their lack of self-importance.
Just because you're born into one faction doesn't mean you have to stay there. Every eligible young adult is allowed the opportunity to choose the faction that best fits with their personality at a Choosing Ceremony. Tris' father, Andrew Prior (Tony Goldwyn), wants Tris and her brother, Caleb, to stay in the Abnegation faction.
Tris' mother, Natalie Prior (Ashley Judd), is more open to her children moving into a different faction, even though that means they'd leave their home behind.
Tris' brother, Caleb (Ansel Elgort), for example, decides to join the Erudite faction in keeping with his thoughtful demeanor.
Before announcing their chosen faction at the Choosing Ceremony, the students take an aptitude test that reveals their strongest value. The test is over when one value is isolated, but Tris doesn't fit into just one category, which makes her "divergent." Test results are supposed to be kept secret, which is doubly important in Tris' case: If she's discovered to be divergent, she'll be viewed as a threat to society.
At the annual Choosing Ceremony, those who are eligible make a decision that will change their lives forever: Once they select a faction and publicly make their choice they cannot change it, and have to leave their old life behind. Their aptitude tests don't determine their choice, but are supposed to aid it.
Unlike Caleb, Tris chooses the Dauntless faction, which is all about bravery and cultivating a spirit of fearlessness. In order to make it in this faction, you have to be OK with stunts of daring like leaping on and off trains, handling weapons and engaging in merciless combat.
Tobias, or "Four" (Theo James), teaches the Dauntless newcomers the ropes, and has a particular soft spot for Tris.
Joining Tris as a Dauntless newcomer is Christina (Zoe Kravitz), who comes from the frank Candor faction and quickly becomes Tris' friend during their training.
There's also Will (Ben Lloyd-Hughes), who comes from the Erudite faction but is a little too gregarious for that high-minded lifestyle.
Like Christina, Peter (Miles Teller) comes from Candor, and he's as brutal in a physical fight as he is with his honesty. Peter and Tris at first have an antagonistic relationship, but it eventually evolves into something more complex.
Al (Christian Madsen) is from the creative, gentle Amity, and isn't a good match for the tough Dauntless faction.
Molly (Amy Newbold) is another one of the initiates who hails from Candor and sides with Peter against Tris.
Along with Four, Eric (Jai Courtney) coaches newcomers in the Dauntless way of life. A leader in Dauntless, Eric is a cruel coach who believes in showing bravery through competition and force.
Max (Mekhi Phifer) is another leader of Dauntless, and agrees with Eric's philosophy on what it means to be fearless.
Tori Wu (Maggie Q) is a member of the Dauntless faction who administers Tris' aptitude test and knows that her results were inconclusive. As Tris becomes an initiate of Dauntless, Tori and her tattoo shop -- where other members trickle in for ink, since getting body art is one way to show bravery -- become a haven for Tris.
Jeanine Matthews (Kate Winslet) is the leader of the Erudite faction. Brilliant but cold and calculating, Jeanine's intelligence can be a danger to others.
What to know about 'Divergent'
What to know about 'Divergent'
What to know about 'Divergent'
What to know about 'Divergent'
What to know about 'Divergent'
What to know about 'Divergent'
What to know about 'Divergent'
What to know about 'Divergent'
What to know about 'Divergent'
What to know about 'Divergent'
What to know about 'Divergent'
What to know about 'Divergent'
What to know about 'Divergent'
What to know about 'Divergent'
What to know about 'Divergent'
What to know about 'Divergent'
What to know about 'Divergent'
What to know about 'Divergent'
What to know about 'Divergent'
What to know about 'Divergent'
What to know about 'Divergent'
What to know about 'Divergent'