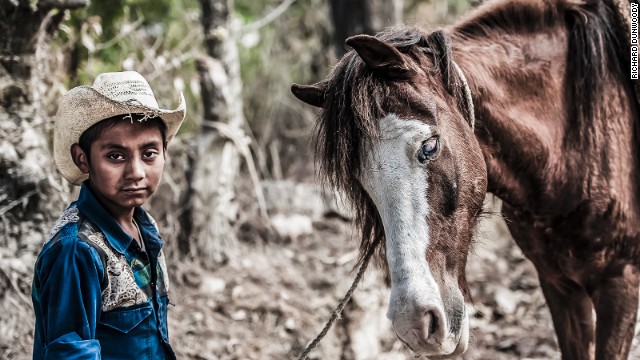 Many of former jockey Richard Dunwoody's pictures have an equine theme, including this of a boy and his blind pony in the countryside near Chimaltenango in Guatemala.
These images were part of a project by animal charity The Brooke -- here working mules and their drivers depart from a brick kiln close to Aligarh, an Indian city near Delhi.
A man drives his horse at full tilt down a dual carriageway with a large load of empty water barrels in Faisalabad, Pakistan.
A carriage driver washes his mule's head in the Nile from a riverboat in Egypt. Tourism is not quite so buoyant in Luxor and drivers are finding it extremely hard to make a living.
Working donkeys at a brick kiln in Gujranwala in Pakistan. The owners take great pride in them, often adorning their bridles with tassels and cloths.
A dehydrated working horse about to be treated at a Brooke clinic in Lahore, Pakistan.
A tired working donkey carrying construction materials in a slum in Delhi, India.
Photography is a complete career change for Dunwoody, who (pictured right) rode Miinnehoma to victory in Britain's prestigious Grand National jumps race in 1994.
Arguably his most famous ride was Desert Orchid, who won the prestigious King George VI Chase in 1989 and 1990.
But Dunwoody insists he doesn't miss the rigors of horse racing and the ensuing falls, such as this one on Spring Hay.
The jockey turned photographer
The jockey turned photographer
The jockey turned photographer
The jockey turned photographer
The jockey turned photographer
The jockey turned photographer
The jockey turned photographer
The jockey turned photographer
The jockey turned photographer
The jockey turned photographer
STORY HIGHLIGHTS
Ex-jockey Richard Dunwoody swaps saddle for photographic snapshots around the world
A passion for pictures and travel led him to retrain and learn the art form in Paris
There's an equine theme to his pictures after a partnership with animal charity The Brooke
Dunwoody was one of the top jockeys in an illustrious career cut short by injury
Follow us at @WorldSportCNN and like us on Facebook
(CNN) -- As a jockey he spent his career guiding horses over the world's toughest fences.
But this -- standing in a ditch in a Guatemalan town with a young boy in a ragged rodeo outfit holding the reins of his blind pony -- is an altogether different assignment for Richard Dunwooody.
The boy is the son of the local rag-and-bone man, who collects unwanted items and sells them to merchants. Dunwoody is there to take pictures for The Brooke, a UK-based animal charity, in his new career as a photographer.
It's in stark contrast to 27 years ago when he burst onto the horse-racing scene aged 22, riding West Tip to victory in Britain's Grand National, a grueling jumps test widely regarded as the hardest and most spectacular event of its kind.
Dunwoody, who turned 50 in January, may have stepped out of the saddle some years ago but horse racing still drives his passion and thinking in this relatively new-found career.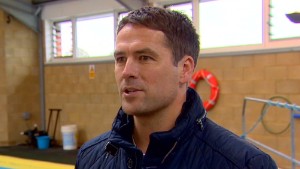 Michael Owen builds horse racing empire?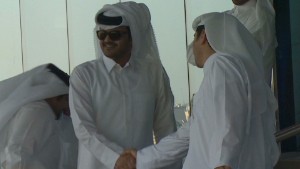 Family rivalry fuels royal horsing empire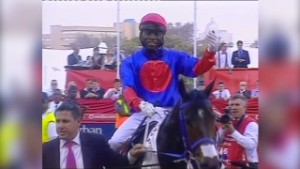 South African jockey shakes up racing
He was advised by his doctor to give up the racetrack because of the dangers to his already damaged neck should he fall heavily again.
"It's a bit like a quote from my friend Tony McCoy (the 18-time champion jockey with over 4,000 wins to his name) who likes to say whatever you do, if you're riding a winner, remember you might not ride another one," Dunwoody told CNN.
"It's the same with photographs. You take a good image and then it's on to the next one.
"I think that horse-racing mentality I had while riding translates well to acting as a driving factor in photography."
The career path from saddle to camera lens is not a well-traveled route, but photography has always been a passion for Dunwoody.
"At school, I was always in the dark room and doing stuff like that," he recalls of his youth in Northern Ireland. "Then during my career I had a lot of friends who were racecourse photographers and sports photographers, so I got more interested then."
After retiring he started heading up riding holidays for travel company Wild Frontiers, which took him on trips around the globe for five or six years.
He featured in "Strictly Come Dancing" -- the British TV show that spawned "Dancing with the Stars" globally -- walked 1,000 miles in 1,000 hours for charity, and retraced the steps of explorer Ernest Shackleton as part of a 48-hour trek to reach the South Pole.
"After all that, I felt I wanted to get about more but wondered what would enable me to do that," he adds. "I thought taking photographs might be a good way of combining the two."
Peter O'Sullevan's race commentary on Dunwoody's first Grand National win
"Young Driver in the sheepskin noseband lands clear of West Tip. They're racing to the closing stages and West Tip is going to take it up now. As they race towards the Elbow it's West Tip with the youngest rider in the race,
Richard Dunwoody
. West Tip on the far side has the advantage from Young Driver. It's West Tip by two lengths, West Tip by three lengths, Young Driver is fighting back but West Tip is going to win the National. And as they come to the line, West Tip has won the National."
So, he signed up to a nine-month course at the Speos Photographic Institute in Paris specializing in photojournalism, which he says "really taught me a hell of a lot."
Asked if he has always had a natural eye, he says laughing, "I wouldn't say that!"
But he has produced a gallery's worth of eye-catching photographs from his various trips, not least of all his first exhibition in January for The Brooke.
The charity wanted to highlight its work and the plight of suffering animals by sending Dunwoody to some of the 10 countries where it has projects.
"I was quite surprised how well it was received," he says of the exhibition.
"You don't really know how you are, you can never gauge yourself, it's how the images are received by other people. I'm just stumbling around trying to make a living from this."
One memorable trip was to Afghanistan in October, which Dunwoody made independently from the charity.
"I always felt safe there, but you never know," he says.
"There was a restaurant we frequented a fair bit while we were there which was blown up by a suicide bomber last month. It makes you think, doesn't it? It's very sad what's happening there but I loved it as a country -- it's a fantastic place really."
Other assignments have included covering the Mongol Derby -- an energy-sapping 1,000-kilometer horse race -- trips to the brick kilns in Cairo to watch children work, slate mines in India and a visit to Antigua, a city perched in the highlands of Guatemala.
There are further photographic trips planned, notably one to Japan later this year, and he hankers for a return to the Arctic and Antarctic.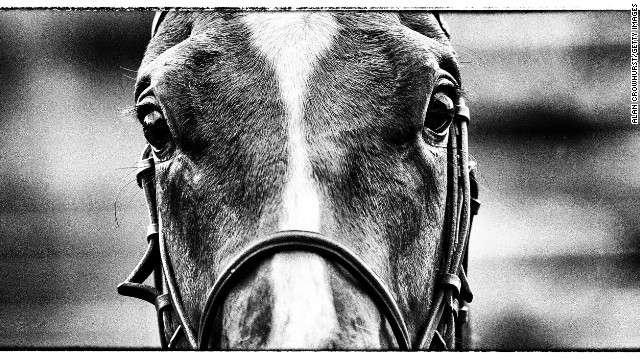 Alan Crowhurst has been training his camera lens on horses for 30 years. Here, the British photojournalist explains how he goes about capturing all the varied action at a day at the races.
As Crowhurst's images reveal, a race meeting is as much about the drama off the track as it is on it. The photographer was at Longchamp in Paris for the Prix de l'Arc de Triomphe -- European racing's richest prize -- on Sunday to capture the windmills and hats as well as the racing.
Crowhurst started taking pictures as a way of making money rather than losing it. "I used to gamble when I started work ... but then I bought a camera. I loved the idea that I gave up gambling but could still go to the races and take pictures instead," he told CNN.
Royal Ascot, Ascot, Berkshire, UK: "At the start, I'll probably go to the pre-parade ring just to have a look to see if there are any shadows. I'll just watch the horses go round (trying to capture) something you might not notice," Crowhurst says.
Royal Ascot, Ascot, Berkshire, UK: Jockeys leave the weighing room during day two of Royal Ascot. "Before the race, depending on where I am, I'll have a wander around the weighing rooms, among people looking at newspapers ... just little things that you wouldn't possibly have time to do during the races," Crowhurst says.
Royal Ascot, Ascot, Berkshire, UK: Everything is on Crowhurst's radar. A steward clasps stable lad's armbands.
Royal Ascot, Ascot, Berkshire, UK: Top hats and tails are the order of the day for men attending Royal Ascot. The five-day meeting takes place every June and is one of the UK's most prestigious sporting events.
Royal Ascot, Ascot, Berkshire, UK: "I like Royal Ascot a lot because there are so many people and so many things to see. It's like shooting fish in a barrel," says Crowhurst.
Royal Ascot, Ascot, Berkshire, UK: A vintage piece of Americana parked amid Ascot's starched shirts and racing silks.
Royal Ascot, Ascot, Berkshire, UK: Runners pass the grandstand in the Ascot Stakes during day one of Royal Ascot. "You can't really go too far wrong. It's always nice colors, smart clothing," added Crowhurst.
Royal Ascot, Ascot, Berkshire, UK: A packed grandstand watches a tightly-bunched group of runners during a race at Royal Ascot in June.
Ascot, Berkshire, UK: Irish jockey Johnny Murtagh riding Novellist celebrates winning The King George VI and Queen Elizabeth Stakes at Ascot. "For the bigger races, I usually position myself after the winning line. I like looking head on because you might get a reaction from the jockey -- a wave of the whip, a punch of the air," says Crowhurst.
Royal Ascot, Ascot, Berkshire, UK: Jockey Jospeh O'Brien riding Leading Light in the winning enclosure after the Queen's Vase during day four of Royal Ascot.
The Grand National, Aintree, Liverpool, UK: A bookmaker taking bets on the Grand National in April. The first official running of the world's most famous handicap steeplechase took place in 1839.
Aintree, Liverpool, UK: Runners making their way past the grandstand at Aintree. Crowhurst prefers jump racing because of its unpredictable nature. A horse that is 10 lengths clear can always fall at the last, he says.
Aintree, Liverpool, UK: Horses and jockeys negotiate the famous Bechers Brook fence during The John Smith's Foxhunters Steeple Chase. Crowhust took four cameras to Aintree in April, this year. "I had three remote cameras and one in hand which sets off the other three. They're only jumping once, so you've got to make the most of the oportunity," he says. "You get nice shapes in jumping as well when (the horses) stretch."
Cheltenham, Gloucestershire, UK: This curious image of a racegoer at Cheltenham taken in November 2012 is one of Crowhurst's favorites. "I just happened to see him," Crowhurst says of the man whose head is all but invisible behind his cupped hands and binoculars.
Cheltenham, Gloucestershire, UK: Barry Geraghty rides Bobs Worth to victory at the Gold Cup in March 2013. Cheltenham racecourse is Crowhurst's favorite place to take pictures of jump racing. "The sun's the right way, you get good horses and good quality races and it's out in the country -- you can shoot against the Coltwolds."
Punchestown, Ireland: Runners make their way through "Joe's Water Splash'"at Punchestown racecourse in April.
"If it's there, I'll try and do something different. The beauty of working for Getty (Images) is that they allow you to do it," says Crowhurst. To view more of Alan Crowhurst's portfolio click here.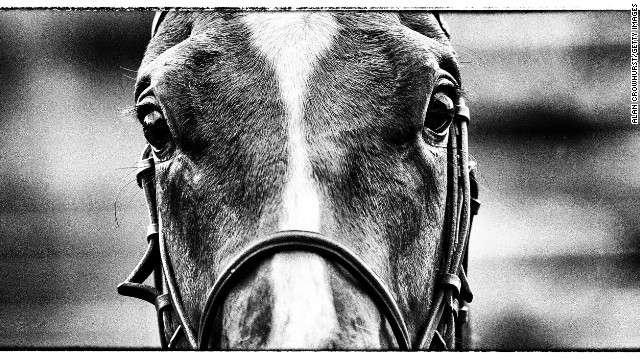 Photo finish: A day at the races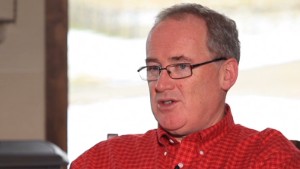 Irish vet takes on Japan's racing industry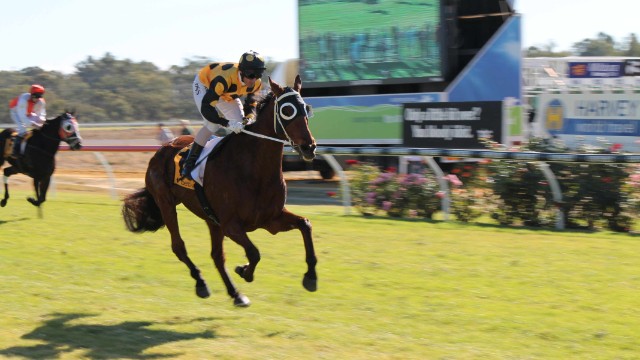 Introducing arguably the world's worst horse....Vote for Lust. The horse recently retired from racing but could well lay claim to being the world's slowest horse with 90 races without a solitary victory. There were second places over the years but two of those, came in what were two-horse races.
In a bid to stop the rot towards the end of his career, he was paired with two-time Melbourne Cup-winning jockey Glen Boss in a bid to buck that trend.
Sponsored by the betting company Betfair and riding in their colours, Boss claimed that Vote for Lust showed promise for about 100 meters before tailing off.
But owner John Castleman (pictured left) is full of praise for 'Lusty,' who proved a calming influence on the many other horses in his stable, calling him "everyone's mate."
Australia's most celebrated racehorse is Black Cavair thanks to 25 victories from 25 starts.
There was talk of Vote for Lust racing against Black Caviar, but that "mother of all mismatches" never took place.
Champion thoroughbred Black Caviar's achieved such fame that the mare appeared in an issue of Vogue Australia.
A statue was recently erected in Black Caviar's honor.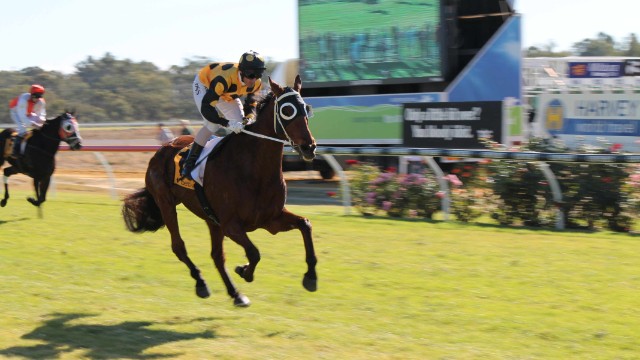 The world's worst racehorse?
"I went there before I'd done my course but it's just the most beautiful place to take photographs," he says.
"We came across a polar bear which I caught on my tiny ready-to-shoot camera, and the pics were OK. I'd like to go back with proper equipment."
Dunwoody, whose time is split between London and living with his girlfriend near Ronda in Spain, still can't believe he has gradually forged a second career for himself from his passion.
As for his former colleagues, he has no idea what they make of his photographs -- "when I see them we never really talk about that" -- and he is too modest to rate his own photographs.
"I'm happy with one or two of my photographs but it's not up to me to say, that's for other people," says Dunwoody, who concedes he is best at action shots. "I'm just very grateful for this chance and the places it takes me."
So what makes a good photo?
"I've had a few lectures on this subject from some top photographers," he says. "It has to be a good moment, a defining moment, something that makes you look twice, as there are so many images out there now. It's hard to get one of those eye-catching shots.
"In fact, photographs are a lot harder work than they are given credit for, certainly than I used to give credit for. I have an immense amount of respect for photographers."
But he is certainly happy in his new life, which has taken him from in front of the lens to behind it.
"I prefer taking photos of horses than being on them," he says. "Certainly at the Mongol Derby, where the ponies rear up and it's all a bit crazy. This is more sane."
Read: The Mongol Derby - The Tour de France meets Snakes and Ladders
Read: How the Grand National splits opinion