Seoul unveils $451 million 'spaceship' landmark
March 21, 2014 -- Updated 0405 GMT (1205 HKT)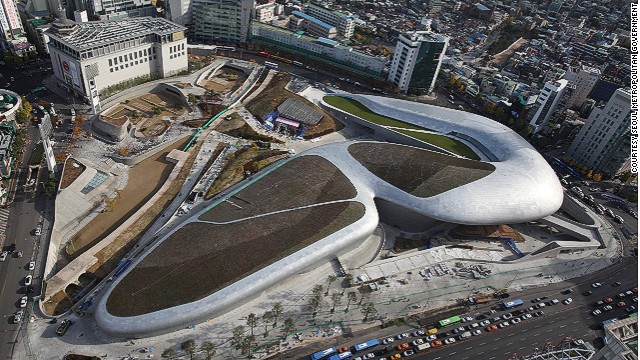 Known for her futuristic, spaceship-like work, "starchitect" Zaha Hadid is behind the design of the Dongdaemun Design Plaza, Seoul's newest landmark.
The new cultural center will host events throughout the year and remain open 24 hours to accommodate nighttime tourists. The Dongdaemun district is famous for late-night shopping.
The Dongdaemun Design Plaza cost $451 million and took five years to complete.
Covering 85,000 square meters, the building includes a design museum, library and educational facilities.
The plaza's first major event is Seoul Fashion Week, which will run until March 26.
Admission is free during March.
Upcoming shows include a Chanel fashion show in fall 2014 and a motor show later in the year.
DDP aims to be a cultural hub.
Greetings, earthlings
Night attraction
Mammoth undertaking
Space and design
Seoul Fashion Week
Exhibition halls
Future events
Variety of concerts, conventions, shows
STORY HIGHLIGHTS
Zaha Hadid designed new $451 million Seoul landmark
Dongdaemun Design Plaza will be open 24 hours in trendy shopping district
Seoul Fashion Week is the DDP's first major event
In honor of grand opening, admission to all DDP exhibitions are free in March
(CNN) -- In yet another display of the city's commitment to 24-hour culture, Seoul is unveiling its biggest nighttime attraction yet in the neon-studded, wildly trendy shopping district of Dongdaemun.
Designed by Iraqi-British Pritzker Prize winner Zaha Hadid, and completed at a cost of $451 million, the new Dongdaemun Design Plaza (DDP) opens to the public March 21.
Commissioned by the Seoul metropolitan government, the plaza features futuristic, spaceship-like curves characteristic of Hadid's previous work -- she's also the woman behind the radical design of the national stadium set for the 2020 Tokyo Olympic Games.
DDP will host concerts, conventions and other major events throughout the year.
But the first order of business for Seoul's newest landmark and multipurpose cultural center is to kick off 2014 F/W Seoul Fashion Week.
Running through March 26, Seoul Fashion Week will feature 81 fashion shows by South Korean designers, as well as Blueprint, a trade show from Singapore's Fashion Week.
MORE: Introducing Seoul's new $230 million art museum
District makeover
The new building and its adjacent park replace an outdated stadium that had long been an eyesore in an increasingly trendy neighborhood.
With most malls in the area open until 5 a.m. (some are open 24 hours), Dongdaemun ("East Gate") is usually flooded with shoppers, especially at night.
The new plaza will be open 24 hours.
Architecture and exhibitions
Construction on the 85,000-square-meter structure began in 2007 and was completed in 2013.
Exhibition spaces are spread over four floors and three underground levels.
The building also houses a museum, a design lab and an art hall.
National treasures and paintings, along with a design exhibition of Zaha Hadid's works, will be shown in eight different exhibitions on site.
In honor of the grand opening, admission to all exhibitions except the Gansong Arts Collection Exhibition will be free until the end of March.
Seoul Fashion Week operates separately from the eight exhibitions.
As part of Seoul's push to showcase its new icon, City Tour buses and airport buses now directly service the DDP.
Beginning April 1, the admission fee to see all exhibitions will be ₩8,000 ($7).
Dongdaemun Design Plaza, Euljiro 7-ga Jung-gu, Seoul; open 24 hours
MORE: Insider Guide: Best of Seoul

Part of complete coverage on
September 23, 2014 -- Updated 1007 GMT (1807 HKT)

Which cities provide the most memorable party times? A self-proclaimed "nightlife connoisseur" names his top 10.
September 22, 2014 -- Updated 0344 GMT (1144 HKT)

Whether you're looking for a post-meeting pint or a wild night out, creativity is on the menu at these hot Hong Kong venues.
September 23, 2014 -- Updated 1028 GMT (1828 HKT)

Artists and migrants are moving out as a once-crumbling neighborhood goes upscale.
September 20, 2014 -- Updated 0502 GMT (1302 HKT)

They irrigate our farms, are an important means of transport and a source of eco-friendly power.
September 19, 2014 -- Updated 0828 GMT (1628 HKT)

Open House festivals allow snooping in homes and landmarks normally closed to public
September 19, 2014 -- Updated 0422 GMT (1222 HKT)

Ancient competitions held and yurt town set up to rejuvenate nomadic cultures.
September 19, 2014 -- Updated 0102 GMT (0902 HKT)
Playful sea lions, fearless boobies and the only ocean-going lizards in the world -- these islands offer amazing experiences for naturalists and tourists alike.
September 18, 2014 -- Updated 1200 GMT (2000 HKT)

A foreign language can be the best aphrodisiac, so we traveled the world in search of the hottest accents.
September 23, 2014 -- Updated 0657 GMT (1457 HKT)

Hidden from the rest of the world for decades, Myanmar's Lethwei boxing is experiencing a revival globally.
September 17, 2014 -- Updated 1117 GMT (1917 HKT)

This aging cargo work whale makes more than 60 flights each week, carrying parts for all of the Airbus programs.
September 15, 2014 -- Updated 0026 GMT (0826 HKT)

Former brothels, public toilets and war bunkers now provide eccentric watering holes for those willing to drink deep.
September 12, 2014 -- Updated 0338 GMT (1138 HKT)

Whether filled with electric blue sulfur flames or hissing lava, these mega mountains offer incredible vistas.

Today's five most popular stories