Oscar Pistorius to sell Pretoria home for legal costs
March 20, 2014 -- Updated 1546 GMT (2346 HKT)
STORY HIGHLIGHTS
Oscar Pistorius is selling the home "to cover his increasing legal costs"
He's on trial for murder in the death of his girlfriend, Reeva Steenkamp
His home, where Steenkamp died, has been sealed since it was handed back to him
Pistorius "cannot contemplate ever returning to live there again," a statement says
Pretoria (CNN) -- Oscar Pistorius -- the standout athlete now on trial accused of the murder of his girlfriend -- plans to sell his Pretoria home "to raise the necessary funds to cover his increasing legal costs," a statement on his website said Thursday.
The house is where Reeva Steenkamp was shot dead in February 2013. Pistorius hasn't returned since her death, according to the statement.
A prosecutor in the Pistorius murder case unexpectedly announced Wednesday that he expects to rest early next week.
Pistorius, 27, could take the stand in his defense as early as next week if the case goes ahead as planned. He admits firing the shots that killed his girlfriend but has pleaded not guilty to murder, saying he thought she was a burglar and he believed he was acting in self-defense.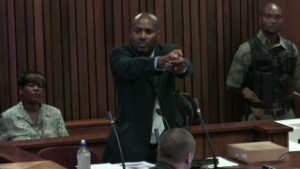 Pistorius trial adjourned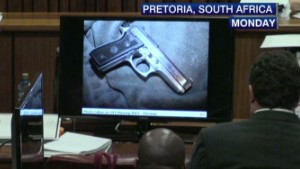 Pistorius defense: Evidence moved
The statement, issued by his media representatives, said the sale of his home was forced by an unexpected extension of the trial from the three weeks initially scheduled.
"It is important to note that Mr. Pistorius has been funding his own defence (sic) from the outset. Due to the delay in finalising (sic) the trial, the decision to urgently dispose of his single biggest asset, has had to be made," it said.
The house has been kept sealed since it was handed back to Pistorius over a year ago, and the athlete "cannot contemplate ever returning to live there again," it said.
Some of Pistorius' neighbors on the estate have been key witnesses in his trial.
The trial has also seen extensive photographs of the interior of the house, including the bloodstains found in the toilet room where Steenkamp was shot.
The property, in the luxury Silver Woods Estate on the outskirts of Pretoria, was listed in an affidavit filed by Pistorius last February, only days after Steenkamp's death, as being worth 5 million Rand. That's around $465,000 at current exchange rates.
Pistorius also listed ownership of three other South African properties of lesser value in the affidavit, as well as cash investments, "household furniture and effects, motor vehicles and jewelery."
His occupational income on the affidavit was listed as about 5.6 million Rand a year. However, he has not competed professionally as an athlete since he was charged with Steenkamp's murder.
Pistorius first achieved global fame as an outstanding double amputee sprinter who ran with special prostheses that earned him the nickname "Blade Runner."
Police used lasers to track gunshots
Gory details lend trial a 'CSI' flavor
CNN's Richard Allen Greene reported from Pretoria and Laura Smith-Spark wrote from London. CNN's Greg Botelho contributed to this report.

Today's five most popular stories
Part of complete coverage on
Oscar Pistorius
October 21, 2014 -- Updated 2117 GMT (0517 HKT)

A stuffy, overcrowded cell. Perhaps two or three men to a single bunk. Lockdown for most of the day.
October 21, 2014 -- Updated 0939 GMT (1739 HKT)

He was the so-called "Fastest Man on No Legs," and his inspiring story captured the imagination of the world at the London Olympics.
September 13, 2014 -- Updated 0423 GMT (1223 HKT)

The striking, platinum-haired model was gearing up for her reality television debut.
October 13, 2014 -- Updated 1251 GMT (2051 HKT)

Her name is Thokozile Matilda Masipa, and she is the woman who decided the fate of athlete Oscar Pistorius.
June 3, 2013 -- Updated 1745 GMT (0145 HKT)

Previously unseen photographs of Reeva Steenkamp show the South African beauty just months before her tragic death.
February 16, 2014 -- Updated 1708 GMT (0108 HKT)

The photos of Oscar Pistorius and girlfriend Reeva Steenkamp appear to show a young couple in love.
October 20, 2014 -- Updated 1507 GMT (2307 HKT)

A week before her death, South African model Reeva Steenkamp talked about her secure, blissful environment.
March 3, 2014 -- Updated 0913 GMT (1713 HKT)

He was the first amputee to compete at an able-bodied Olympics. Now, he's being accused of murdering his girlfriend.
September 12, 2014 -- Updated 0831 GMT (1631 HKT)

Judge Masipa has Oscar Pistorius stand up as she reads her verdicts.
September 11, 2014 -- Updated 1518 GMT (2318 HKT)

CNN's Robyn Curnow looks back at some of the key moments in the trial.
October 21, 2014 -- Updated 0907 GMT (1707 HKT)

CNN's Robyn Curnow reflects on her visit to athlete Oscar Pistorius' home, before he was on trial for murder.
June 30, 2014 -- Updated 0744 GMT (1544 HKT)

Take a virtual tour of the athlete's apartment to see what happened.
April 14, 2014 -- Updated 0926 GMT (1726 HKT)

Prosecutor Gerrie Nel is known as the "bull dog" in South Africa's legal circles, and it's easy to see why.
April 10, 2014 -- Updated 1156 GMT (1956 HKT)

As the athlete is grilled in court, Becky Anderson asks psychologist Dr. James Thompson about his state of mind.