Review: 'Divergent' keeps you invested
March 21, 2014 -- Updated 1425 GMT (2225 HKT)
STORY HIGHLIGHTS
The film is based on a 2011 YA novel by Veronica Roth
Shailene Woodley plays her character as "intensely vulnerable"
EW give it a grade of B+
(EW.com) -- In the posters for "Divergent," Shailene Woodley has been given the stylized bod of a comic-book sci-action vamp, and her features are as coolly chiseled as her physique.
But in the movie version of Veronica Roth's 2011 novel, Woodley, I'm glad to say, is a lot more recognizably human, and that goes for her acting too. Her character, Tris, spends most of the film learning to leap and toss knives and risk death like a badass, and when she puts those skills to the test battling her society's corrupt leaders, there's no doubt that she's a superior, market-tested YA role model, like Katniss in "The Hunger Games." But she is also, as Woodley plays her, an intensely vulnerable and relatable character.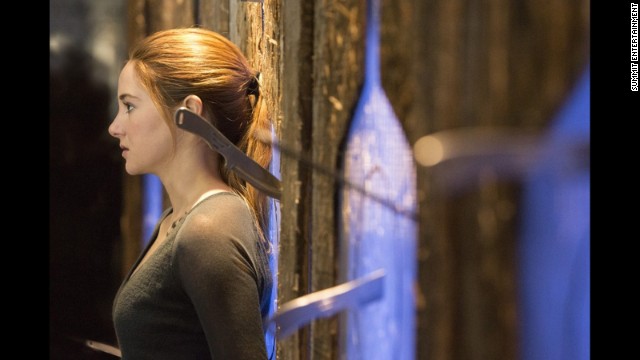 "Divergent" has cast some big names -- Kate Winslet, Shailene Woodley and Ashley Judd, to name a few -- and an even bigger expectation to blow out the box office when it opens on March 21. Whether you're already a fan who needs a refresher or brand new to the world of Beatrice "Tris" Prior and her struggle, consider this your initiation into the newest YA movie craze.
The series revolves around a teen named Beatrice "Tris" Prior who lives in a dystopian version of Chicago where the population is divided into five groups based on moral values in an attempt to keep peace.
The idea is the brainchild of Veronica Roth, who wrote "Divergent" and its sequels, "Insurgent" and "Allegiant." Roth, 25, released the first book in the series in spring 2011. Film rights to "Divergent" were snapped up by Summit Entertainment before the book was even released.
With the "Divergent" trilogy, Roth has created a massive following that has waited anxiously for each installment. As of January 1, 2014, publisher Harper Collins announced the series had sold 10 million copies, according to USA Today.
In Roth's futuristic version of Chicago, everyone in society falls into one of five groups, or "factions": the highly intelligent are "Erudite," the artistic and peaceful are "Amity," the brutally honest are "Candor," the incredibly brave are in "Dauntless," and the selfless are in "Abnegation." Those who don't have a faction are left on the fringes of society, absent an identity or community to belong to.
Tris and her family, the Priors, fall into the "Abnegation" faction, where putting the needs of family and society above your own is paramount. Each faction's principles are reflected in their style, so those in the selfless category wear simple, neutral clothing to better demonstrate their lack of self-importance.
Just because you're born into one faction doesn't mean you have to stay there. Every eligible young adult is allowed the opportunity to choose the faction that best fits with their personality at a Choosing Ceremony. Tris' father, Andrew Prior (Tony Goldwyn), wants Tris and her brother, Caleb, to stay in the Abnegation faction.
Tris' mother, Natalie Prior (Ashley Judd), is more open to her children moving into a different faction, even though that means they'd leave their home behind.
Tris' brother, Caleb (Ansel Elgort), for example, decides to join the Erudite faction in keeping with his thoughtful demeanor.
Before announcing their chosen faction at the Choosing Ceremony, the students take an aptitude test that reveals their strongest value. The test is over when one value is isolated, but Tris doesn't fit into just one category, which makes her "divergent." Test results are supposed to be kept secret, which is doubly important in Tris' case: If she's discovered to be divergent, she'll be viewed as a threat to society.
At the annual Choosing Ceremony, those who are eligible make a decision that will change their lives forever: Once they select a faction and publicly make their choice they cannot change it, and have to leave their old life behind. Their aptitude tests don't determine their choice, but are supposed to aid it.
Unlike Caleb, Tris chooses the Dauntless faction, which is all about bravery and cultivating a spirit of fearlessness. In order to make it in this faction, you have to be OK with stunts of daring like leaping on and off trains, handling weapons and engaging in merciless combat.
Tobias, or "Four" (Theo James), teaches the Dauntless newcomers the ropes, and has a particular soft spot for Tris.
Joining Tris as a Dauntless newcomer is Christina (Zoe Kravitz), who comes from the frank Candor faction and quickly becomes Tris' friend during their training.
There's also Will (Ben Lloyd-Hughes), who comes from the Erudite faction but is a little too gregarious for that high-minded lifestyle.
Like Christina, Peter (Miles Teller) comes from Candor, and he's as brutal in a physical fight as he is with his honesty. Peter and Tris at first have an antagonistic relationship, but it eventually evolves into something more complex.
Al (Christian Madsen) is from the creative, gentle Amity, and isn't a good match for the tough Dauntless faction.
Molly (Amy Newbold) is another one of the initiates who hails from Candor and sides with Peter against Tris.
Along with Four, Eric (Jai Courtney) coaches newcomers in the Dauntless way of life. A leader in Dauntless, Eric is a cruel coach who believes in showing bravery through competition and force.
Max (Mekhi Phifer) is another leader of Dauntless, and agrees with Eric's philosophy on what it means to be fearless.
Tori Wu (Maggie Q) is a member of the Dauntless faction who administers Tris' aptitude test and knows that her results were inconclusive. As Tris becomes an initiate of Dauntless, Tori and her tattoo shop -- where other members trickle in for ink, since getting body art is one way to show bravery -- become a haven for Tris.
Jeanine Matthews (Kate Winslet) is the leader of the Erudite faction. Brilliant but cold and calculating, Jeanine's intelligence can be a danger to others.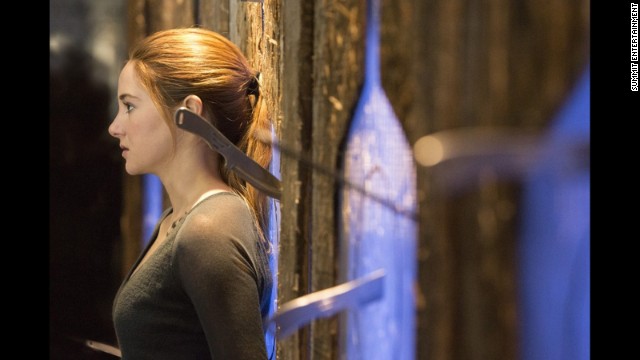 'Divergent': A guide to the newest YA movie craze
Tris, a.k.a. Beatrice, has been raised as a member of Abnegation, one of five factions in a walled dystopia that was formerly Chicago and still looks, strikingly, like a semiruined concrete-playground version of that city. The members of Abnegnation dress in plain gray frocks, like the Amish, and they're all about puritan self-sacrifice. The other four factions are Erudite (defined by their transcendent knowledge), Candor (who are compulsively honest), Amity (the naturally peaceful), and Dauntless (the fearless tattooed warrior jocks in black — in other words, the sect that anyone cool would want to be part of). Beatrice and her peers have the right to choose a -faction for themselves (it's like picking a college — you can go to Yale even if your folks didn't). But when she takes the test to learn which faction she's best suited for, it turns out that she's in the rare forbidden -category known as Divergent, which means she has the qualities of three factions at once: Abnegnation, -Erudite, and Dauntless. It may sound silly to say she's an outlaw because she's self-sacrificial, brilliant, and strong all at the same time, but what's really forbidden is -independent thought.
Woodley, through the delicate power of her acting, does something compelling: She shows you what a prickly, fearful, yet daring personality looks like when it's nestled deep within the kind of modest, bookish girl who shouldn't even like gym class. Tris chooses to become part of Dauntless not because she has any special athletic skill but because it's her nature to go for broke. The first half of "Divergent" is a lean, exciting basic-training thriller, with Tris willing herself to do things like jump aboard speeding trains and fight with her bare knuckles. Woodley, at every turn, lets us feel as if we're in her shoes, not so much Dauntless as thrillingly daunted.
The second half of the movie goes on a bit, with too many rote combat scenes. Yet the director, Neil Burger (the fanciful craftsman who made "Limitless" and "The Illusionist"), keeps you invested, staging a rise-of-the-savior-heroine plot so that it seems less ritualistic than it does in the Hunger Games films. It helps that the drill sergeant, named Four, is played by Theo James, who's like an unflaky James Franco with a surly hint of T-shirt-era Brando; he brings off the neat trick of playing a hardass who is also a heartthrob. And it's nice to watch Kate Winslet go full ice-blood fascist as the Erudite leader who makes a scarily smart case for a society rooted in the fine art of -control. In many ways, she sounds similar to a movie executive, so I'm glad to see the launch of a dystopian franchise in which individuality, as embodied by Shailene Woodley, looks like it could mean something beyond hiply propping up the status quo. Grade: B+
CLICK HERE to Try 2 RISK FREE issues of Entertainment Weekly
© 2011 Entertainment Weekly and Time Inc. All rights reserved.