Bayern Munich clinch Bundesliga title with seven games to spare
updated 8:29 PM EDT, Tue March 25, 2014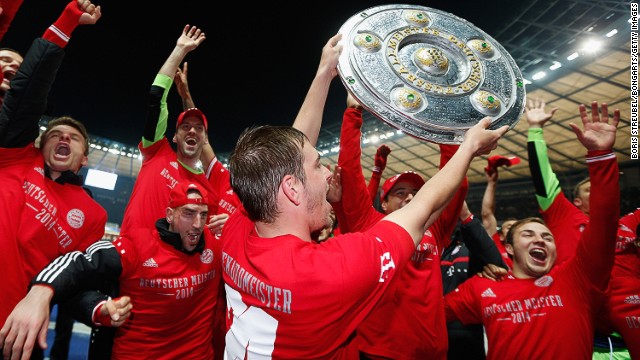 Bayern Munich's players celebrate with a replica of Bundesliga championship trophy after clinching the title at the Olympic Stadium in Berlin.
Toni Kroos (center) celebrates scoring Bayern Munich's opening goal against Hertha Berlin which helped seal a 24th Bundesliga title for the Bavarians.
Bastian Schweinsteiger celebrates after scoring in the 2-0 win against Mainz last weekend. Bayern have now scored 79 goals this season, but have some way to go if they are to equal the record the club set way in the 1971/72 season when they put away 101 goals in total.
Croatian striker Mario Mandzukic has been top scorer for Bayern in the league this season with 17 goals so far.
Goalkeeper Manuel Neuer has only let in 13 goals this season. The record for fewest goals conceded in a season stands at 18 -- a record the Bavarian side set last year.
It's been 52 games now since Bayern Munich lost a league game. The date was October 28 2012, the score 2-1 and the team was Bayer Leverkusen -- seen here celebrating what has proved an historic result.
Stuttgart are one of only two teams (along with Mainz) who have gone in at halftime in front against the Bavarians this season. Vedad Ibisevic's (pictured) 29th-minute goal put Stuttgart ahead before two late goals gave Bayern a win at the of January.
Bayern's incredible sequence of league results started under previous boss Jupp Heynckes. The 68-year-old oversaw a treble-winning season last year.
Pep Guardiola has continued where Heynckes left off, making Bayern an even more formidable force in both the league and in Europe.
The unbeatables pose for a team photo earlier this month. Bayern Munich has 77 points from 27 matches and now need 15 more from their remaining seven matches (a possible 21) to overhaul their own record (set last year) of most points in a season.
Unbeatable Bayern win 24th Bundesliga title
Unbeatable Bayern win 24th Bundesliga title
Unbeatable Bayern win 24th Bundesliga title
Unbeatable Bayern win 24th Bundesliga title
Unbeatable Bayern win 24th Bundesliga title
Unbeatable Bayern win 24th Bundesliga title
Unbeatable Bayern win 24th Bundesliga title
Unbeatable Bayern win 24th Bundesliga title
Unbeatable Bayern win 24th Bundesliga title
Unbeatable Bayern win 24th Bundesliga title
STORY HIGHLIGHTS
Bayern Munich beat Hertha Berlin 3-1 to clinch 24th Bundesliga title
Pep Guardiola's team extend record winning run in league to 19 matches
Borussia Dortmund draw with Schalke 0-0
Bayern have 25-point lead with only 21 points available
Follow us at @WorldSportCNN and like us on Facebook
(CNN) -- Bayern Munich wrapped up the Bundesliga title in record time on Tuesday night with a 3-1 win over Hertha Berlin at the Olympic Stadium.
After being crowned champions with six games to spare last season, the Bavarians have gone one better this year, winning with seven still left to play.
Bayern were 2-0 up within the first 15 minutes -- Toni Kroos netting in the sixth minute with Mario Goetze heading a second eight minutes later -- and looked to be coasting to a 24th Bundesliga title.
Hertha did pull a goal back as Colombian striker Adrian Ramos netted a 66th-minute penalty, but when Franck Ribery came off the bench to score a third with 11 minutes remaining the celebrations for Bayern's traveling fans could begin.
Pep Guardiola's side have now won their last 19 league games and have 77 points from 27 matches -- 25 points more than second place Borussia Dortmund with only 21 points now available from the remaining seven matches.
"I am just happy we have finally managed it," Guardiola said. "It didn't matter when we got it just as long as we won the title for this great club."
The Spanish manager, who steered Barcelona to three consecutive La Liga titles, has built on the foundations laid by former coach Jupp Heynckes who guided Bayern to the treble (Bundesliga, DFB Cup and Champions League) last season.
Tuesday's win also sees Bayern extend their unbeaten run of league matches to 52 -- their last loss was against Bayer Leverkusen on October 28th 2012.
"It's unbelievable to clinch the title on the back of an unbeaten record," said winger Arjen Robben.
"We're all unbelievably proud of the team and our achievements this season."
Guardiola's team still have plenty to play for with not just a Champions League title to defend -- they play Manchester United in the first leg of the quarterfinals on April 1 -- but more league records to try and break before the season finishes.
Bayern need 15 points to overhaul last year's record haul of 91 league points and win five of their last seven matches to better the mark of most wins (29, set last year) in a season.
Elsewhere in the Bundesliga on Tuesday, second-place Borussia Dortmund drew 0-0 with third-place Schalke while Braunschweig beat Mainz 3 - 1. Wolfsburg were also 3-1 winners against Werder Bremen.
Read more: Derby delight for Man City