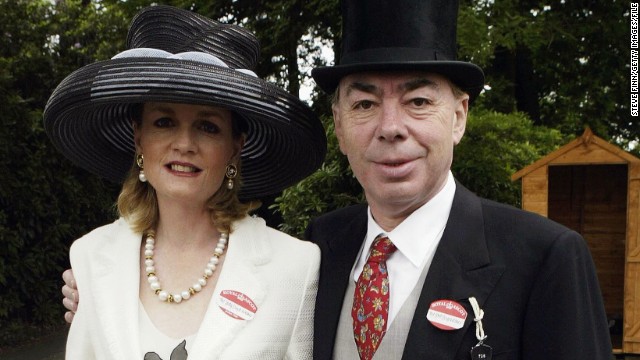 Andrew Lloyd Webber and his wife Madeleine are big horse racing fans.
Theater impresario Lloyd Webber is best known for his hit shows "Cats" and "Phantom of the Opera" but he has also invested in racing stables.
Madeleine, his third wife, is a former equestrian rider who competed alongside Britain's Princess Anne.
They have high hopes for The Fugue, who is among the favorites for the $5 million Dubai Duty Free Stakes.
The filly is under the tutelage of champion English trainer John Gosden -- a former economist -- at the Lloyd Webbers' Watership Down stud farm.
She already boasts $1.5 million in prize money, with victories in the Irish Champion Stakes, Nassau Stakes and Yorkshire Stakes.
Her jockey is William Buick, born in Norway to Scottish and Danish parents.
The Fugue - a musical mare
The Fugue - a musical mare
The Fugue - a musical mare
The Fugue - a musical mare
The Fugue - a musical mare
The Fugue - a musical mare
The Fugue - a musical mare
STORY HIGHLIGHTS
The Fugue bids to take on the world's best in the richest day of racing on the planet
The horse, owned by musical maestro Andrew Lloyd Webber, boasts a colorful pedigree
Her trainer John Gosden got his first big break through a horse called Bates Motel
Jockey William Buick labels her a "superstar" before her $5 million race on Saturday
Follow us at @WorldSportCNN and like us on Facebook
(CNN) -- He's created some of the world's highest-earning stage shows, so it's only fitting that Andrew Lloyd Webber will be in the limelight on the day of the planet's most expensive horse race.
The man behind hits such as "Cats," "Starlight Express" and "The Phantom of the Opera" also has a big interest in the sport of kings, through which he met his third wife Madeleine -- a former equestrian rider who competed alongside Britain's Princess Anne.
Married since 1991, they have owned a stud on a 5,000-acre site in Watership Down (setting for the 1970s novel and film of the same name) which has produced a series of winners.
The latest is The Fugue -- a filly who has already amassed earnings in excess of $1.5 million and boasts her own Twitter page with more than 1,000 followers.
The name is befitting of her owners -- the fugue being the most complex polyphonic musical form, involving imitation -- while the literal translation of "to chase" is considerably more apt for the animal.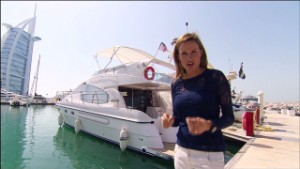 The richest day of horse racing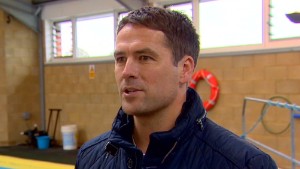 Michael Owen builds horse racing empire?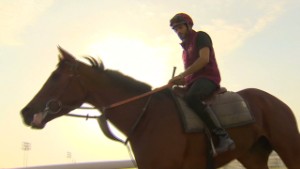 Is this Qatar's first superstar jockey?
"I've ridden a lot of good horses in a relatively short period of time and she's right up there with the very best. She's a superstar," says jockey William Buick, who rode her for the first time less than two weeks ago.
The Fugue will not be lining up in the showpiece $10 million Dubai World Cup, which is run on artificial turf, but will compete earlier Saturday in the Dubai Duty Free Stakes -- which has a relatively paltry $5 million on offer and is held on a traditional surface.
It is the richest day of thoroughbred racing on the planet, with $27.25 million up for grabs in total.
"She's a filly whose best form, her only form, is on the turf," says trainer John Gosden. "Had it been the end of the season we might have thought differently.
"But this is her very first race of the year so we felt it best as a filly to run her on the surface she knows and likes best even if the distance is slightly shorter than she might normally run over."
Last year The Fugue won the Irish Champion Stakes Group One race and came second at the prestigious Breeders' Cup in the U.S. She is the bookmakers' favorite this weekend -- though punters at the $1 billion Meydan Racecourse will not be able to bet on the outcome due to Dubai's rules against gambling.
"She's a talented filly and she's won some lovely races but a couple of times she's been unlucky and not had the rub of the green," says Gosden, a former economist who -- with Buick -- makes up an unconventional team behind The Fugue.
If Madeleine Lloyd Webber -- who met the theater impresario through his horse-loving neighbors in the southern English county of Hampshire -- is the mastermind behind the stud since its inception in 1992, then Gosden is the former "wayward son" who has rediscovered his true path in life.
"I met them some years ago training close to where they live," he says. "Obviously for Andrew the horses wouldn't be his primary focus but he and his wife are great horse people."
The son of a famous trainer -- John "Towser" Gosden, who won the 1966 Epsom Derby a year before he died -- he initially veered away from following in his footsteps.
He studied economics at Cambridge University where he met his lawyer wife Rachel Hood -- now chairwoman of the UK's Racehorse Owners' Association -- and excelled in the discus and javelin rather than pursuing any equine sporting feats.
"I tried to forge my own path away from racing, which was why I went into land management initially," Gosden recalls.
"At the time, we were in a massive recession and it was (UK Prime Minister) Edward Heath's three-day week (to conserve the nation's energy supplies), so going abroad made sense."
He went as far as South America, but never lost his passion for horse racing.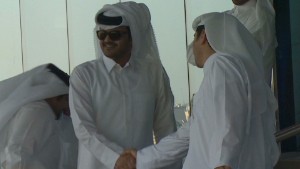 Family rivalry fuels royal horsing empire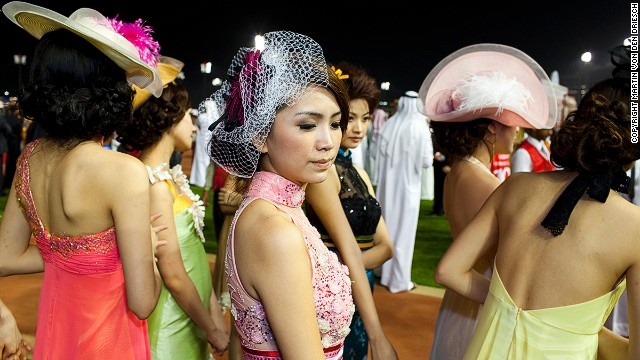 While most photographers are training their lens on the horses at the Dubai World Cup, others, like Martin von den Driesch, prefer to concentrate on the human spectacle. The world's richest horse race runs every March, attracting around 60,000 spectators who arrive from all over the world to experience the highlight of the emirate's social calendar.
Von den Driesch has been based in Dubai for the past seven years following a 13-year stay in Moscow, Russia. "90% of people in Dubai are expats or foreigners, so I find it a very interesting mix going to the Dubai World Cup. I'm looking for interesting situations, interesting people," the German says.
The Dubai World Cup has taken place annually since 1996. Before the action begins at the Meydan Racecourse, patrons are treated to a spectacular firework display.
The party atmosphere is heightened by the appearance of a flash mob.
Dubai's ruler Sheikh Mohammed bin Rashid Al Maktoum (center) is one of horse racing's most prominent owner/breeders and is always an interested observer at the Dubai World Cup.
"I like this idea of the clash of cultures taking place at the Dubai World Cup," says von den Driesch. "On the one hand, the ruler and the Arabs following the races very seriously ..."
"... and 50 meters away there is the Bubble Lounge with a large number of Westerners enjoying a glass of fizz. This is one of the few times a year in Dubai when the two different cultures get dangerously close," he says.
Champagne bottles, ice buckets and a rogue can of lager lie strewn across a table in the Bubble Lounge.
Von den Driesch says there are around 200 different nationalities living in Dubai and many turn up to catch a glimpse of the action using whatever means available to them.
Animated racegoers cheer on their horses. The purse for the Dubai World Cup itself is $10 million. Last year's race was won by 2011 Kentucky Derby winner Animal Kingdom.
Access to the main grandstand isn't reserved for just a well-heeled few. There is also a limited amount of seating available to less well-off families.
"There are many workers who also have a good time," says von den Driesch, "sitting together with their friends and family on the grass having a picnic."
Mobile banking facilities ensure that those who do have the financial means never run out of funds to keep the party going.
Glamorous expats enjoy posing amid the party atmosphere at the Bubble Lounge.
The vast Meydan racecourse with its towering grandstand cost $1 billion to build and opened in 2010. Von den Driesch describes the complex as "very spectacular" and "grandiose," but lacking atmosphere at other times of the year. "It's so big that it's kind of empty on all the other racing nights -- only about 5-10,000 people turn up."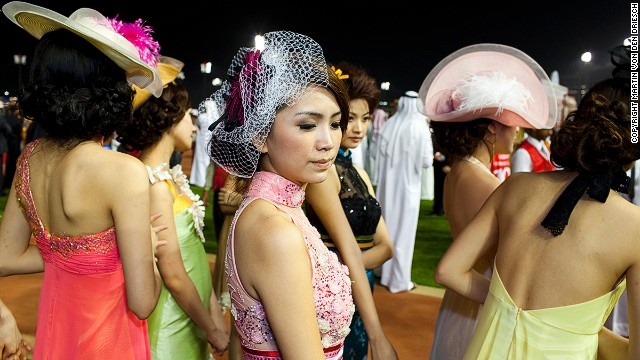 Bubbles and cuddles at richest horse race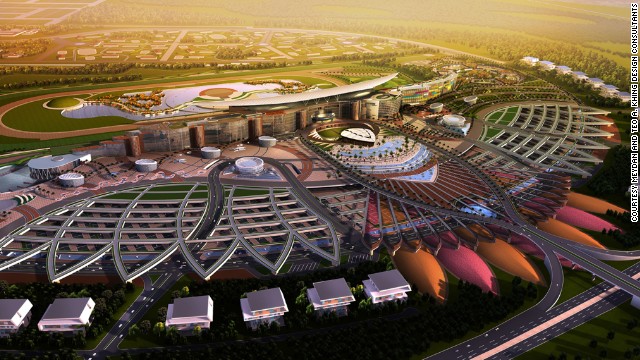 Welcome to the Meydan Racecourse, home of the Dubai World Cup. Built in 2010 for a whopping $1 billion, the awe-inspiring complex is the glittering crown in Sheikh Mohammed bin Rashid Al Maktoum's racing empire. But can the big money buy prestige?
The track's 10-storey hotel boasts 285 luxury rooms, roof-top infinity pool, ballroom and five restaurants. It's intended to be a year-round conference center outside the racing season.
"It's like Old Trafford, the Emirates and Wembley all rolled into one. When they turn the lights on it looks like a spaceship from 'Star Wars,'" said champion Italian jockey Frankie Dettori.
Sheik Mohammed's vision of a thriving Meydan metropolis doesn't stop at the race track. Plans are underway for a nearby retail center, featuring a 40-storey horse-shaped tower.
Dubai's ruler, Sheik Mohammed (pictured in green), is an influential figure in the thoroughbred breeding and racing world. The wealthy prime minister owns the country's prestigious Godolphin Stables, along with stud farms in Ireland, Britain, and the U.S.
Godolphin horse Monterosso, riden by jockey Mickael Barzalona, won last year's Cup. With $10 million in prize money on offer, it is the world's richest race, attracting the best thoroughbreds on the planet.
The unique Middle Eastern setting mean sheiks in traditional dress rub shoulders with scantily-clad fashionistas over the 11-day carnival.
"There's no gambling allowed here in the Middle East in Dubai, it's against the law and it's against the religion," said Simon Crisford, manager at Godolphin Stables. "It's all about the competition, the spirit of horse racing here is not about the betting."
The extreme Gulf heat, up to 120 degrees Fahrenheit (48.9 degrees Celsius) at the height of summer, make breeding and racing thoroughbreds a difficult task. "In terms of racing, we have a short lifespan -- from the start of November to end of March," said Dubai World Cup chief executive, Frank Gabriel.
Launched almost 140 years ago, the Kentucky Derby remains one of the most prestigious races in the world. "The Dubai World Cup is a new event, it's only 17 years old. Some of the other big prestigious races around the world are 200 years old, so it can never compete with the sense of tradition and history. But nevertheless it continues to attract the very best horses," Crisford said.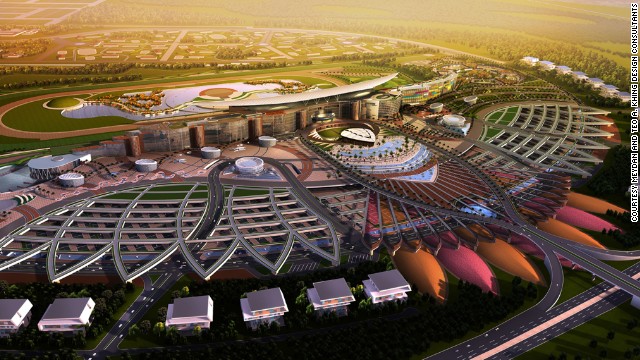 Dubai World Cup: The world's richest race
"I think it was just instilled in me," Gosden says. "When working in Venezuela I'd still be up at 4:30 in the morning with the horses there before going to work in an architect's office."
Returning to racing as an assistant trainer, he moved to California in the 1970s before attaining an American licence at the end of the decade.
His big break came in 1983 with Bates Motel, a horse named after the celebrated establishment in Alfred Hitchcock's 1960 movie Psycho, when it won the prestigious Santa Anita Handicap -- California's richest race for older horses.
"It was an apt name," recalls Gosden. "He was quite a character and he had a vicious side to him. But that's not how he got his name -- I believe the owners, the Getty Family, were simply big fans of Alfred Hitchcock's movies.
"For me in America, that was my first big win but it was easier to get started out there than back in the UK. It was a golden era of racing there. Everyone needs a break in life and that was mine."
In 1989 he returned to the UK where he has been based ever since at a series of different stables, with more than 2,000 race wins including the Epsom Derby, the Breeders' Cup Classic, the 1,000 Guineas, the St. Leger twice and the Dubai Sheema Classic, and being crowned British flat racing champion trainer in 2012.
More recently, many of those successes have come with Buick on board. Many eyebrows were raised when Gosden hired the then 21-year-old novice to become his stable jockey in 2010. Much of the horse-racing fraternity said he was mad, but the results have proved otherwise.
Photos: Bubbles and cuddles as Dubai parties
Buick's passage into racing is not the most oft taken. Born in Norway -- not renowned for being a breeding ground for top jockeys -- he had some pedigree; his Scottish father Walter was an eight-time Scandinavian champion jockey while his Danish mother Maria was a dressage rider and showjumper.
"We have a very close relationship as a family and I was always surrounded by horses," he recalls.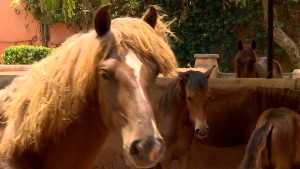 Breeding the world's 'smallest' horse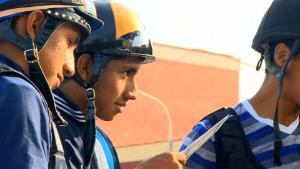 Peru's passion for horses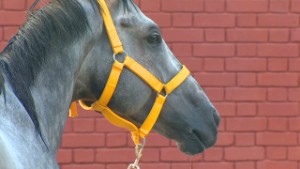 Top horses battle it out in Peru
"Dad was a very successful jockey while my Mum had a lot of wins as an amateur jockey too while being an equestrian rider."
With limited opportunities in Norway, Buick decided to move to the UK when he was 16 to start an apprenticeship.
"Thankfully, I never really looked back as I got good breaks in life," he says.
"You have to have ability but you need those breaks too. I got those -- a good bit of luck really."
The biggest break of all was the tie-up with Gosden, who he admits "took a punt on me."
That almost immediately paid off at the same Meydan Racecourse where he hopes to shine on Saturday, with victory on Dar Re Mi in the 2010 Sheema Classic -- a similar caliber Group One race to the Dubai Duty Free Stakes.
"This race is not going to be easy by any stretch of the imagination," Buick says.
"She's a classy filly and has proved she can take on the best in the world. I'm not going to say she'll win, as so many things can happen, but she's got a great chance."
All eyes will be on the race at Meydan -- the day before Gosden turns 63. The veteran trainer will be hoping The Fugue makes it a birthday to remember.
Read: Qatar - New rulers of the sport of kings
Read: Animal Kingdom scoops richest prize in racing
Read: Space-age skyscrapers and sheikhs - racing's new world order