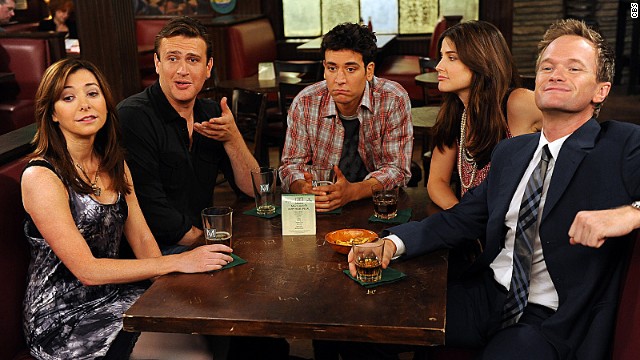 After nine seasons of running gags, touching scenes, flashbacks and flash-forwards, the series finale of "How I Met Your Mother" airs on March 31. So we couldn't possibly name only 20 most memorable moments from the show, could we? Challenge accepted!
music video
remains one of the funnier sitcom moments in recent years, and Robin's "Sparkles" persona has returned several times over the seasons.
The second season of the show had a major twist when it turned out that Robin's fear of malls was actually due to her past as a Canadian pop star (whose hit song was "Let's Go to the Mall," naturally). Robin Sparkles' resulting
The same episode that introduced Robin Sparkles also gave us the "slap bet," the best running gag on the show, in which Barney losing a bet to Marshall meant he had to take five slaps to the face, distributed at unexpected times. We saw the final slap on last Monday's episode.
At long last, the Mother! Cristin Milioti's unexpected appearance in the role of the woman Ted has been destined to meet this whole time led to a final season of getting to know the still-unnamed Mother.
Ted's tattoo removal over 10 doctor visits led to a flirtation with his doctor, Stella, who claimed she didn't have time to date. Ted came up with the "two-minute date," a scene done in one shot, that captured what has made this show so special in a nutshell.
The Mother's yellow umbrella has shown up countless times over the years and we recently got a glimpse of it one more time just moments before she was going to meet Ted. We'll see you at that train station at the end of the finale.
The 100th episode brought us a song and dance number where Neil Patrick Harris' Barney got to sing a rollicking ode to his one true love: Suits.
Ted's first long-term girlfriend on the show, Victoria, was so memorable that many fans out there kind of wish she had turned out to be the Mother.
They sure loved their interventions. If there can be an intervention about it, this group of friends staged one.
Lily and Marshall's wedding -- complete with Marshall going crazy and partially shaving his head -- were the most memorable nuptials of the series so far.
Sure, we met her but we didn't think we'd flash forward to see Ted propose to the Mother. It was another pleasant surprise from the final season.
One of the big mysteries from the first season (aside from that "pineapple incident") was finally solved years later when Katie Holmes showed up playing the "Slutty Pumpkin." Unfortunately, she wasn't the dream girl Ted was hoping for.
For several seasons, Barney lived under the impression that Bob Barker was his father, even going on "The Price is Right" to finally meet him.
Eventually, Barney finally found his real father, played by John Lithgow.
theme song
, which sounded a bit like that other bar-based sitcom.
Ted and Barney's dream bar, "Puzzles" was set up in Ted's apartment. It even had a
Britney Spears popped up in two episodes, as the naïve Abby, who was the unfortunate victim of one of Barney's many schemes.
The gang added a baby to the mix: Meet Marshall and Lily's son, Marvin.
One day, Ted walked into his apartment and found a goat. The explanation of this was held for several episodes, until we learned that Lily rescued the goat from a farmer in her classroom.
We certainly didn't expect Barney to sport the hippie look when we had a look back into his past. Eventually, he put on a suit and never looked back.
Robin buried "something old," a locket years ago for her eventual wedding. When it went missing, Ted was determined to find it, and in the most recent episode, gave it to Barney to give to his fiancée. (Though she quickly figured out the truth.)
Barney and Robin's wedding was two seasons in the making (not to mention the longest weekend ever, which made up this final season), and for a while there we wondered if they'd really make it to the aisle. (As you can see, they finally did.)
The 20 most memorable moments on 'HIMYM'
The 20 most memorable moments on 'HIMYM'
The 20 most memorable moments on 'HIMYM'
The 20 most memorable moments on 'How I Met Your Mother'
The 20 most memorable moments on 'HIMYM'
The 20 most memorable moments on 'HIMYM'
The 20 most memorable moments on 'HIMYM'
The 20 most memorable moments on 'HIMYM'
The 20 most memorable moments on 'HIMYM'
The 20 most memorable moments on 'HIMYM'
The 20 most memorable moments on 'HIMYM'
The 20 most memorable moments on 'HIMYM'
The 20 most memorable moments on 'HIMYM'
The 20 most memorable moments on 'HIMYM'
The 20 most memorable moments on 'HIMYM'
The 20 most memorable moments on 'HIMYM'
The 20 most memorable moments on 'HIMYM'
The 20 most memorable moments on 'HIMYM'
The 20 most memorable moments on 'HIMYM'
The 20 most memorable moments on 'HIMYM'
The 20 most memorable moments on 'HIMYM'