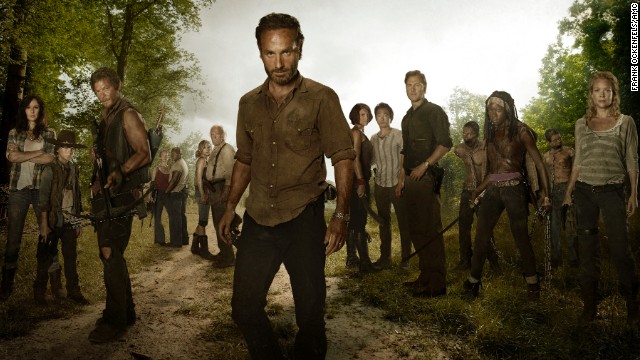 Rick Grimes, played by Andrew Lincoln, center, tries to keep some sense of normalcy in a post-apocalyptic world overrun with walkers on AMC's "The Walking Dead," but characters come and go quickly on the gruesome show. Here's a look at some of the key characters we've lost:
Among the most shocking deaths this season was that of young Lizzie (Brighton Sharbino, left), who died at the hands of Carol (Melissa Suzanne McBride, right) after killing her younger sister Mika. Lizzie's sense of right and wrong and life and death had been warped by the zombie apocalypse. Just as she did earlier in the season, Carol had to make the decision that someone was too dangerous to live. Carol urged Lizzie to follow her therapy of "look at the flowers" before she shot her in the back of the head.
Shane Walsh (Jon Bernthal) turned on his best friend, Rick Grimes, and lured him into the woods, apparently with plans to kill him and steal Rick's wife, Lori. Rick stabbed Shane, but he came back as a zombie, and Rick's son Carl had to shoot Shane to put him down.
T-Dog (IronE Singleton) was bitten helping Carol escape zombies at the prison.
Dale Horvath (Jeffrey DeMunn) was killed by a zombie.
Lori Grimes (Sarah Wayne Callies) died during childbirth. Her son, Carl, apparently shot her (heard, but not seen on camera) to prevent her from becoming a zombie.
Sophia Peletier (Madison Lintz) got lost in the woods. She later turned up as a zombie locked in the barn on Hershel Greene's farm. Sheriff Rick Grimes shot her in the head to finish her off.
Amy (Emma Bell) was bitten by a zombie. Her sister, Andrea, had to put her down after she revived as a zombie.
Merle Dixon (Michael Rooker) was killed by the Governor, reanimated as a zombie and put down by his brother, Daryl, who stabbed him multiple times.
Andrea (Laurie Holden) was bitten by Milton, who became a zombie after being stabbed by the Governor. She shot herself so she wouldn't become a zombie. This was heard off camera but not seen.
In one of the show's most heartbreaking losses, Hershel Greene (Scott Wilson) was decapitated and killed by the Governor.
After being stabbed by Michonne, the Governor (David Morrissey) was shot to death by Lilly.
Key characters killed on 'Walking Dead'
Key characters killed on 'Walking Dead'
Key characters killed on 'Walking Dead'
Key characters killed on 'Walking Dead'
Key characters killed on 'Walking Dead'
Key characters killed on 'Walking Dead'
Key characters killed on 'Walking Dead'
Key characters killed on 'Walking Dead'
Key characters killed on 'Walking Dead'
Key characters killed on 'Walking Dead'
Key characters killed on 'Walking Dead'
Key characters killed on 'Walking Dead'
STORY HIGHLIGHTS
Sunday night's episode had some gasp-worthy moments
Last week several survivors arrived at a safe haven
The road to Terminus is a rough one
Editor's note: Warning: Do not read any further if you have yet to watch the finale of "The Walking Dead's" fourth season.
(CNN) -- It wouldn't be a finale to "The Walking Dead" without at least a few moments that make you gasp, and Sunday night's season ender certainly delivered.
Last week, several survivors, including Glenn and Maggie, arrived at Terminus in what was promised to be a safe haven, but was it really?
We caught up this week with Rick, Carl and Michonne -- interspersed with flashbacks to the comparatively idyllic life back at the prison -- and they too had a rough road to Terminus.
Here are some of the big moments from this week's episode:
1. Joe meets Rick again
Just when it almost seemed like Rick's trio had it all figured out (he even created a new way to trap game), they were set upon by Joe and his up-to-no-good crew of "rule followers" with Daryl in tow.
Despite Daryl begging for mercy, Joe's men started to beat him to death, while others set upon Carl and Michonne.
2. Rick fights back, big time
When Rick saw his son in trouble, he moved his head back and injured Joe, whose gun went off. Rick -- well, there's no other way to put this -- then bit Joe on the neck and went after the rest of his crew, including the man who attacked Carl, repeatedly stabbing him to death.
The other survivors couldn't believe what they were seeing. Needless to say, don't mess with Carl.
On the bright side, Daryl is back. He and Rick are like brothers now, too.
The post-racial revolution will be televised
3. Welcome to Terminus
Rick, Daryl, Michonne and Carl finally arrived at Terminus -- sneaking in through the back, of course.
The moment Rick noticed one of the denizens of Terminus wearing Hershel's watch (now owned by Glenn), he pulled a gun on someone -- and wait, isn't that woman wearing Maggie's poncho, too?
It just wouldn't be a finale without a shootout, and we certainly got one as Rick and crew fired against Gareth and the rest from Terminus.
4. What is this place?
Entrails seen in a courtyard? A room where the words "Never again" are painted on the walls? Something's just not right with Terminus. Unfortunately, we didn't find out too much more about this. ...
5. Reunited
Gareth finally gets the upper hand and orders Rick, Daryl and Michonne (the "ringleader, archer and samurai") to enter a train car. An enraged Rick asks about his son, and Gareth tells Carl to walk over to the car.
When they make their way in, they soon realize that Glenn, Maggie, Abraham and others in their group are alive.
Carol, Tyrese and Judith are still making their way to Terminus, as far as we know, but Beth's whereabouts remain unknown.
Rick delivers one of the best lines in the series' history when he tells Glenn, "They're going to feel really stupid when they find out ... they're screwing with the wrong people."
Rick certainly proved that with his actions this week. He's gone from a lawman to the "Ricktator" to something of a go-for-broke violent avenger over the years.
Were you happy to see so many of the survivors reunited and find out that no one died in this finale? Share your thoughts in the comments.