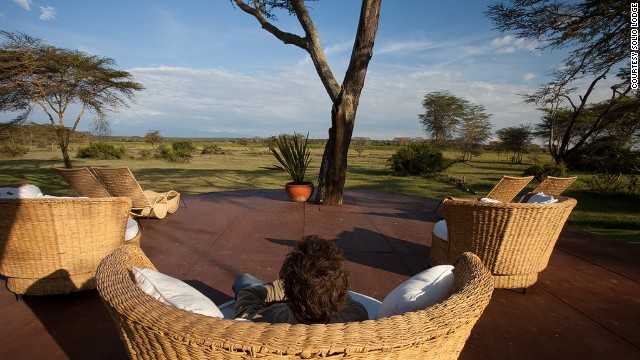 A UK tour company has launched a 111-day, $1 million "safari." Got cash and time? Here's where you could be headed, starting with an eight-day exploration in Kenya to see northern white rhino, one of the world's most endangered animals. They're extinct in the wild according to the World Wide Fund for Nature though a few individuals remain at Ol Pejeta Conservancy, watched over by armed guards.
The safari is designed to combine luxury experiences with contributions to conservation efforts. A five-day trip to Rwanda will seek out the country's mountain gorillas. Just 880 individuals remain today, in the DRC, Rwanda and Uganda.
Around a thousand of Africa's remaining wild chimpanzees (WWF estimates 150,000-250,000 of our closest cousins remain in the wild) live in this remote wilderness. The trip covers four days at Mahale Mountains National Park tracking them.
Twelve days in Madagascar takes guests close to the lemurs of the Palmarium private reserve. From 1981 to 2008, the black-and-white ruffed lemur (pictured) is believed to have decreased in number by 80%, with some estimates putting the population as low as 1,000 individuals.
One week will be spent at the Selinda Concession seeking out resident wild dogs. Seeing these "painted dogs," which differ to wolves and domesticated dogs by having four toes rather than five, is an increasingly rare thing. Their population is estimated at 3,000-5,500.
The black rhinos in the Palmwag Concession in Namibia are critically endangered, with fewer than 5,000 left in the wild. Their longer front horn makes them targets for poachers.
Eight days in Antarctica will be spent exploring ice caves, rock climbing and kite-skiing. The main draw is a colony of 6,000 emperor penguins, populations of which could decline by 50% according to the WWF if global average temperatures rise by just 2 degrees Celsius.
Snow leopards and Bengal tigers will (hopefully) be part of the 10-12 day stint in Ladakh and the parks of Kanha and Bandhavgarh, northwestern India. There are fewer than 2,500 Bengal tigers in the wild, but they're still the most populous tiger subspecies.
This little guy, plus sun bears and pygmy elephants, can be seen in Borneo. There are approximately 41,000 Bornean orangutans in the wild. Deforestation and illegal wildlife trade are their biggest threats.
The M/Y Grace will explore the land and marine systems that inspired Darwin's Theory of Evolution. There are approximately 14,300 Galápagos giant tortoises on the islands. They're considered a vulnerable species, but not endangered, and often live longer than 100 years.
The Pantanal comprises seasonally flooded savannahs and tropical forests in central-western Brazil. Time here will be spent cruising the rivers in search of jaguars as they drink at the water's edge. With 15,000 jaguars left in the wild, they're classified "near threatened" and on the decline due to habitat loss and poaching.
Finally, the frozen tundra of Canada. A few days here will be spent spotting polar bears as they gather along the shores of Hudson Bay, waiting for the water to freeze so they can set out to hunt. Polar bears are listed as vulnerable by the WWF, with a population of 20,000-25,000.
Laikipia Plateau (Kenya)
Volcanoes National Park (Rwanda)
Mahale Mountains NP (Tanzania)
Madagascar
Selinda Concession (Botswana)
Palmwag Concession (Namibia)
Antarctic Peninsula
Big cats in India
Danum Valley and Sepilok (Borneo)
Galápagos Islands (Ecuador)
Pantanal Wetlands (Brazil)
Churchill (Canada)