Is the global workforce headed for a burnout?
April 1, 2014 -- Updated 1619 GMT (0019 HKT)
STORY HIGHLIGHTS
Arianna Huffington's new book "Thrive" asks us to redefine success
Implores employees to sleep longer, take breaks, nap and meditate
She adds: "Nothing kills creativity more than burn out"
Leading Women connects you to extraordinary women of our time. Each month, we meet two women at the top of their field, exploring their careers, lives and ideas.
New York (CNN) -- When Arianna Huffington collapsed at her desk in 2007, she woke to find herself covered in a pool of blood. Sporting a broken cheekbone from the fall, the incident spurred the editor-in-chief to sit up and rethink her workaholic lifestyle.
Since then, Huffington has made it her mission to raise awareness around work-life balance with her "sleep evangelist" mantra infused across the HuffPost website. From her "GPS for the Soul" app to installing nap rooms inside her New York headquarters, it's rare for the media mogul not to mention sleep deprivation in TV appearances or her weekly editor's note.
CNN anchor Maggie Lake sat down with Huffington to discuss redefining success as outlined in her new book "Thrive: The Third Metric to Redefining Success and Creating a Happier Life."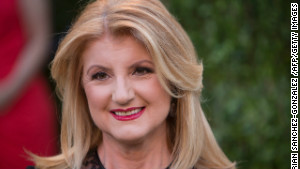 Can women drive the recovery?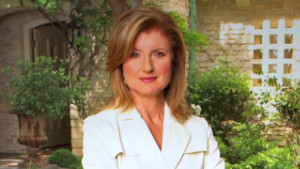 Arianna Huffington on dreaming big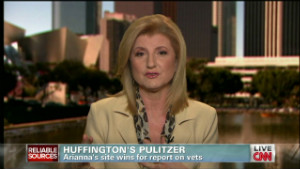 Huffington's Pulitzer
"It's very important to recognize [burnout] is a global phenomenon. I was in South Korea recently where we also have Huffington Post. Stress and burnout are much worse there than in the United States. People consume alcohol four times as much as a way to alleviate stress; 40 people commit suicide a day. You go to China, and stress is now a daily topic of conversation because people have paid such a price."
"I believe we need to define success beyond the two metrics of money and power. [We need] to include a third metric that incorporates our health, well-being and wisdom. A capacity to be connected with our better selves... Not to miss the moment -- because that's all we have. We can't DVR our lives and watch it later."
"Nothing kills creativity more than burnout. So in fact, the best thing we can do for our careers is to foster and nurture that creativity and that effectiveness... There is absolutely no trade off between doing well in our jobs and taking care of our own human capital."
"The situation is changing. In Germany, Volkswagen gives employees company phones which are automatically turned off at 6pm and then turned on again at 7am... Here in the United States, 35% of large and medium size corporations have introduced some stress reduction policies. Businesses are losing $300 billion a year because of stress... All of these things that we are discussing do not just affect our personal lives, they affect the bottom line."
"Introducing even five minutes of meditation. Now meditation is really our quiet time. It is time to unplug from all our devices, unplug from the world... all my smartphones, my iPad, whatever I have is outside my bedroom. I never charge smartphones by the bed."
Lauren Said-Moorhouse contributed to this report.

September 19, 2014 -- Updated 1533 GMT (2333 HKT)

These 12 fashion experts have millions of followers, but who is the most social woman in fashion?
September 3, 2014 -- Updated 1014 GMT (1814 HKT)

Mindy Grossman has been the driving force behind making the Home Shopping Network both hip and profitable, but she still makes time for herself.
August 27, 2014 -- Updated 1318 GMT (2118 HKT)

Nelly Ben Hayoun is on a mission to convince the world to take threats such as asteroid strikes more seriously.
August 25, 2014 -- Updated 0233 GMT (1033 HKT)

Shenan Chuang turned Ogilvy China into the world's third biggest ad agency, CNN's Kristie Lu Stout asks how she did it.
August 18, 2014 -- Updated 1045 GMT (1845 HKT)

Imagine a gadget that knows your mind better than you do.
August 5, 2014 -- Updated 1321 GMT (2121 HKT)

When your grandmother is one of the most famous cosmetics moguls in history, it might put a little pressure on you to succeed.
July 15, 2014 -- Updated 2041 GMT (0441 HKT)

When Bobbi Brown set out to create her eponymous makeup line in 1991, she had one thing to her mind -- to make a lipstick that looked like lips.
July 15, 2014 -- Updated 0914 GMT (1714 HKT)

The Cornell educated executive, who is hotly tipped as the successor to magnate Steve Wynn, is about to unveil the latest Wynn Palace in Macau.
July 3, 2014 -- Updated 1154 GMT (1954 HKT)

From Coco Chanel to DVF, CNN takes a look at celebrated fashion designers and the iconic pieces which launched their careers.
June 17, 2014 -- Updated 1349 GMT (2149 HKT)

CNN meets Serbian-born New-York based performance artist Marina Abramovic, as she embarks on the most controversial show of her career.
June 10, 2014 -- Updated 1506 GMT (2306 HKT)

She turned her bohemian beach style and love of ballet shoes into a billion-dollar brand. This week on Leading Women, fashion designer Tory Burch reveals her ultimate style guru.
April 18, 2014 -- Updated 1623 GMT (0023 HKT)

Meet Mo Abudu, the talk show host portraying a very different Africa. As a glamorous presenter, she also heads up Ebony Life TV network, based in Nigeria.

Today's five most popular stories