Is the global workforce headed for a burnout?
April 1, 2014 -- Updated 1619 GMT (0019 HKT)
STORY HIGHLIGHTS
Arianna Huffington's new book "Thrive" asks us to redefine success
Implores employees to sleep longer, take breaks, nap and meditate
She adds: "Nothing kills creativity more than burn out"
Leading Women connects you to extraordinary women of our time. Each month, we meet two women at the top of their field, exploring their careers, lives and ideas.
New York (CNN) -- When Arianna Huffington collapsed at her desk in 2007, she woke to find herself covered in a pool of blood. Sporting a broken cheekbone from the fall, the incident spurred the editor-in-chief to sit up and rethink her workaholic lifestyle.
Since then, Huffington has made it her mission to raise awareness around work-life balance with her "sleep evangelist" mantra infused across the HuffPost website. From her "GPS for the Soul" app to installing nap rooms inside her New York headquarters, it's rare for the media mogul not to mention sleep deprivation in TV appearances or her weekly editor's note.
CNN anchor Maggie Lake sat down with Huffington to discuss redefining success as outlined in her new book "Thrive: The Third Metric to Redefining Success and Creating a Happier Life."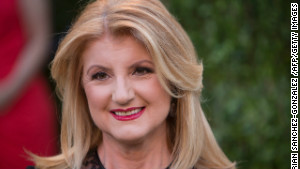 Can women drive the recovery?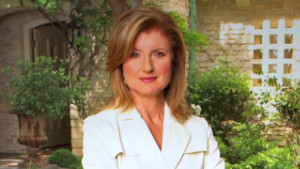 Arianna Huffington on dreaming big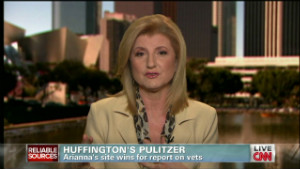 Huffington's Pulitzer
"It's very important to recognize [burnout] is a global phenomenon. I was in South Korea recently where we also have Huffington Post. Stress and burnout are much worse there than in the United States. People consume alcohol four times as much as a way to alleviate stress; 40 people commit suicide a day. You go to China, and stress is now a daily topic of conversation because people have paid such a price."
"I believe we need to define success beyond the two metrics of money and power. [We need] to include a third metric that incorporates our health, well-being and wisdom. A capacity to be connected with our better selves... Not to miss the moment -- because that's all we have. We can't DVR our lives and watch it later."
"Nothing kills creativity more than burnout. So in fact, the best thing we can do for our careers is to foster and nurture that creativity and that effectiveness... There is absolutely no trade off between doing well in our jobs and taking care of our own human capital."
"The situation is changing. In Germany, Volkswagen gives employees company phones which are automatically turned off at 6pm and then turned on again at 7am... Here in the United States, 35% of large and medium size corporations have introduced some stress reduction policies. Businesses are losing $300 billion a year because of stress... All of these things that we are discussing do not just affect our personal lives, they affect the bottom line."
"Introducing even five minutes of meditation. Now meditation is really our quiet time. It is time to unplug from all our devices, unplug from the world... all my smartphones, my iPad, whatever I have is outside my bedroom. I never charge smartphones by the bed."
Lauren Said-Moorhouse contributed to this report.

Today's five most popular stories
December 23, 2014 -- Updated 1444 GMT (2244 HKT)

CNN set out on a hunt to find the women who excelled in their professions this year and we found some of the most inspiring women of 2014.
December 17, 2014 -- Updated 1419 GMT (2219 HKT)

Jane Fraser is often cited as one of the most powerful women in banking. She tells CNN's Poppy Harlow how women lead differently.
December 3, 2014 -- Updated 1743 GMT (0143 HKT)

Women's-only private members clubs are becoming more popular, offering spaces to work, socialize and relax, albeit with hefty membership fees.
November 28, 2014 -- Updated 1515 GMT (2315 HKT)

A new social network for women claims to be 'troll-proof' and was created by Karen Cahn, former Google, YouTube, Aol executive.
November 27, 2014 -- Updated 1418 GMT (2218 HKT)

She's the daughter of a Beatle and counts Kate Moss among her friends, but she had to create her own mark in the fashion world.
November 18, 2014 -- Updated 1743 GMT (0143 HKT)

Alli Webb always loved having her hair done, so she decided to bring that happy feeling to millions of women worldwide with her business, Drybar.
November 17, 2014 -- Updated 1324 GMT (2124 HKT)

NASA's chief scientist Dr Ellen Stofan wants to land humans on Mars by 2035, but there are some serious challenges to overcome before then.
November 4, 2014 -- Updated 1041 GMT (1841 HKT)

The Design Museum hosts a power dressing exhibition, from Joan of Arc's short tunics, to Joan Collins' eye-gouging shoulder pads.
October 30, 2014 -- Updated 1520 GMT (2320 HKT)

Opinion piece from architect Zaha Hadid on growing up in a very different Iraq, to close Leading Women's month of STEM coverage.
October 30, 2014 -- Updated 1227 GMT (2027 HKT)

Leading Women ran an iReport assignment which resulted in some amazing images of girls in STEM from our readers.
October 29, 2014 -- Updated 1108 GMT (1908 HKT)

Robots can be many things -- knowledgeable, dexterous, strong. But can they ever be genuinely laugh-out-loud hilarious?
October 27, 2014 -- Updated 1830 GMT (0230 HKT)

Victoria Beckham has come a long way from Posh Spice. She has now been named Britain's top entrepreneur, by magazine Management Today.