STORY HIGHLIGHTS
Kevin Coval: "Chicagoland" episode showed the "two summers" of Chicago
He says Mayor Rahm Emanuel is presiding over two cities, one for rich, one for poor
Coval says the emerging economy doesn't serve the poor, middle class
Minorities aren't getting good schools and many are being warehoused in prisons, he says
Editor's note: Kevin Coval is an author and poet the Chicago Tribune called "the voice of the new Chicago," artistic director of Young Chicago Authors and founder of Louder Than A Bomb: The Chicago Youth Poetry Festival. Follow @kevincoval on Twitter and @KevinCoval on Instagram. The opinions expressed in this commentary are solely those of the author.
(CNN) -- Rahm Emanuel is building a Second City. Two cities really, as the "two summers" theme shown in Episode 4 of "Chicagoland" suggests. One white, one black. One for the rich, one for the poor. One for private schools, one for closed schools. A new Chicago for the saved and the damned. Gold coast heavens and low-end hells. It's biblical, binary.
The mayor's new Chicago is a second city for the first citizens who colonized the land and took it from the Pottawatomie. The mayor's vision is not for most Chicagoans who live here now.
It is not for Jason Barrett. In last week's "Chicagoland" episode, Principal Elizabeth Dozier of Fenger High School secures the early release of Barrett, who she is mentoring. But he is re-arrested and becomes one of the thousands of black and brown bodies disproportionately locked up and routed into America's growing, often privatized, prison system.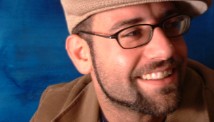 Kevin Coval
The mayor's new Chicago is not for black and brown and white workers who toil in multiple service sector jobs that the mayor's neo-liberal economic advisers hail as job creation. In fact Emanuel and his advisers have been the proponents of a global economic policy that packs up the kind of blue collar jobs that built Chicago and sends them south with ease: Emanuel championed NAFTA at the Clinton White House.
The Chicago that the mayor and his team of wealthy financiers are continuing to create and sell is a second city of tourists and grand inequities. The disparity gap grows between those who have and those who have to rent. Those who can afford private schools like the mayor's children and those whose public neighborhood schools are underfunded and tracked and given impossible and idiotic standardized tests to validate their existence.
The new Chicago is for new businesses that will be lured with tax-free incentives, gaining advantages they won't have to pay back in order to be responsible citizens. The new Chicago is based on old European models of urban planning, concentric zones of wealth where working and poor people are pushed to the margins of the land and public discourse.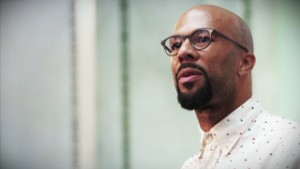 Chicagoland Episode 4 trailer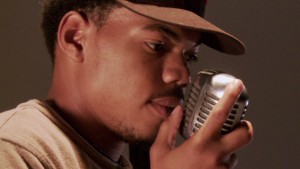 Chicago rapper balances fame, loss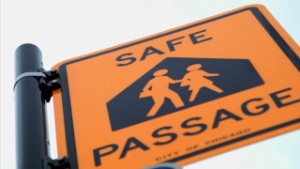 Students avoid gangs on way to school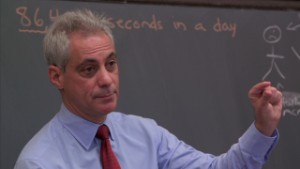 Rahm Emanuel: Losing finger changed me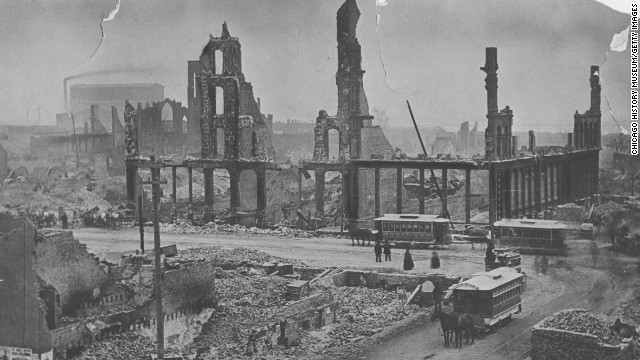 It's hard to believe Chicago started out as a small trading post at the mouth of the Chicago River. It incorporated as a city on March 4, 1837, and grew exponentially in the decades that followed. Most of its buildings were made of wood. During the dry summer of 1871, a massive fire broke out, destroying more than 17,000 buildings across Chicago and killing 300 people. The cause of the fire was never determined. This photo shows the fire's devastation at the corner of State Street and Madison Street. Editor's note: An earlier version of this gallery had an image of downtown Chicago that was removed because its authenticity was in question. After further review with the source, CNN found the image was misrepresented as an historical photograph. It was in fact a still from the 1937 movie "In Old Chicago." CNN regrets the error.
It didn't take long for Chicago to rebuild after the devastating fire of 1871. To celebrate its return, Chicago hosted the World's Fair in 1893. Several buildings were designed for the event, including the Agricultural Building, seen here. That year's fair was known as "The White City," and it is the backdrop for Erik Larson's nonfiction novel "The Devil in the White City." The book is reportedly being made into a film starring Leonardo DiCaprio.
A soda parlor is seen on Chicago's South Western Avenue in 1895. The Chicago Tribune newspaper, shown here being sold for 1 cent, is still in publication today.
Chicago's famous "L" (short for "elevated" train) started moving residents around town in 1892. That makes it the second-oldest transit system in the country behind the one in Boston. Here, a steam-powered "L" train comes down the railway on Market Street near Lake Street on June 30, 1895.
One of the worst tragedies to strike Chicago happened on July 24, 1915, when the SS Eastland capsized in the Chicago River with 2,500 passengers aboard. The passenger ship was docked at the time. The cause of the disaster is still unclear. Some have speculated that the Eastland had a faulty ballast system or additional lifeboats that made it top-heavy. More than 840 people died after passengers spilled into the river, while others -- mostly women and children -- were trapped in underwater cabins. Here, survivors stand atop the capsized vessel.
Chicago's National League baseball team started out as the White Stockings in 1876 before a newspaper's nickname prevailed and the team adopted the "Cubs" nickname. A shortened version of their old name went to the American League team in Chicago, and the two teams played each other in an all-Chicago World Series in 1906. The White Sox won.
This 1921 photo shows baseball commissioner Judge Kenesaw Mountain Landis, rear left, during the investigation of the infamous "Black Sox" scandal in Chicago. Eight White Sox players received life suspensions from baseball after being accused of accepting bribes to lose the 1919 World Series.
The Chicago Bears football team plays during the 1920s. The Bears, one of the founding franchises of the National Football League, started out as the Decatur Staleys in 1919.
Cars prepare to race at Soldier Field. The stadium, on Chicago's South Side, first opened in 1924 and is still the home of the Chicago Bears today.
An aerial view of Chicago, circa 1930. The large white building on the Chicago River is the Merchandise Mart, with 4 million square feet of floor space spanning two city blocks and rising 25 stories. It was the largest commercial building in the world when it opened in 1930.
Police and spectators gather in front of the garage on Chicago's North Clark Street, where members of Al Capone's gang, disguised as policemen, shot and killed seven members of a rival gang on February 14, 1929. The St. Valentine's Day Massacre became a symbol of the extreme violence of the Chicago underworld and crime boss Al Capone.
Al Capone -- on the left, wearing the all-white hat -- leaves a Chicago courtroom in the custody of U.S. marshals in October 1931. Capone ran gambling, prostitution and bootlegging operations across Chicago until he was indicted in 1931 for tax evasion. He was convicted and spent the next 11 years in prison.
Bartenders at Sloppy Joe's bar in downtown Chicago pour a round of drinks in 1933 to celebrate the repeal of the 18th Amendment and the end of the Prohibition era.
Famous bank robber John Dillinger met his demise at Chicago's Biograph Theater, where he attended a performance with Anna Sage, a friend and brothel madam and -- unbeknownst to Dillinger -- an FBI informant. Dillinger was shot and killed after he emerged from the theater on July 22, 1934. This aerial view shows Dillinger's body being taken from a funeral home in Chicago two days after his death.
Armed with guns, clubs and tear gas, Chicago police put down a crowd of striking workers outside Chicago's Republic Steel plant on May 30, 1937. They killed 10 unarmed demonstrators and injured dozens in what was later called the Memorial Day Massacre. News cameras captured the brutality.
A Chicago subway station is seen on July 18, 1944.
Queen Elizabeth II enters the Grand Ballroom of the Hilton Hotel in Chicago on July 6, 1959. She was attending a banquet held by Chicago Mayor Richard J. Daley, seen at left in the bow tie. Daley and his son, Richard M. Daley, presided over Chicago as mayor for 42 combined years.
Chicago police drag away one of 80 civil-rights marchers who were arrested after staging a rush hour sit-in on a downtown street in Chicago on June 28, 1965. Leaders of the march, dissatisfied with results of a two-hour meeting with the mayor, ordered marchers to assume "arrest position."
Members of the New York delegation protest the Vietnam War at the 1968 Democratic National Convention, which was held in Chicago. Chicago is a popular city for national political conventions, having hosted more than two dozen in its history. But the city was not quite prepared for the mayhem in 1968, despite a contingent of federal troops to help keep the peace.
United Airlines Flight 553 plowed through a row of bungalows and burst into flames about a mile and a half south of Chicago's Midway Airport on December 8, 1972. The crash killed 45 people, two of them on the ground. Eighteen passengers survived. Investigators later ruled that pilot error caused the crash.
Chicago Bears head coach Mike Ditka is carried off the field by his players after the team won Super Bowl XX in January 1986. It is the Bears' only Super Bowl victory.
Anyone who watched Michael Jordan play for the Chicago Bulls in the 1980s and 1990s knows why he's widely considered to be the greatest basketball player of all time. Jordan led the Bulls to six NBA titles in an eight-year span.
Against the backdrop of Chicago's Sears Tower, sailboats are set for the start of the Chicago Yacht Club Race to Mackinac in July 2003. It is the world's longest annual freshwater race, having started in 1898.
One of Chicago's most famous residents, Oprah Winfrey, sits atop a brand new car -- one of hundreds that she gave away to audience members in 2004 -- outside her Chicago studios. Winfrey moved her talk show to Chicago's West Loop in 1988, purchasing an 88,000-square-foot facility in the neighborhood, which was struggling at the time. She is now reportedly considering selling Harpo Studios, which helped revitalize the neighborhood.
The Chicago White Sox celebrate after winning the 2005 World Series with a four-game sweep over the Houston Astros. It was the team's third World Series title and first since 1917.
Every year since 1961, the downtown section of the Chicago River has been dyed green to celebrate St. Patrick's Day.
Barack Obama and his family celebrate in Chicago's Grant Park after he won the presidential election on November 4, 2008. Obama first moved to Chicago after college to work as a community organizer. He went on to finish Harvard Law School and returned to Chicago to teach constitutional law at the University of Chicago. He worked as a civil rights attorney and a state senator before being elected to the U.S. Senate in 2004. First lady Michelle Obama was born and raised on Chicago's South Side.
Downtown Chicago's skyline, as it looks today.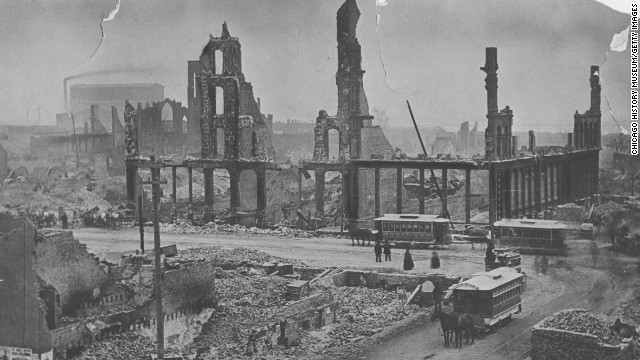 Chicago: From trading post to global city
The mayor is like a suburban kid back in the city with his parents' money who wants to go to Lollapalooza. When the list of 50 school closings in mostly black and brown neighborhoods was leaked, he was skiing on spring break in Utah. This month when a group of poets from the Chicago public high school Team Englewood hoped to speak to the mayor directly at Louder Than A Bomb: The Chicago Youth Poetry Festival, he chose instead, the same night, to be on a giant swing at a $450-a-ticket gala, eating a $1,000 priced meal, served by a celebrity chef.
The slick series "Chicagoland" glosses over issues such as economic injustice, white supremacy, the declining middle class and the school to prison pipeline. Chicago on TV appears in a vacuum, rather than in the torrent of history.
Police Chief Garry McCarthy's stop-and-frisk policy is a continuation of America's long history of criminalizing and dehumanizing black and brown bodies. Police force and presence in neighborhoods is sometimes the cause of violence and destruction rather than its cessation. Chicago is, after all, the home of Jon Burge, a Chicago police commander who was fired for torture and later convicted of lying about the practice. It was also the home of Rekia Boyd, an unarmed young black woman shot and killed by a Chicago police detective.
The mayor maintains systemic inequity and champions individual exceptionalism. In Episode 4, the gracious white mayor provides an internship for one young black man while his city locks up thousands. Recidivism and the school to prison pipeline is the "real graduation" to paraphrase the most honest articulation of Episode 4 from an interview with an unnamed prisoner.
The dismantling of public education in Chicago is a pathway toward a privatized school system living at the center of the Department of Education in Washington. The mayor and his cronies are the architects of these blueprints concerned with standardized tests but not standards for every student's academic success and environment. Until they hold the system to the standards they demand for their own children, for all children, schools will continue to fail students they seek to teach.
The mayor is not a mentor or educator. He is a millionaire businessman. In Episode 4, he walks around after-school programs patting black kids on the head like some king. He considers himself a white savior, but he is something antithetical.
In Episode 4, he says he gives kids a second chance. But it is certain the schools and the city will fail students of color and send them to the largest jail in the country.
Chance, the incredibly gifted hyper-literate emergent hip-hop superstar at the center of Episode 4 and at the center of a youth cultural renaissance in Chicago, succeeds despite the school system he was suspended from and because of a strong two parent household, an informal network of aunties in the working class community of Chatham, and a cadre of arts programs. Those include Young Chicago Authors and Louder Than A Bomb, where I serve as artistic director and had the privilege of mentoring the young rapper, where he was able to develop his voice and craft outside of the school day.
Chance is not an anomaly when it comes to the brilliance of young Chicagoans and the contributions they have to share with the world. He is in the great tradition of Chicago realist working class portraiture. Chance is connected aesthetically and spiritually to Gwendolyn Brooks, Lorraine Hansberry, Studs Terkel and Kanye West, when he rhymes on Nostalgia from his mix-tape "10DAY":
Round here we lose best friends like every week
I like to think we playin' a long game of hide and go seek
And one day maybe ... I could lead them
Kids of the Kingdom singing about freedom ...
As Chicago goes, so goes the country. And we are here fighting for freedom, for all, for every person from every zip code. We are fighting for the soul of the city, the soul of the country. We are building again, indeed, a second city, as we derive our nickname from the ability to rise after the ashes and great fire of 1871. Chicagoans have the ability to rise like a phoenix. This is a testament to the resiliency of hard working people everywhere, not the backroom dealings of a millionaire mayor or his posse.
We are the city of the eight-hour workday and the Haymarket martyrs. The home of Margaret Burroughs and Fred Hampton, home of Jane Addams and the mothers of Whittier Elementary School. A city of genius and gangsters. This is a writer's and fighter's town as Nelson Algren would say. And this is a fight to counter the mayor's vision of a future city, of two cities. We are trying to write and fight for a united city, a different city. A second city. A new city, a city anew, a city for all. For real.
Follow us on Twitter @CNNOpinion.
Join us on Facebook/CNNOpinion.