Mother of Fort Hood victim: 'God, please don't let it be'
April 7, 2014 -- Updated 1307 GMT (2107 HKT)
STORY HIGHLIGHTS
U.S. Army Sgt. Timothy Owens was killed at Fort Hood on Wednesday
His family describes him as outgoing, someone who never met a stranger
His daughter mourns his passing on Facebook
(CNN) -- U.S. Army Sgt. Timothy Owens will be remembered as many things.
A son, a husband, a father.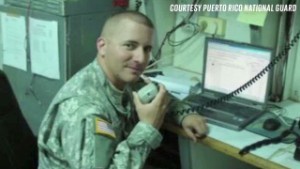 24 hrs at Fort Hood, a wrap
A victim of Wednesday's shooting at Fort Hood, Owens loved the Army and planned to make it his career.
"He didn't answer the phone so I left a message on his phone. 'Son, call me so I know if you're OK or not.' Well, never got no call from him. I thought: 'Oh God, please don't let it be,'" his mother, Mary Muntean, told CNN Springfield, Illinois, affiliate WICS on Thursday.
"Very terrible that they had to shoot my son. He was a good person. Why would they shoot a good person that was helping them?"
Owens is survived by his mother, his wife and two children, according to a family statement.
One of his children mourned his passing on Facebook.
"Today at fort hood there was a shooting...my father sadly died tonight .... I still feel like it's all a dream.... Can't feel anything," wrote Loredana Owens.
"I just want everyone to think for a moment .... If you have family your fighting with forgive them, love them, because you never know when there gonna be taken from you ..... I love dad and I hate that you were taken away from me .... I love you daddy"
Owens was one of three people killed when a gunman opened fire at the sprawling Texas Army post.
The shooting suspect, 34-year-old Spc. Ivan Lopez, also died, of an apparent self-inflicted gunshot wound to the head.
Sixteen other people were injured.
Owens was described by his family as outgoing. He enjoyed taekwondo.
His uncle said his nephew was an honorable man, someone who never met a stranger.
"You see it happening, but you never know that it's going to come to you. It's just very disturbing," Wallace Gerhardt told WICS.
"You'd think that they'd have more security and be able to more ready for something like that to happen. I just don't understand."

Today's five most popular stories
Part of complete coverage on
Fort Hood shooting
April 5, 2014 -- Updated 2353 GMT (0753 HKT)

Spc. Ivan Lopez vented about a range of subjects on Facebook before his shooting rampage at Fort Hood in Texas, including his outrage at Adam Lanza's mass school shooting in Connecticut.
April 9, 2014 -- Updated 2228 GMT (0628 HKT)

The three soldiers killed at Fort Hood, Texas, came from different places. Two grew up in small towns, and one came from a seaside city in Puerto Rico.
April 7, 2014 -- Updated 1307 GMT (2107 HKT)

U.S. Army Sgt. Timothy Owens will be remembered as many things.
April 3, 2014 -- Updated 2355 GMT (0755 HKT)

How can the military prevent someone undergoing psychiatric evaluation from bringing a firearm on base?
April 4, 2014 -- Updated 0057 GMT (0857 HKT)

A soldier has committed a deadly mass shooting at Texas' Fort Hood again. And again, a female police officer was involved in bringing the violent rampage to an end.
April 4, 2014 -- Updated 0426 GMT (1226 HKT)

Authorities are downplaying terrorism -- although they haven't ruled it out until the investigation is complete.
April 4, 2014 -- Updated 1944 GMT (0344 HKT)

It's a scene that's becoming all too familiar at Fort Hood: flag-draped caskets for soldiers who've survived war, only to be killed at home.
April 3, 2014 -- Updated 0418 GMT (1218 HKT)

Specialist Ivan Lopez has been identified as the man who opened fire in Fort Hood, killing three people then himself.
April 3, 2014 -- Updated 0826 GMT (1626 HKT)

For the second time in five years, a gunman opens fire at Fort Hood.
April 4, 2014 -- Updated 2305 GMT (0705 HKT)

The man who opened fire at the Fort Hood military post was a veteran who served four months in Iraq and was undergoing treatment for mental health issues.
April 3, 2014 -- Updated 1052 GMT (1852 HKT)

President Barack Obama spoke Wednesday evening about a shooting at Fort Hood, Texas. The White House released a transcript of his remarks:
April 3, 2014 -- Updated 0228 GMT (1028 HKT)

Retired Major General James "Spider" Marks spent years living at Fort Hood. He discussed the impact of Wednesday's shooting.
August 8, 2014 -- Updated 1841 GMT (0241 HKT)

Here is some background information about recent soldier on soldier attacks in the U.S. military.