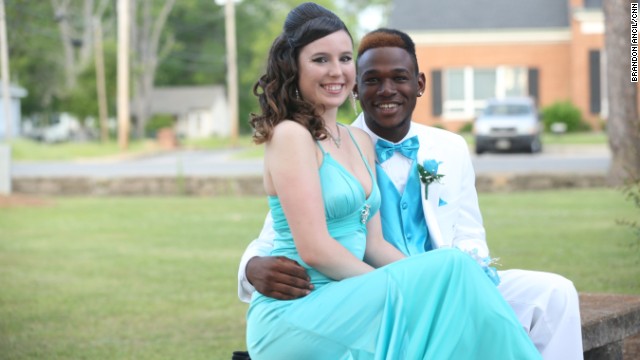 Wilcox County High School students Ana Goni and Adrian Dantley attended the students' fist integrated prom on April 27, 2013. When Goni's prom dress didn't arrive in time, a nearby thrift shop opened so she could try one on. A complete stranger paid for it. "God gives blessing to people trying to do the right thing," she said. In March 2014, Wilcox County High School held its first official prom -- one open to all students.
Mareshia Rucker was one of several students from Wilcox County High School, Georgia, who helped to organize students' first integrated prom in 2013. For decades, there was no school prom there; parents and students planned private, racially segregated proms.
The theme for Wilcox County High School students' first integrated prom was "Masquerade Ball in Paris" in 2013. The decor was a mix of Eiffel Tower images and Mardi Gras colors -- and many students wore masks, at least for a few dances.
Family and friends traditionally gather outside Wilcox County students' proms to take photos and see them on their "senior walk," when their plans for the future are announced. More than 150 people gathered to watch the nearly 100 students at the integrated prom in 2013.
Mareshia Rucker, one of the 2013 prom organizers, wore a long, red gown and a small tiara in her hair. Her date, Mercer University student Arkel Bennett, wore a matching vest and tie. Mareshia's grandmother has sewn formal dresses for her to wear to the JROTC ball in the past. For the 2013 dance, her dress was donated.
In 2013, students danced for hours to music provided by Pete's Mobile DJ Service from Houston. DJ Pete Armendariz read about the integrated prom on CNN.com and offered up his services at no cost.
Students at the 2013 prom received T-shirts celebrating the class of 2013 and commemorating their first racially integrated prom. By the end of the night, most students had kicked off their dress shoes and popped on their T-shirts.
Wilcox County High School student Larry Lindsey offered up some music for the 2013 prom. Some county residents said they've hosted black and white proms because students couldn't agree on what music to play, but students said it was just an excuse to stick to old traditions.
Wilcox County High School senior Alexis Miller and her boyfriend, Jakeivus Peterson, didn't expect to attend a prom in 2013. Miller wouldn't go to a prom without him, and he likely wouldn't be allowed at the white prom, she said. Miller said she was proud of her classmates for organizing an integrated prom. Peterson said they came to show they weren't afraid.
Karen Bloodworth, owner of the Rochelle Florist & Gift Shop in Wilcox County, made wrist corsages ordered by students attending the student-planned integrated prom in 2013.
The 2013 prom queen Mikeria Martin and king Larry Munford Jr. danced to "I'll Be" by Edwin McCain. Students voted for winners of categories such as "best smile," "most talented" and "nicest person."
Many students arrived at the 2013 Wilcox County High School prom in gowns and matching tuxedos -- a few even brought their own masks to match the "Masquerade Ball in Paris" theme.
Students at the integrated prom danced till 11 p.m. April 27, 2013, at a community clubhouse in Cordele, Georgia, a city off Interstate 75 near Wilcox County.
Making moves toward unity
Making moves toward unity
Making moves toward unity
Making moves toward unity
Making moves toward unity
Making moves toward unity
Making moves toward unity
Photos: Making moves toward unity
Making moves toward unity
Making moves toward unity
Making moves toward unity
Making moves toward unity
Making moves toward unity