Bayern Munich ban two British tabloids over 'insulting' headlines
April 4, 2014 -- Updated 1151 GMT (1951 HKT)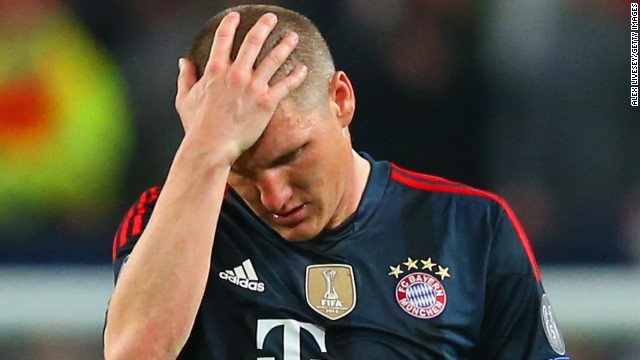 Bayern Munich Bastian Schweinsteiger scored against Manchester United before later being sent off.
A key midfielder for Bayern, Schweinsteiger was sent off late in Tuesday's game after fouling Manchester United's forward Wayne Rooney.
Nemanja Vidic of Manchester United heads in the first goal during the UEFA Champions League quarterfinal first leg between Manchester United and Bayern Munchen at Old Trafford.
Dante of Munich celebrates after the Bundesliga match between and Hertha BSC and FC Bayern Muenchen at Olympiastadion on March 25, 2014 in Berlin, Germany.
Winners of the European Cup last season, but can Bayern become the first team to successfully recapture the Champions League -- in its updated format -- under new coach Pep Guardiola?
Lost in translation, or downright offensive?
Lost in translation, or downright offensive?
Lost in translation, or downright offensive?
Lost in translation, or downright offensive?
Lost in translation, or downright offensive?
STORY HIGHLIGHTS
Bayern Munich ban two British tabloids from attending game against Manchester United
The Daily Mirror and The Sun published headlines "You Schwein" and "You Dirty Schwein"
The headlines referenced Bayern's Bastian Schweinsteiger, who sent off in Tuesday's match
The second leg of the European Champions League quarterfinal takes place on Wednesday
Follow us at @WorldSportCNN and like us on Facebook
(CNN) -- Germany football star Bastian Schweinsteiger woke up to headlines of "You Schwein" and "You Dirty Schwein" on Wednesday.
Football matches between German and English have always been cannon fodder for Britain's red-top tabloids and The Sun and The Daily Mirror -- which have built their reputation on the use of puns in headlines -- duly went to town after a major European game.
Their banner headlines -- The Sun went for "You Schwein" while The Daily Mirror had "You Dirty Schwein" -- were a reference to the red card awarded to Schweinsteiger, who was playing for Bayern Munich in a European Champions League first-leg tie against Manchester United on Tuesday -- after he fouled England star Wayne Rooney.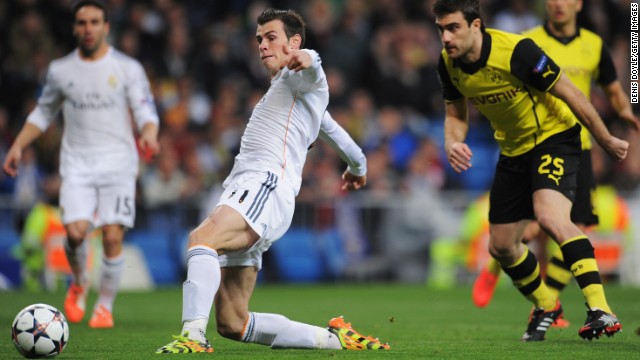 Real Madrid beat Borussia Dortmund 3-0 in the first leg of their Champions League quarterfinal Wednesday. Gareth Bale opened the scoring in the third minute by poking the ball past Roman Weidenfeller.
Isco doubled the advantage later in the first half. He only played because Angel Di Maria was ill.
Cristiano Ronaldo made history when he completed the scoring in the second half.
In the other Champions League quarterfinal, Paris Saint-Germain beat Chelsea 3-1 in Paris. Ezequiel Lavezzi gave the home team an early third-minute lead.
But after Oscar won a contentious penalty, Eden Hazard leveled in the 27th minute.
No, Zlatan Ibrahimovic wasn't practising karate. He was controlling the ball.
David Luiz's own goal, pictured, and Javier Pastore's effort in injury time gave PSG the win.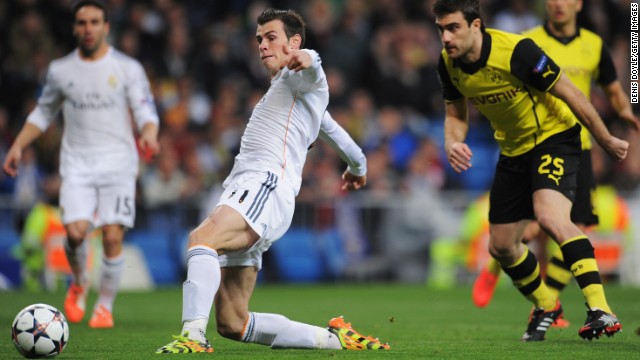 Champions League quarterfinals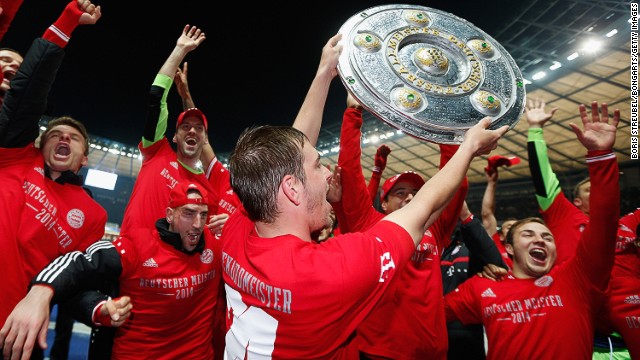 Bayern Munich's players celebrate with a replica of Bundesliga championship trophy after clinching the title at the Olympic Stadium in Berlin.
Toni Kroos (center) celebrates scoring Bayern Munich's opening goal against Hertha Berlin which helped seal a 24th Bundesliga title for the Bavarians.
Bastian Schweinsteiger celebrates after scoring in the 2-0 win against Mainz last weekend. Bayern have now scored 79 goals this season, but have some way to go if they are to equal the record the club set way in the 1971/72 season when they put away 101 goals in total.
Croatian striker Mario Mandzukic has been top scorer for Bayern in the league this season with 17 goals so far.
Goalkeeper Manuel Neuer has only let in 13 goals this season. The record for fewest goals conceded in a season stands at 18 -- a record the Bavarian side set last year.
It's been 52 games now since Bayern Munich lost a league game. The date was October 28 2012, the score 2-1 and the team was Bayer Leverkusen -- seen here celebrating what has proved an historic result.
Stuttgart are one of only two teams (along with Mainz) who have gone in at halftime in front against the Bavarians this season. Vedad Ibisevic's (pictured) 29th-minute goal put Stuttgart ahead before two late goals gave Bayern a win at the of January.
Bayern's incredible sequence of league results started under previous boss Jupp Heynckes. The 68-year-old oversaw a treble-winning season last year.
Pep Guardiola has continued where Heynckes left off, making Bayern an even more formidable force in both the league and in Europe.
The unbeatables pose for a team photo earlier this month. Bayern Munich has 77 points from 27 matches and now need 15 more from their remaining seven matches (a possible 21) to overhaul their own record (set last year) of most points in a season.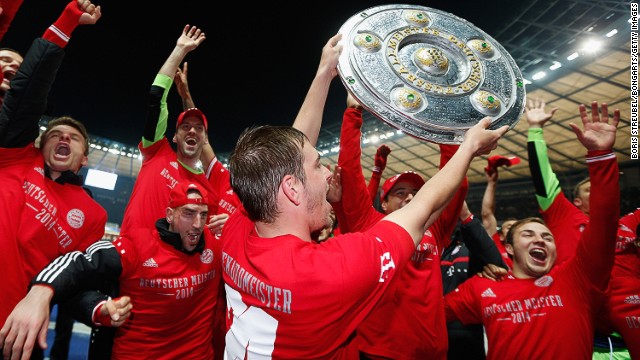 Unbeatable Bayern clinch 24th Bundesliga title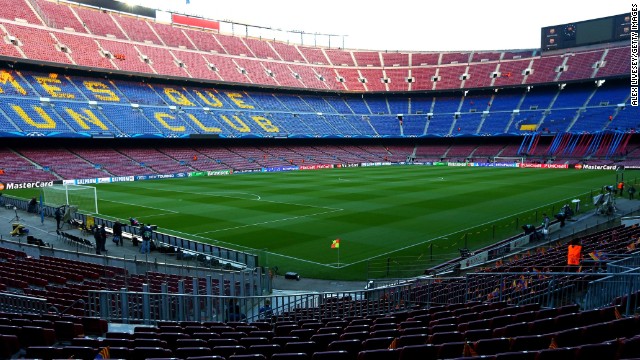 FIFA banned Barcelona in April from making new signings during the next two transfer windows. The punishment came after FIFA found Barca had broken rules regarding the "international transfer of minors."
Barcelona's president Josep Maria Bartomeu gave a response to FIFA's sanction at a press conference on Thursday.
In what some have dubbed "Neymargate", the transfer of the Brazilian forward to Barcelona in June 2013 has cast a rare shadow over the Spanish giants.
Sandro Rosell quit as Barcelona president a day after a Spanish judge ordered an inquiry into Neymar's transfer, with former vice president Josep Maria Bartomeu moving into the hot seat.
Barcelona has a proud tradition of bringing through young players. Lionel Messi arrived at the club when he was 11 and has gone on to win the FIFA Ballon d'Or on four occasions.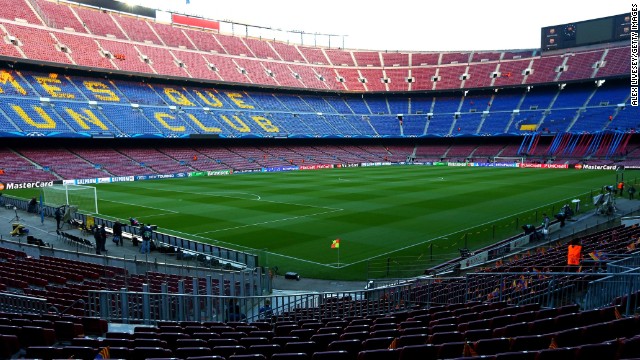 Barcelona's transfer ban
But the two tabloids, who rely heavily on sport coverage to attract readers, have paid a price for their puns.
In German, schwein literally means pig, but in everyday language in Germany it's used as insult and Germans view it as a derogatory term.
Outraged by the headlines, Bayern have banned the two newspapers from attending Wednesday's second-leg match at the club's Allianz Arena stadium.
The reigning German and European champions described the headlines as "disrespectful, discriminatory and personally insulting" in an official statement.
"Especially in the Champions League where UEFA has organized a big campaign called 'RESPECT' where all players are required to wear that logo on their shirts," added the club.
"Therefore representatives of 'The Daily Mirror' and 'The Sun' will not be granted media accreditation at the Allianz Arena for the Manchester United match."
The Daily Mirror declined to comment when contacted by CNN, while The Sun said: "We're currently talking to Bayern Munich."
It's the latest example of British tabloids aiming misguided barbs towards Germany.
Ahead of a European Championships semifinal between England and Germany in 1996, The Mirror's front page declared "Achtung! Surrender" next to pictures of English players wearing World War II helmets.
An editorial in the paper read as a mock declaration of war.
While Bayern punished the two British clubs, the German club has confirmed it has accepted its own punishment handed out by European football's governing body UEFA after their fans displayed a homophobic banner during a match against Arsenal.
As a result, a part of the Allianz Arena will be closed for the match on April 9.
"Due to breaching this agreement when four attendees at our game with Arsenal showed a disrespectful banner in the Allianz Arena, 700 fans will now be locked out (for the United game) and we were fined €10,000," added Bayern in their statement. "We have accepted this."
Tuesday's game finished 1-1, leaving Champions League holders Bayern as favorites to reach the semifinals.
Read: Revenge for Ronaldo's Real Madrid
Read: Barca to appeal "unjust" ban