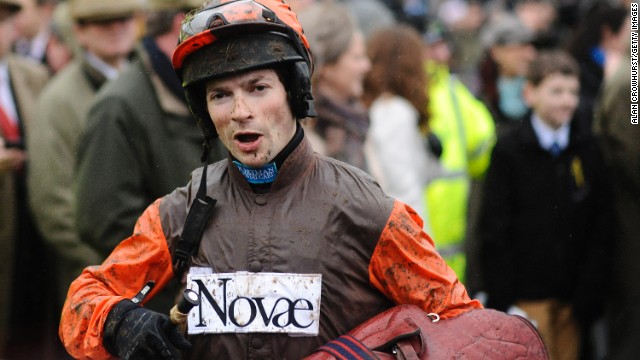 Sam Waley-Cohen is an amateur jockey who swaps his suit running a dental business for racing silks at the weekends.
Waley-Cohen will be in the orange and brown colors of his father Robert when he takes to the start for the Britain's Grand National race.
Away from the racecourse, he was credited with getting Prince William and Kate Middleton back together after a breakup.
Waley-Cohen attended the 2011 royal wedding with Annabel Ballin. The Duchess of Cambridge was a guest when they married later that year.
He likens riding in the Grand National, the most prestigious steeplechase in the world, to being a fighter pilot.
Waley-Cohen is no stranger to victory on Long Run, his mount on Saturday. Here he celebrates winning the 2011 Cheltenham Gold Cup.
That same year, he came close to Grand National victory on Oscar Time, but had to make do with second place behind Ballabriggs.
He credits his victories to his father (pictured right), who owns the horses that he rides.
Trading places - dentistry to open ditches
Trading places - dentistry to open ditches
Trading places - dentistry to open ditches
Trading places - dentistry to open ditches
Trading places - dentistry to open ditches
Trading places - dentistry to open ditches
Trading places - dentistry to open ditches
Trading places - dentistry to open ditches
STORY HIGHLIGHTS
Sam Waley-Cohen is credited with getting Prince William and Kate Middleton back together
The amateur jockey will ride one of the favorites in Saturday's prestigious Grand National
But he also runs a multimillion-dollar dental business throughout the UK
He rides with the initials of his dead brother in his saddle after his death from cancer
Follow us at @WorldSportCNN and like us on Facebook
(CNN) -- Would you go to work for nothing? More to the point, would you do so risking life and limb riding a horse in one of the world's toughest races?
These days amateurs competing in professional sport are almost an extinct breed, but Sam Waley-Cohen is a throwback to a bygone era -- the archetypal "gentleman jockey."
By day he runs a multimillion-dollar series of dental practices; at the weekend he rides over some of the world's toughest fences, unpaid and purely for the love of it.
A modern-day jack of all trades, he boasts helicopter and plane licenses, is a keen mountaineer and is even credited as the man that got Britain's Prince William and Kate Middleton back together after a pre-wedding separation.
The highlight of his weekend job is looming on Saturday: the Grand National, the world's toughest steeplechase with a prize fund of £1 million ($1.66 million).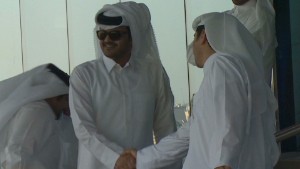 Family rivalry fuels royal horsing empire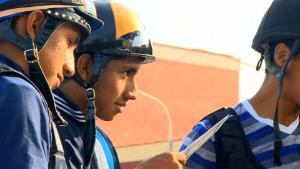 Peru's passion for horses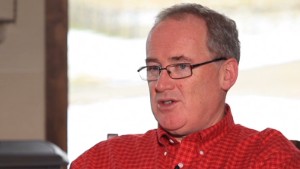 Irish vet takes on Japan's racing industry
"The Grand National for a jockey is a bit like a fighter pilot in his plane in a series of dog fights," says the 31-year-old, who will saddle up on one of the favorites, Long Run.
"It's a very unusual challenge of very intense periods and occasional moments of reflection. It's a race that's impossible to replicate. Every single fence is a big challenge, it's twice as long as your average race.
"It's the one and only race in the world where you can say it's the best experience of your life even if you don't win."
Waley-Cohen has come close -- he was second on Oscar Time in 2011 and fourth on the same mount a year ago. Long Run, meanwhile, is a winner of the prestigious Cheltenham Gold Cup and the King George VI Chase, two other jewels in jump-jockey circles.
"One of my first memories is riding a rocking horse at home in which I acted out riding the Grand National," he recalls. "It's a race I love, that gives me butterflies. If you don't get that with the National, you should probably think about doing something else."
Virtually every jockey in Saturday's field will be a paid-up professional, but Waley-Cohen -- who has about 30-40 rides a year -- is just happy to be competing with them.
"Sometimes I watch the pros in the races and wonder how I can compete with them," he admits.
"They're the best in the world, the best people that have ever ridden. It's such a buzz to line up alongside them.
"And I'm very lucky to have been able to do that because of my Dad."
Robert Waley-Cohen, son of the former Lord Mayor of London, owns the horses that Sam rides, and has enabled his son to pursue this hobby with, it has to be said, remarkable success.
"An amateur in horse racing, in fact in all sport, is quite rare now," says Waley-Cohen Jr. "As sport is more and more professional, it's harder to compete.
"Can someone that doesn't dedicate themselves to it day-to-day do it? It's a good question. I hope I've proved it's possible and I wouldn't say it's the end of an era exactly, but it's becoming more rare. Over the last 40 years there's been less and less amateur jockeys."
National Hunt racing is a dangerous business. At last year's Cheltenham Festival, JT McNamara was paralyzed after fracturing two vertebrae in a fall, while last month fellow Irishman Jason Maguire, the 2011 Grand National winner, was put into a medically induced coma after a fall.
Those are a mere snapshot of the sport's dangers, which makes the decision by an amateur, and one who became a parent for the first time last year, all the more surprising.
"I don't go to the races thinking I'm going to get hurt or that I'm not going to come back," Waley-Cohen says.
"If I felt like that I wouldn't do it. As for having a family, I think that makes it easier. It's not the be-all and end-all anymore as you have a family to go back to afterwards.
"But there are tough days when you fall off and are trampled over and you wonder, 'What am I doing?'"
The reason for this adrenalin junky's desire to continue racing is often attributed to his brother Thomas, who died aged 20 in 2005 from Ewing's sarcoma, a type of cancer.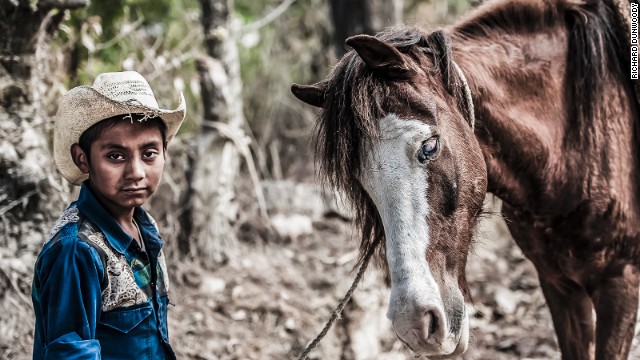 Many of former jockey Richard Dunwoody's pictures have an equine theme, including this of a boy and his blind pony in the countryside near Chimaltenango in Guatemala.
These images were part of a project by animal charity The Brooke -- here working mules and their drivers depart from a brick kiln close to Aligarh, an Indian city near Delhi.
A man drives his horse at full tilt down a dual carriageway with a large load of empty water barrels in Faisalabad, Pakistan.
A carriage driver washes his mule's head in the Nile from a riverboat in Egypt. Tourism is not quite so buoyant in Luxor and drivers are finding it extremely hard to make a living.
Working donkeys at a brick kiln in Gujranwala in Pakistan. The owners take great pride in them, often adorning their bridles with tassels and cloths.
A dehydrated working horse about to be treated at a Brooke clinic in Lahore, Pakistan.
A tired working donkey carrying construction materials in a slum in Delhi, India.
Photography is a complete career change for Dunwoody, who (pictured right) rode Miinnehoma to victory in Britain's prestigious Grand National jumps race in 1994.
Arguably his most famous ride was Desert Orchid, who won the prestigious King George VI Chase in 1989 and 1990.
But Dunwoody insists he doesn't miss the rigors of horse racing and the ensuing falls, such as this one on Spring Hay.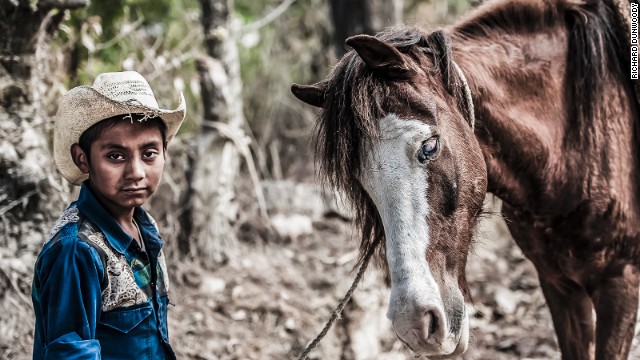 Star jockey turns photographer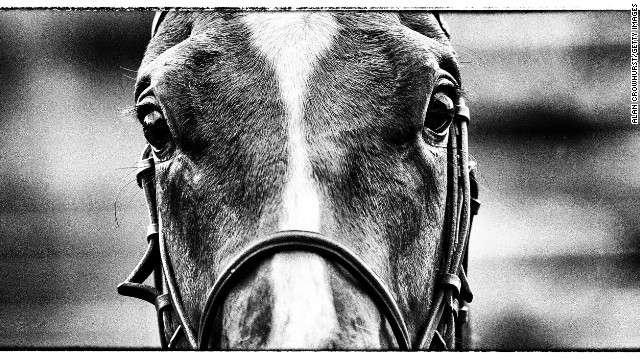 Alan Crowhurst has been training his camera lens on horses for 30 years. Here, the British photojournalist explains how he goes about capturing all the varied action at a day at the races.
As Crowhurst's images reveal, a race meeting is as much about the drama off the track as it is on it. The photographer was at Longchamp in Paris for the Prix de l'Arc de Triomphe -- European racing's richest prize -- on Sunday to capture the windmills and hats as well as the racing.
Crowhurst started taking pictures as a way of making money rather than losing it. "I used to gamble when I started work ... but then I bought a camera. I loved the idea that I gave up gambling but could still go to the races and take pictures instead," he told CNN.
Royal Ascot, Ascot, Berkshire, UK: "At the start, I'll probably go to the pre-parade ring just to have a look to see if there are any shadows. I'll just watch the horses go round (trying to capture) something you might not notice," Crowhurst says.
Royal Ascot, Ascot, Berkshire, UK: Jockeys leave the weighing room during day two of Royal Ascot. "Before the race, depending on where I am, I'll have a wander around the weighing rooms, among people looking at newspapers ... just little things that you wouldn't possibly have time to do during the races," Crowhurst says.
Royal Ascot, Ascot, Berkshire, UK: Everything is on Crowhurst's radar. A steward clasps stable lad's armbands.
Royal Ascot, Ascot, Berkshire, UK: Top hats and tails are the order of the day for men attending Royal Ascot. The five-day meeting takes place every June and is one of the UK's most prestigious sporting events.
Royal Ascot, Ascot, Berkshire, UK: "I like Royal Ascot a lot because there are so many people and so many things to see. It's like shooting fish in a barrel," says Crowhurst.
Royal Ascot, Ascot, Berkshire, UK: A vintage piece of Americana parked amid Ascot's starched shirts and racing silks.
Royal Ascot, Ascot, Berkshire, UK: Runners pass the grandstand in the Ascot Stakes during day one of Royal Ascot. "You can't really go too far wrong. It's always nice colors, smart clothing," added Crowhurst.
Royal Ascot, Ascot, Berkshire, UK: A packed grandstand watches a tightly-bunched group of runners during a race at Royal Ascot in June.
Ascot, Berkshire, UK: Irish jockey Johnny Murtagh riding Novellist celebrates winning The King George VI and Queen Elizabeth Stakes at Ascot. "For the bigger races, I usually position myself after the winning line. I like looking head on because you might get a reaction from the jockey -- a wave of the whip, a punch of the air," says Crowhurst.
Royal Ascot, Ascot, Berkshire, UK: Jockey Jospeh O'Brien riding Leading Light in the winning enclosure after the Queen's Vase during day four of Royal Ascot.
The Grand National, Aintree, Liverpool, UK: A bookmaker taking bets on the Grand National in April. The first official running of the world's most famous handicap steeplechase took place in 1839.
Aintree, Liverpool, UK: Runners making their way past the grandstand at Aintree. Crowhurst prefers jump racing because of its unpredictable nature. A horse that is 10 lengths clear can always fall at the last, he says.
Aintree, Liverpool, UK: Horses and jockeys negotiate the famous Bechers Brook fence during The John Smith's Foxhunters Steeple Chase. Crowhust took four cameras to Aintree in April, this year. "I had three remote cameras and one in hand which sets off the other three. They're only jumping once, so you've got to make the most of the oportunity," he says. "You get nice shapes in jumping as well when (the horses) stretch."
Cheltenham, Gloucestershire, UK: This curious image of a racegoer at Cheltenham taken in November 2012 is one of Crowhurst's favorites. "I just happened to see him," Crowhurst says of the man whose head is all but invisible behind his cupped hands and binoculars.
Cheltenham, Gloucestershire, UK: Barry Geraghty rides Bobs Worth to victory at the Gold Cup in March 2013. Cheltenham racecourse is Crowhurst's favorite place to take pictures of jump racing. "The sun's the right way, you get good horses and good quality races and it's out in the country -- you can shoot against the Coltwolds."
Punchestown, Ireland: Runners make their way through "Joe's Water Splash'"at Punchestown racecourse in April.
"If it's there, I'll try and do something different. The beauty of working for Getty (Images) is that they allow you to do it," says Crowhurst. To view more of Alan Crowhurst's portfolio click here.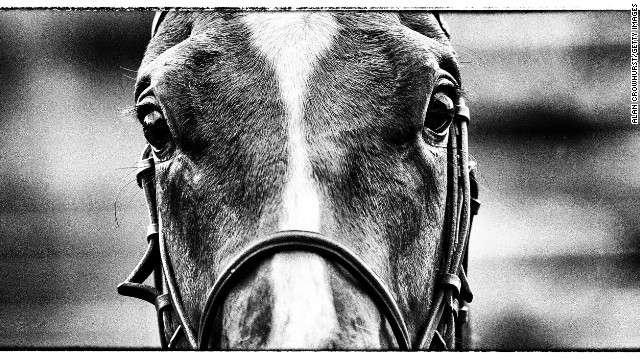 Photo finish: A day at the races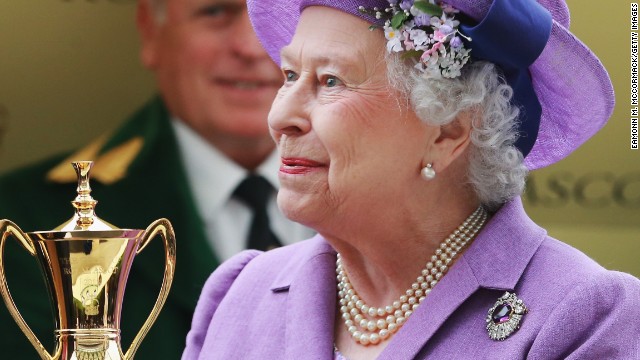 Queen Elizabeth II is all smiles after receiving the Gold Cup following her horse Estimate's triumph at Royal Ascot.
The latest addition to the British royal family, Prince George of Cambridge, was gifted a teddy dressed in the queen's silks, by a leading horse racing organization.
Britain's monarch shares a private moment with her connections and jockey Ryan Moore after the historic victory in June 2013. Her only daughter Princess Anne, who represented Britain at the 1976 Olympics in equestrian, is to her left.
Estimate's Gold Cup win was the first for a British monarch in the race's 207-year history.
Prince Charles, the heir to the British throne, and his wife the Duchess of Cornwall attend the Melbourne Cup -- Australia's most famous race -- in 2012.
Also a keen horseman, Charles is pictured here taking part in a steeplechase event in 1990.
The late Queen Mother pats one of her winning horses Bella Macrae after a race at Sandown Park in 2001. She was 100 years of age and still actively involved in the sport before her passing the following year.
In 1956, the Queen Mother's horse Devon Loch famously fell while leading the prestigious Grand National steeplechase, unseating jockey Dick Francis just yards from victory.
Here Queen Elizabeth is flanked by her mother and her late sister Princess Margaret (right) at the Epsom Derby in 1955.
Britain's royals have strong links to racing. A horse owned by King George V is escorted home after winning the Steward's Cup at Royal Ascot in 1911.
Queen Elizabeth II and her husband the Duke of Edinburgh enjoy the racing at Longchamps in Paris in 1972.
More recently, they are seen here at the Epsom Derby. It is the one English Classic the Queen has failed to win as an owner.
Queen Elizabeth II with her racing manager John Warren (left) and trainer Roger Charlton at Newbury racecourse in April 2013. Her horse Sign Manual was among the winners at the meeting.
The Queen's latest daughter-in-law -- Catherine, Duchess of Cambridge -- has also joined in the family passion. She is seen here at the Cheltenham Festival steeplechase meeting in March 2013.
The royal family's love of horses is likely to be passed on to the latest addition -- baby Prince George, who was presented to the world by his proud parents William and Catherine in July.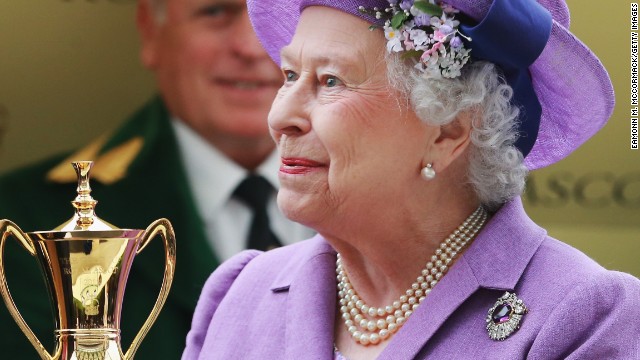 All the Queen's horses
"That's not quite right. It wasn't so much his death that drove me on but more the way that he lived his life," explains Waley-Cohen, who still rides with his brother's initials on his saddle.
"I think he'd be surprised how I've got on in the saddle, but he'd love it as the rest of my family do."
Thomas would be rather more surprised with the business empire his brother has since built up. He is chief executive of Portman Healthcare, which has 20 dental practices across the UK.
He employs 300 staff and has 200,000 patients in all. He is hoping to double those numbers in the next two years.
It had been rumored on the circuit that the business began after he looked around the weighing room one race day and saw the battered teeth of his peers, but he dispels this as another myth.
"Actually, there's a dentist's surgery on the way to one of the racecourses and I remember thinking, 'Why is it only individual practices, why aren't there chains?' and it went from there," he says.
"But it's very similar to horse racing. In racing, I surround myself with the right horses; in business I've surrounded myself with the right people."
Portman, he says, takes up 99% of his work time while his "second job" is usually just for weekends except for events such as Cheltenham Festival and the current Grand National week at Aintree.
Should he win in the chocolate and orange colors of his father, he will be the first amateur jockey to do so since 1990, when journalist Marcus Armytage rode Mr. Frisk to victory.
"I believe I can win but that's the beauty of the National as there will be 40 jockeys on the start line thinking the same thing," Waley-Cohen says.
"You always need a bit of luck to get over those fences as there's so many things that can happen. But I'd say I have a great chance."
If victory is his, it will almost certainly come with a royal seal of approval. It was at his family's 17th-century mansion that the Duke and Duchess of Cambridge were reunited during a party that he organized, having split in 2007.
Waley-Cohen attended their wedding in 2011 -- although he downplays the significance of his role in getting them back together -- and the Duchess was present when he was married later that year.
"Well, my comments on that have been taken out of context in the past so I'll leave my role on that one there," he says modestly.
Whatever his role, Waley-Cohen is clearly a modern-day maverick, a man for all seasons.
Read: Former jockey Richard Dunwoody's life through a lens