Airbus unveils the passenger cabins for the new A350 XWB plane
April 8, 2014 -- Updated 0414 GMT (1214 HKT)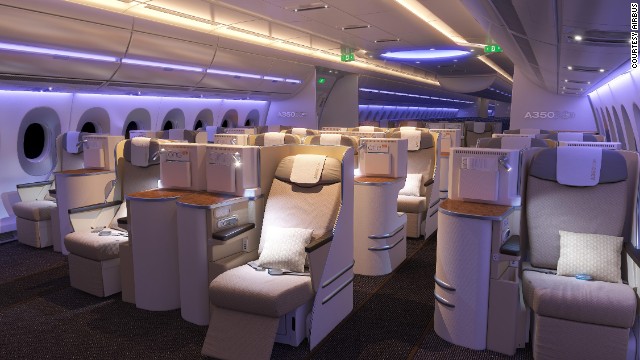 Airbus unveiled the interior cabin on two of its A350 XWB test planes. LED lighting and near-vertical side walls are two of the plane-maker's innovations.
The economy cabin has a nine-abreast configuration with Airbus' 18-inch wide seats.
The electronics for the in-flight entertainment systems will all be hidden below the floor, so no more kicking of metal boxes under the seat in front of you.
The manufacturer has also opened a showroom and one-stop-shop in Hamburg, Germany, for airlines to choose their own interiors, from materials to IFE consoles.
Airbus says that the new jets will have larger overhead stowage than existing aircraft.
There should be fewer drainpipes seated next to you when the plane comes into service later this year.
Airbus have been developing the plane since 2006. It will be made of 53% composite materials.
As well as claims of a quieter cabin during flight, the A350 XWB is thought to be 25% more efficient than other existing jets of its size.
Sitting comfortably?
An extra couple of inches
Relief for the long of leg
Customizable cabins
Little things make a big difference
Pipe me aboard, captain
In for the long-haul
It's all about efficiency
STORY HIGHLIGHTS
Airbus show off the cabin configuration for its new A350 XWB jet
Economy class has nine, 18 inch wide seats across each row
Near straight cabin walls and larger overhead bins give the plane more space, says the manufacturer
(CNN) -- Last week Airbus announced a squeeze which will make most frequent flyers groan, but today the European firm unveiled how passengers flying on its new A350 XWB might travel.
Two test planes have been fitted out with full economy and business class interiors. The economy cabin has a nine-abreast configuration, with 18-inch wide seats, while business class has just four seats per row.
Airbus boasts that the new, extra wide-body planes will have near-vertical walls and larger overhead baggage bins compared to its current fleet of aircraft.
And for passengers with long legs, there shouldn't be any more issues with in-flight entertainment (IFE) boxes blocking the space under the seat in front of them; Airbus has placed all the electronic boxes and connections under the floor.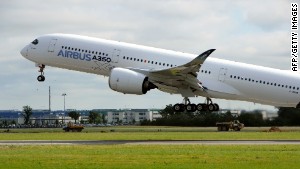 Airbus A350 XWB makes first flight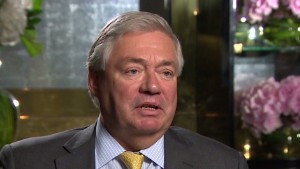 COO John Leahy discusses Airbus' future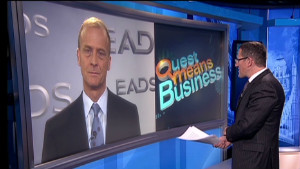 Airbus A350 time crunch
Another innovation is the full cabin LED lighting that Airbus says can offer a mind-boggling 16.7 million possible colors.
"Passenger comfort is an increasingly important differentiator for the airline industry, becoming a fundamental deciding factor driving passenger choice and business success," said Chris Emerson, Senior Vice President of Marketing at Airbus.
Read more: Would you pay to cut in line for toilets on a flight?
If cabin interiors are a deciding factor for passengers when choosing an airline, then Airbus has also tried to make it easier for airlines to customize them. It has also opened a one-stop interiors showroom and test center in Hamburg, Germany.
The Customer Definition Center has mock-up interiors of the A350 XWB with a full range of materials and fourth generation IFE consoles, plus a virtual reality modeling tool to help airlines visualize their choices.
Airbus says that 39 airlines have placed orders for 812 A350 XWB jets, with three versions offering passenger capacity between 276 and 369 seats. The first will be delivered to Qatar Airways later this year.
The mid-size, long-range jet is set to go head-to-head with Boeing's 787 Dreamliner and will be made of 53% composite materials. According to Airbus it achieves a 25% reduction in seat-mile costs and 25% lower carbon dioxide emission than existing, similar sized aircraft.
Are airline seats getting smaller or are you getting bigger?
Why Boeing and Airbus are cozying up to Asia's budget airlines
This plane has no window, but it's really fast

Today's five most popular stories
November 26, 2014 -- Updated 1110 GMT (1910 HKT)

Don't surprise Germans and stick to the agenda in Japan. What international road warriors need to know.
November 14, 2014 -- Updated 0633 GMT (1433 HKT)

Eurostar, the high-speed train company connecting London with Brussels and Paris, has just upped its game.
October 20, 2014 -- Updated 1407 GMT (2207 HKT)

Japan is set to make its mark in the skies with its first new commercial jet for over 50 years, the Mitsubishi Regional Jet, aka the MRJ.
October 4, 2014 -- Updated 0516 GMT (1316 HKT)

Think hotels are deliberately blocking your personal Wi-Fi networks so you'll buy theirs?
October 31, 2014 -- Updated 1749 GMT (0149 HKT)

How would you like to trim three hours off the current commercial jet flight time between Paris and Washington, D.C.?
October 3, 2014 -- Updated 1443 GMT (2243 HKT)

It's been a big week for makeovers in the world of aviation.
August 29, 2014 -- Updated 1525 GMT (2325 HKT)

Aviation isn't known as the most eco-friendly industry; running an airline produces an incredible amount of waste. But some are doing something about it.
August 19, 2014 -- Updated 1514 GMT (2314 HKT)

Airports aren't exactly stress-free zones, but drones, tracking and virtual reality could help make them better places.
August 12, 2014 -- Updated 0906 GMT (1706 HKT)

In many ways, airplanes are a retailer's dream come true. They serve a captive -- often bored -- audience with a disposable income.
July 30, 2014 -- Updated 1835 GMT (0235 HKT)

Takeoff on one of Airbus' new A350WXB test planes is a strangely quiet experience.