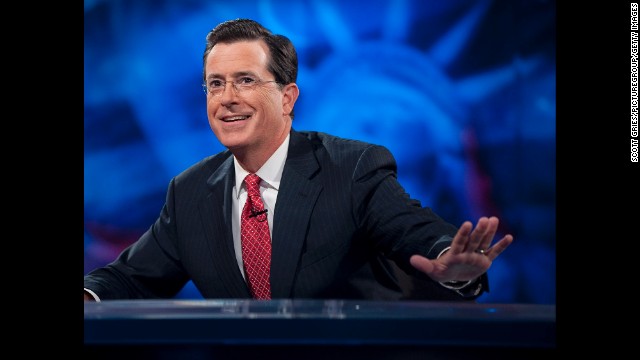 Stephen
Colbert will take over "The Late Show" upon the retirement of David Letterman
in 2015. Colbert's rise includes a number of notable moments.
Colbert, left, was originally one of "The Daily Show's" correspondents. He began with the show during its Craig Kilborn era and stayed when Jon Stewart, center, came to host in 1999. Others on the show included, from left, Ed Helms, Rob Corddry and Samantha Bee.
While appearing on "The Daily Show," Colbert was also part of the cast of "Strangers with Candy," a comedy series with Amy Sedaris and Paul Dinello. He met the pair while he was a member of the Second City comedy troupe in the early '90s.
As a "correspondent" and later an anchor, Colbert developed a character that has been, at turns, pompous, pious and egocentric -- basing the persona on many others in television.
As correspondent, Colbert was key to "The Daily Show's" election coverage. Here he takes part in Election Night 2004.
Colbert's work on "The Daily Show" contributed to a number of awards -- including several Emmys. He poses here with, left to right, Rob Corddry, host Jon Stewart, Ed Helms and Samantha Bee.
his hosting of the 2006 White House Correspondents Dinner
. In character, his barbs about President George W. Bush and the political news media drew blood.
Colbert earned praise -- and notoriety -- for
On "The Colbert Report" -- and that's pronounced "Col-bear Rap-pour" -- Colbert highlights the foibles of politicians with such segments as "Better Know a District," a proposed 435-part series in which he offers a take on every House District. The representatives he interviewed sometimes haven't been aware of the joke.
Very quickly, Colbert's influence rose so high that he got his own Ben & Jerry's ice cream flavor: AmeriCone Dream. Here he poses with Ben Cohen, left, and Jerry Greenfield at the flavor's launch party.
The White House hasn't been immune to Colbert's charms. He showed up for a mock press conference in 2007.
"The Daily Show" may have won a bunch of Emmy awards, but in 2013 "The Colbert Report" broke its streak of 10 straight awards for outstanding variety series. It's also won two Emmys for writing, as well as two Peabodys.
Colbert hosted a roast for then congressman -- and later Chicago mayor -- Rahm Emanuel in 2008. Colbert, a South Carolina native, has ties with Chicago, having gone to college at Northwestern, in nearby Evanston, and worked in the city's comedy scene.
Colbert's awards haul isn't limited to Emmys and Peabodys. In 2010 he won a Grammy for his Christmas album, and four years later won another for best spoken-word album.
In October 2010 Colbert teamed up with Stewart for a Washington rally, "Rally to Restore Sanity and/or Fear." Stewart handled the sanity; Colbert took care of the fear. The rally was a response, sort of, to rallies led by Glenn Beck and Al Sharpton.
Colbert's character definitely loves himself. He went so far as to lick himself during the unveiling of his wax figure at the Madame Tussauds wax museum in Washington in 2012.
Colbert may be responsible for Bill Clinton being on Twitter. When the former president appeared on his show in 2013, Colbert set up an account, @PrezBillyJeff. Clinton later set up his real account, @billclinton.
Colbert, a devout Catholic, has taught Sunday school and talked about social justice. He spoke at the Robert F. Kennedy Center for Justice and Human Rights 2013 Ripple of Hope Awards dinner.
Colbert faces a changed talk-show landscape. Jimmy Fallon, left, has gotten off to a fast start as new "Tonight Show" host on NBC, and ABC's Jimmy Kimmel also has a strong fan base. Observers are curious whether Colbert will bring his character with him to "The Late Show." We'll find out when David Letterman steps down.
takes a selfie
with Letterman on the "Late Show with David Letterman" on Tuesday, April 22. CBS began to introduce the next host of the "Late Show" by having its current host interview him.
Colbert
Funnyman Stephen Colbert
Funnyman Stephen Colbert
Funnyman Stephen Colbert
Funnyman Stephen Colbert
Funnyman Stephen Colbert
Funnyman Stephen Colbert
Funnyman Stephen Colbert
Funnyman Stephen Colbert
Funnyman Stephen Colbert
Funnyman Stephen Colbert
Funnyman Stephen Colbert
Funnyman Stephen Colbert
Funnyman Stephen Colbert
Funnyman Stephen Colbert
Funnyman Stephen Colbert
Funnyman Stephen Colbert
Funnyman Stephen Colbert
Funnyman Stephen Colbert
Funnyman Stephen Colbert
Funnyman Stephen Colbert
STORY HIGHLIGHTS
David Bianculli: Colbert slated to replace Letterman; great for CBS, risky for Colbert
He says Colbert brings new late-night essentials: social media savvy, buzz
But Colbert could lose edge when he drops persona; will fans follow him, he asks?
Bianculli's bet is that Colbert, a smart interviewer, will likely do well as himself
Editor's note: David Bianculli is founder and editor of TVWorthWatching.com and teaches TV and film at Rowan University in New Jersey. He also is TV critic and guest host for NPR's "Fresh Air with Terry Gross." The opinions expressed in this commentary are those of the author.
(CNN) -- Only a week after David Letterman surprised viewers with his on-air vow to step down from late-night TV in 2015, CBS moved with stunning speed to anoint and announce his replacement: Comedy Central's Stephen Colbert.
Colbert, who has hosted "The Colbert Report" since 2005 in the tongue-in-cheek character of a pompous political conservative, was quoted by Bill Carter of The New York Times as saying he would be appearing on CBS as himself, not his comic alter ego. Signing the quotable and often controversial Colbert, with his legion of "Colbert Nation" social media fans, clearly is a gain for CBS. But for fans of Colbert, and for Colbert himself, it's much more of a risk.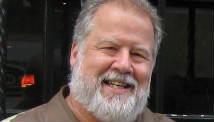 David Bianculli
The CBS thought process is easy to deconstruct.
Either the network was going to give the "Late Show" slot, when it opened, to Craig Ferguson, who has toiled loyally in the time slot following it for as long as "The Colbert Report" has been on cable, or to someone else. Ferguson will be 52 next month -- but Colbert, also next month, will turn 50, compared with ABC's Jimmy Kimmel and NBC's Jimmy Fallon, who later this year will turn 46 and 40, respectively. So the issue isn't so much age as, perhaps, buzz, with Colbert's social media savvy giving him the edge.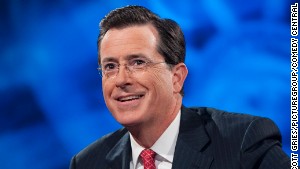 Why audiences love Stephen Colbert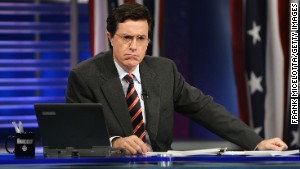 Stephen Colbert to succeed Letterman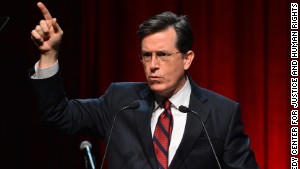 2007: Stephen Colbert out of character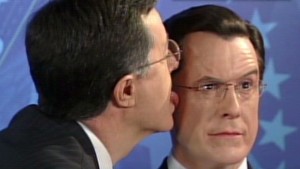 CBS: Colbert to replace Letterman
The question now becomes, though, how much edge can Colbert bring to CBS, especially without the once-removed antagonistic persona of his Comedy Central blowhard?
Bill Maher offended too many people when he was on a late-night broadcast show, "Politically Incorrect," but the same act has thrived, and taken root, on cable's HBO. Going in the opposite direction, how many edges must Colbert sand off to maintain or increase a loyal audience on CBS?
In character on "The Colbert Report," Colbert is such a smart and funny interviewer that, even out of character, he should prove much better in that department than either of the late-night Jimmys. But unless he generates the same sort of viral videos, most of them musical, that Kimmel and Fallon have presented so successfully, Colbert may struggle to compete.
Colbert is a very strong singer -- even Stephen Sondheim thinks so, and cast him in a concert version of "Company" -- so he could do that sort of thing. But does he even want to?
And will his Comedy Central audience even follow him to CBS? Success in one arena doesn't necessarily translate after a move to another venue. Just ask Oprah.
Personally, I like what CBS is gaining here. The potential for Colbert, who's such a phenomenal workhorse on his current show, to craft a new show for CBS is enticing, and the unknown factor of what he will bring to the program as himself should generate plenty of publicity. For CBS, the move makes sense.
But for Colbert, the transplant could be tricky.
Young viewers -- and he certainly has them -- are fickle, and those who watch him on the more subversive Comedy Central may not be inclined to switch to the less cool CBS just to follow him. And many, like myself, will miss "The Colbert Report" greatly. There's no show on TV quite like it.
(The logical replacement for Colbert, thinking one more step ahead, would be former "Daily Show" correspondent John Oliver, but his new current events comedy show begins later this month on HBO -- so he may or may not be available when the slot opens next year.)
And in addition to losing "The Colbert Report," viewers also are all but certain to lose "The Late Late Show With Craig Ferguson" when his current contract expires -- so that's two entertaining late-night programs that we're losing, just to get a replacement for Letterman. Whether it all ends up being a good exchange for viewers depends on those other replacements, and how good Colbert ends up being at playing a formerly unseen and untested role: himself.
My guess is that, as himself, Stephen Colbert will produce and star in a very good show indeed. But with the show being on CBS in the multimedia climate of 2015, my worry is whether that will prove to be enough.
Follow us on Twitter @CNNOpinion.
Join us on Facebook/CNNOpinion.