World's best pizza not in Italy
April 15, 2014 -- Updated 1714 GMT (0114 HKT)
STORY HIGHLIGHTS
An Australian chef has taken home top honors at the World Pizza Championship in Italy
Winning chef Johnny Di Francesco learned to make pizza in Naples, Italy
The winning pizza is made daily at Di Francesco's 400 Gradi restaurant in a Melbourne suburb
(CNN) -- Australian pizza is now officially the best in the world.
Well, sort of.
Judges at last weekend's Campionato Mondiale Della Pizza (Pizza World Championship) held in Parma, Italy, awarded the world's top margherita pizza title to Australian chef Johnny Di Francesco, owner of the 400 Gradi restaurant in Brunswick, a Melbourne suburb.
Di Francesco, 36, beat more than 600 competitors from 35 countries to take home the Specialita Traditionale Garantita pizza prize in the annual competition.
The win and subsequent publicity has made the small restaurant he owns in his hometown an overnight sensation.
"It's been an amazing reaction," Di Francesco tells CNN. "Honestly, I just went to Naples to do what I love. I didn't think it was going to make such a stir."
"A lot of people think it is easy to produce a margherita but it is one of the hardest (pizzas) to produce," Di Francesco told Australian website Good Food.
"With a lot of other pizzas it's easy to mask the flavor with toppings so you don't really get the flavor out of the dough. With a margherita there is no hiding anything that isn't right."
Competition rules are strict on what ingredients can top the dough on the margherita: only peeled tomatoes, certain types of mozzarella, garlic, olive oil, salt and fresh basil leaves are used.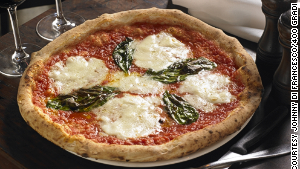 The price on Di Francesco's margherita pizza (pictured) won't be going up anytime soon.
Pizza the traditional way
Di Francesco, who says he's been making pizza since was 12 years old and studied pizza-making at the highly regarded Associazione Verace Pizza Napoletana in Naples, Italy, calls himself a traditionalist when it comes to making pizza.
"It's an honor to be part of what (Verace Pizza Napoletana) does, striving to preserve a traditional way of making pizza the way they've done it in Naples for hundreds of years."
Although he's claimed the world title, Di Francesco has no plans to raise the A$20.50 ($19.30) price on the margherita pizza made daily at 400 Gradi.
"No, not at all," he says with a laugh.
Italian chefs weren't entirely shut out of the winner's circle at the competition.
As reported by Good Food, Italian chef Julius Scialpi took home the "classic pizza" prize for a pizza made with mozzarella, eggplant, nostrana, breadcrumbs and anchovies with burrata.
400 Gradi, 99 Lygon St., Brunswick East, Victoria, Australia; +61 (0)3 9380 2320; daily, midday-11 p.m.

Today's five most popular stories
Part of complete coverage on
November 24, 2014 -- Updated 0118 GMT (0918 HKT)

These quirky and beautiful subway stops make standing cheek-to-cheek with 45 strangers almost seem fun.
November 21, 2014 -- Updated 1314 GMT (2114 HKT)

Luxury vintage Land Rover tours explore Bedouin backwaters without bashing up precious dunes.
November 20, 2014 -- Updated 0250 GMT (1050 HKT)

Cities around the world have closed the brew gap, but the Oregon city's innovative scene continues to lead the beer parade.
November 19, 2014 -- Updated 2249 GMT (0649 HKT)

From gourmet hotdogs to Sevillian tapas, the food served in these London restaurants is worth lining up for.
November 20, 2014 -- Updated 1545 GMT (2345 HKT)

Plans are underway to build the world's tallest -- and quite possibly most terrifying -- roller coaster at an Orlando, Florida, theme park due to open in 2017.
November 18, 2014 -- Updated 1932 GMT (0332 HKT)

The 7th Annual Cruise Critic Editors' Picks Awards highlight the top cruise lines for North American travelers in 18 categories.
November 19, 2014 -- Updated 0206 GMT (1006 HKT)

Joining the ranks of pilgrims tackling Adam's Peak rewards with a spiritual awakening, or at least a stunning sunrise.
November 18, 2014 -- Updated 1313 GMT (2113 HKT)

Beautifully designed travel document reveals image of Northern Lights when placed under UV light.
November 18, 2014 -- Updated 0525 GMT (1325 HKT)

New concept offering luxury rooms in ancient dwellings helps spare beautiful villages from falling into ruin.
November 21, 2014 -- Updated 2247 GMT (0647 HKT)

Are you the butcher or the cattle? Tainted meat-obsessed fans are following the tracks of their favorite "Walking Dead" survivors.
November 17, 2014 -- Updated 0521 GMT (1321 HKT)

People never cease to find amazing ways to make water more incredible than it already is. Here are some powerful examples