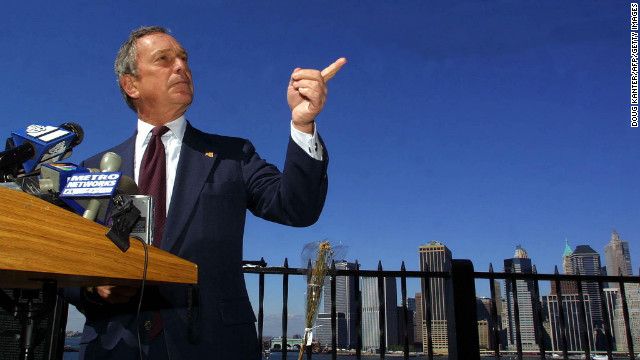 Michael Bloomberg moved into politics after gaining wealth and clout through Bloomberg LP, the world's leading financial news and information company. As mayor of New York, he led the city through tight budgets during the recession and pushed for controversial health policies, including banning large sodas. Bloomberg was a Republican candidate when he won the mayoral races in 2001 and 2005, but he switched to independent for his third term.
called off
in December 2002 after transit workers and their management worked out a deal.
Bloomberg, second from right, rides to City Hall on the R train in March 2002 after New York transit workers authorized union leaders to call a strike. Bloomberg, dealing with a $1 billion budget shortfall, had refused union demands for a 24% wage increase over three years. The strike was
Bloomberg is sworn in by New York Judge Judith S. Kaye as Bloomberg's mother, Charlotte Bloomberg, holds the Bible on the steps of City Hall in January 2002.
Bloomberg attends a New York Yankees pep rally at City Hall in October 2003.
Yankees owner George Steinbrenner shares a laugh with Bloomberg during a news conference in June 2005 announcing plans for a new $800 million stadium.
Bloomberg holds a news conference on gun control in July 2007 on Capitol Hill in Washington, where he traveled to lobby against the Tiahrt Amendments, measures that regulate access to gun-tracing data.
Bloomberg joins volunteers to bag apples for poor families as part of a Mandela Day event in July 2009. Mandela Day is a celebration of Nelson Mandela's life and legacy. It encourages good works and volunteerism around the world.
Bloomberg celebrates winning a third term as mayor in November 2009.
Bloomberg inspects the large cavern being constructed for the 34th Street subway station on February 2010. The new station is part of a $2.1 billion expansion project, the first subway expansion in Manhattan for decades.
Bloomberg marches in the 249th annual St. Patrick's Day Parade in March 2010.
British Prime Minister David Cameron eats a hot dog with Bloomberg outside New York's Penn Station on July 21, 2010. Cameron met with Bloomberg and U.N. Secretary General Ban Ki-moon during his visit to New York.
Bloomberg announces the formation of the "Second Chance on Shoot First" campaign at the National Press Club in April 2012 in Washington. After the Trayvon Martin shooting in Florida, Bloomberg was joined by leaders from the NAACP, the National Urban League and other organizations to launch the effort to reform and repeal "stand your ground" gun laws.
Bloomberg and New York Police Commissioner Ray Kelly look at the New York Memorial Wall during an unveiling in October 2012. The city added the names of 15 officers who died the previous year.
In October 2012, Bloomberg views damage in the Breezy Point area of Queens, where a fire destroyed about 80 homes as a result of Hurricane Sandy. Sandy killed at least 113 people in the United States and heavily damaged New York's infrastructure.
Bloomberg kicks with the Rockettes in Times Square on New Year's Eve 2013.
From left, Bloomberg, New York Sen. Charles Schumer and Ben Fried, chief information officer for Google, cut Ethernet cables at a news event where it was announced that free Wi-Fi would be provided to the Manhattan neighborhood of Chelsea in January 2013.
Bloomberg and Schumer shop in the newly reopened Fairway Market on the waterfront in Red Hook in March 2013. Fairway closed after severe flooding during Hurricane Sandy.
Bloomberg holds a large cup as he speaks to the media about the health impacts of sugar in March 2013.
London Mayor Boris Johnson talks with Bloomberg on the balcony of London's City Hall after launching the Mayors Challenge in Europe. The Mayors Challenge is a competition, with prize money coming from Bloomberg's philanthropic foundation, that challenges cities to find innovative and creative ideas to solve problems faced by urban living.
In October, on the one-year anniversary of Hurricane Sandy, Bloomberg, center, stands on a rig installing a new sea wall in the Rockaways.
Bloomberg shakes hands with Larry Silverstein, the developer who held the lease to the World Trade Center buildings in 2001, after cutting the ribbon at the opening ceremony of Four World Trade Center. It's the first tower to open at the original site of the World Trade Center.
Talk show host Jimmy Fallon welcomes Bloomberg to join him in writing thank-you notes in December.
Bloomberg speaks to the Economic Club of New York in December in his last major speech as mayor.
Bloomberg walks through the crowd outside City Hall as he leaves for the last time as mayor.
Bloomberg, right, participates in a "Toward Universal Health Coverage for 2030" seminar in April during the IMF/World Bank's Spring Meetings in Washington.
Former New York Mayor Michael Bloomberg
Former New York Mayor Michael Bloomberg
Former New York Mayor Michael Bloomberg
Former New York Mayor Michael Bloomberg
Former New York Mayor Michael Bloomberg
Former New York Mayor Michael Bloomberg
Former New York Mayor Michael Bloomberg
Former New York Mayor Michael Bloomberg
Former New York Mayor Michael Bloomberg
Former New York Mayor Michael Bloomberg
Former New York Mayor Michael Bloomberg
Former New York Mayor Michael Bloomberg
Former New York Mayor Michael Bloomberg
Former New York Mayor Michael Bloomberg
Former New York Mayor Michael Bloomberg
Former New York Mayor Michael Bloomberg
Former New York Mayor Michael Bloomberg
Former New York Mayor Michael Bloomberg
Former New York Mayor Michael Bloomberg
Former New York Mayor Michael Bloomberg
Former New York Mayor Michael Bloomberg
Former New York Mayor Michael Bloomberg
Former New York Mayor Michael Bloomberg
Former New York Mayor Michael Bloomberg
Former New York Mayor Michael Bloomberg
Former New York Mayor Michael Bloomberg
Former New York Mayor Michael Bloomberg