STORY HIGHLIGHTS
NEW: Prosecutor: The captain wasn't in the steering room; it's not clear where he was
NEW: Report: 8 divers plan to go into ferry's cafeteria later Friday, says coast guard
Authorities: The official death toll now stands at 25 people; about 271 remain missing
Angry kin of passengers waiting miles from sunken ferry chant: "Captain, come out"
Are you there and safe? Show us what's happening.
Jindo, South Korea (CNN) -- The captain of a South Korean ferry wasn't at the helm of his vessel when it capsized, an official said Friday, raising another question about the man who families of the hundreds still missing have blamed most directly and emotionally for his part in the disaster.
Rather than Capt. Lee Joon Suk, the Sewol ferry's third mate was at the wheel when it began listing and ultimately flipped -- not long after a loudspeaker announcement told passengers to stay put and before only a few lifeboats deployed.
"It is not clear where (the captain) was when the accident occurred, although it is clear that he was not in the steering room before the actual accident happened," state prosecutor Jae-Eok Park said Friday.
Lee was one of at least 179 people rescued soon after Wednesday's sinking. A bigger number -- 271 as of Friday morning, according to the South Korean Coast Guard -- are still considered missing, with 25 confirmed dead.
How this all came to be remains murky two days later, much like the waters surrounding the capsized ship.
Family members of passengers massing on a dock in the Jindo, South Korea, harbor -- about 20 kilometers (12 miles) from where the five-story ship sank -- expressed increasing disgust, frustration and anger over everything from the ferry crew's response to the search-and-rescue effort.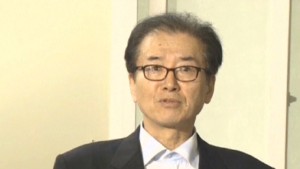 South Korean ferry captain: 'I am sorry'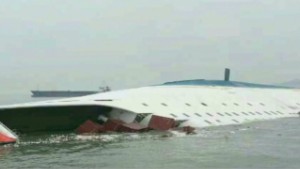 Desperate search for ferry passengers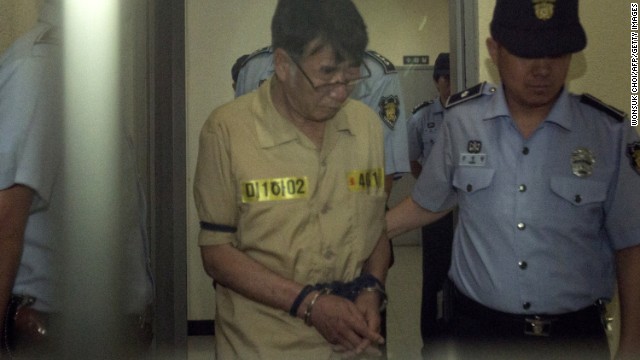 Sewol ferry captain Lee Joon-Seok was acquitted of murder, avoiding a death sentence, but was sentenced to 36 years in jail on November 11 for his role in the maritime disaster that killed more than 300.
Shoes believed to belong to the missing and the deceased are on display at the harbor.
Jindo harbor, where the search operation is based, has become a memorial for those who lost their lives. Yellow ribbons and photos are displayed as people come to pay their respects.
A joint government-civilian task force is still looking for the missing, but winter is fast approaching.
Ten are still missing from tragic ferry sinking last April, which killed more than 300. Six months later, families are still waiting for their loved ones to be found. The parents of 16-year-old Huh Da-yoon, pictured, are among them.
The families of the ten who remain missing have been waiting in Jindo Indoor Gymnasium since the first day. Families can watch search mission in real time on a large monitor in the gym.
South Korean President Park Geun-hye weeps while delivering a speech to the nation about the sunken ferry Sewol at the presidential Blue House in Seoul, South Korea, on Monday, May 19. More than 200 bodies have been found and nearly 100 people remain missing after the ferry sank April 16 off South Korea's southwest coast.
Police in Seoul detain a protester during a march Saturday, May 17, for victims of the Sewol.
A girl in Seoul holds a candle during a service paying tribute to the victims of the Sewol on Wednesday, April 30.
People pay tribute to victims at a memorial altar in Ansan, South Korea, on Tuesday, April 29.
A police officer holds an umbrella for a relative of a missing ferry passenger Monday, April 28, in Jindo, South Korea.
South Korean Buddhists carry lanterns in a parade in Seoul on Saturday, April 26, to honor the memory of the dead and the safe return of the missing.
Divers search for people in the waters near Jindo on April 26.
People in Ansan attend a memorial for the victims on April 26.
A diver jumps into the sea near the sunken ferry on Friday, April 25.
A relative of a passenger weeps while waiting for news of his missing loved one at a port in Jindo on April 25.
People attend a memorial for the victims at the Olympic Memorial Hall in Ansan on Thursday, April 24.
Yellow ribbons honoring the victims flap in the wind as a hearse carrying a victim's body leaves Danwon High School in Ansan on April 24. Most of the people on board the ferry were high school students on their way to the resort island of Jeju.
People attend a memorial for the victims at Olympic Memorial Hall in Ansan.
Search personnel dive into the sea on Wednesday, April 23.
Flares light up the search area on Tuesday, April 22.
The sun sets over the site of the sunken ferry on April 22.
A relative of a ferry passenger prays as she waits for news in Jindo on April 22.
The search for victims continues April 22 in the waters of the Yellow Sea.
Rescue workers in Jindo carry the body of a passenger on Monday, April 21.
Divers jump into the water on April 21 to search for passengers near the buoys that mark the site of the sunken ferry.
Search operations continue as flares illuminate the scene near Jindo on Sunday, April 20.
Relatives of missing passengers grieve April 20 in Jindo.
Relatives of passengers look out at the sea from Jindo on April 20.
Police officers in Jindo stand guard Saturday, April 19, to prevent relatives of the ferry's missing passengers from jumping in the water. Some relatives said they will swim to the shipwreck site and find their missing family members by themselves.
Family members of missing passengers hug as they await news of their missing relatives at Jindo Gymnasium on April 19.
South Korean Navy Ship Salvage Unit members prepare to salvage the sunken ferry and search for missing people on April 19.
Lee Joon Suk, the captain of the Sewol, is escorted to the court that issued his arrest warrant Friday, April 18, in Mokpo, South Korea.
A woman cries as she waits for news on missing passengers April 18 in Jindo.
A searchlight illuminates the capsized ferry on Thursday, April 17.
A woman cries during a candlelight vigil at Danwon High School in Ansan, South Korea, on April 17.
Family members of passengers aboard the sunken ferry gather at a gymnasium in Jindo on April 17.
The body of a victim is moved at a hospital in Mokpo on April 17.
Relatives of a passenger cry at a port in Jindo on April 17 as they wait for news on the rescue operation.
South Korean coast guard members and rescue teams search for passengers at the site of the sunken ferry on April 17.
A relative of a passenger cries as she waits for news on Wednesday, April 16.
Relatives check a list of survivors April 16 in Jindo.
Rescue crews attempt to save passengers from the ferry on April 16.
A relative waits for a missing loved one at the port in Jindo.
Parents at Danwon High School search for names of their children among the list of survivors. Ansan is a suburb of Seoul, the South Korean capital.
Helicopters hover over the ferry as rescue operations continue April 16.
Officials escort rescued passengers April 16 in Jindo.
A passenger is helped onto a rescue boat on April 16.
A passenger is rescued from the sinking ship on April 16.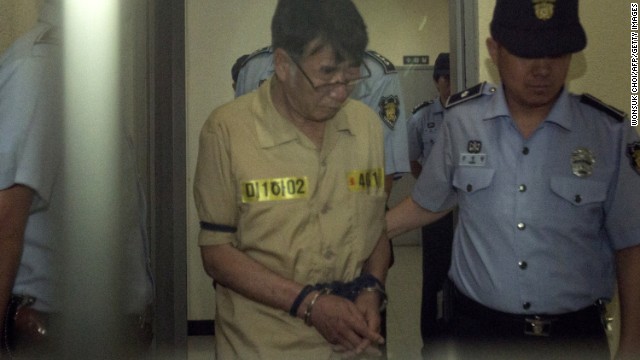 Photos: South Korean ferry sinks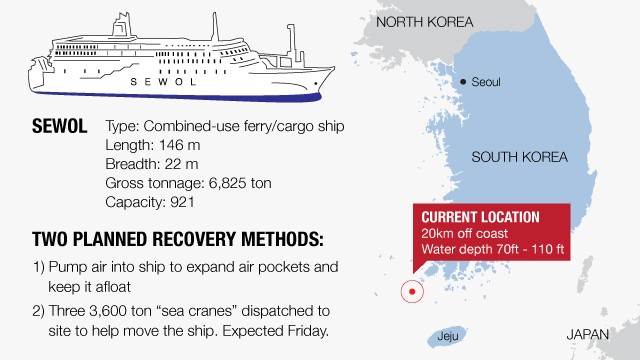 South Korean ferry rescue operation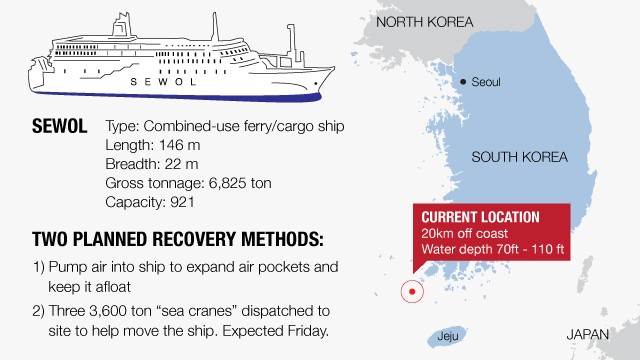 South Korean ferry rescue operation
The latter continued on Friday under dreary conditions similar to those that have plagued the area for days.
No one was rescued Thursday, during which time U.S. Navy Capt. Heidi Agle said two Navy helicopters equipped with special radars could only fly a few hours due to the poor weather. Divers in the water battled against strong currents, frigid water temperatures in the 50s (10 to 15 Celsius) and difficulty seeing more than a few feet ahead.
"It's extremely difficult," Agle, who said the Navy helicopters were from the USS Bonhomme Richard nearby, told CNN's Wolf Blitzer. "There are heavy currents in the area, so the vessel itself is not stable in the water. So you are, by default, putting divers at risk... There are many, many things that are working against them."
It's a different kind of struggle for those in Jindo, many of them the parents of more than 300 Seoul high school students who'd been heading to a four-day island holiday.
Wearing ponchos to fend off the rain, some of them could be heard crying in the face of the grim situation. Others demanded answers from Lee, chanting, "Captain, come out."
He didn't talk directly to them, but ferry Capt. Lee Joon Suk did emerge Thursday at a South Korean Coast Guard office. His head and face covered, he broke down in tears when reporters asked him if he had anything to say.
Lee managed only, "I am sorry, I am at a loss for words."
Using cranes to raise ship among options
The vast majority of the ship is underwater, and potential survivors in a part of the hull above water may have to deal with hypothermia and lack of oxygen.
Even so, authorities haven't given up hope.
They continue to operate under the assumption there are more survivors, hoping trapped passengers found pockets of air. Images show parts of the hull visible above water and presumably not flooded.
"Absolutely, there could be areas in there where there is breathable air, but the trouble right now is the temperature and getting people to them," Mike Dean, the U.S. Navy deputy director for salvage and diving, told "CNN Tonight."
More than 170 ships and more than 500 divers have swarmed the ferry site, though they are hampered by relentless rain, whipping winds and thick fog in addition to strong currents and murky waters.
CNN affiliate YTN reported that the Coast Guard said eight divers planned to enter the ship's cafeteria on Friday afternoon.
This comes as part of a multi-faceted effort, including possibly pumping oxygen in the vessel and trying to raise the vessel.
Kim Soo Hyeon, the chief of South Korea's Yellow Sea Maritime Police Agency, has said that authorities are "leaning toward" the latter option. Two cranes were at the scene early Friday, with a third scheduled to be there later in the day.
Can they survive in air pockets?
Still, there was no guarantee any of those efforts would lead to rescues.
Despite government assurances that rescuers would work around the clock to save lives, some relatives were angry about the pace of the operation.
"If the government cares for the people, our family, our children, please rescue our families and our children," said Chang Min, whose second-grade son is among the missing.
Passengers told 'don't move'
One factor seemingly working against a miracle is that most passenger bedrooms are on the fourth level of the five-floor boat, which is now upside down. Divers tried at least six times to enter the submerged cabins but were unable to get in, Kim said.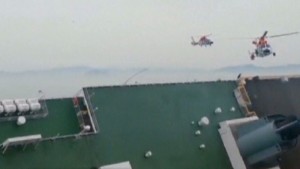 Did human error sink the S. Korean ferry?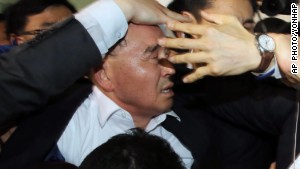 South Korean ferry rescue growing desperate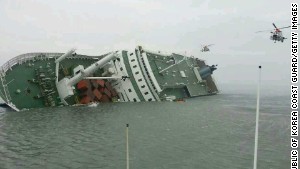 Students trapped in S. Korean ferry
Surviving passengers told YTN that --as the ship began to list sharply about the same time as loud banging sounds were heard -- they were urged to stay put.
"Don't move," a voice warned, according to a recording obtained by YTN. "If you move, it's dangerous. Don't move."
Student Lim Hyung Min, who was rescued, told YTN he heard a bang before the ship began to list.
"The students were falling over and crashing into things and bleeding," Lim said.
Rescue helicopters plucked some passengers from the ship as the vessel lay on its side before capsizing. Crews of fishing boats and military ships that raced to the scene in a heavily used sea lane pulled others from the water.
Few passengers made it to lifeboats.
Social media video acquired by CNN affiliate JTBC showed at least 12 of the white survival capsules still attached to the ferry even as it was keeled over in the water.
It was unclear, however, exactly how many lifeboats had deployed. Initial reports from YTN said it was one, but the JTBC video shows what appears to be two lifeboats next to the ship.
CNN has not been able to independently confirm the reports.
Apology, but no answer as to what happened
Why did it happen? South Korean media has reported investigators are probing the possibility the ship may have taken a sharp turn, causing vehicles and cargo aboard to shift and forcing the ship off balance.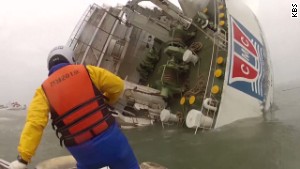 South Korean ferry capsizes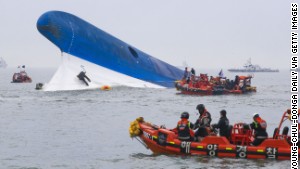 Nearly 300 missing in ferry disaster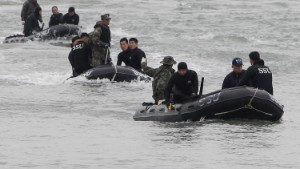 Expert: Air pockets possible in SK ferry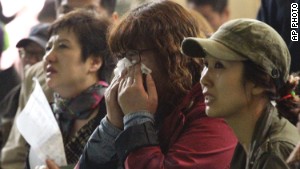 Final messages from students on ferry
CNN has not confirmed those reports.
Kim, the maritime police chief, said it appears the ship deviated from its planned route but that it did not appear it hit a rock. That information conflicted with an earlier statement by a spokesman for the South Korean Oceans and Fisheries Ministry, who said the ship was not significantly off its planned course.
The ship's operator, Chonghaejin Marine Corp., had no explanation, only apologies.
"We deeply apologize to the families, and I'm saying once again we're really sorry," Chonghaejin executive Kim Young-bung said.
"Our company will promise that we will do our best not to lose any more lives."
The president of the company tried to venture out to the sunken ferry, but he collapsed and was taken to a hospital.
Mother says: 'How can I sleep?'
U.S. President Barack Obama was among those who offered his condolences to his country's staunch ally, in addition to assistance from his country's Navy.
Yet at the Paeng Mok Harbor in Jindo, little could console the family members of the missing who passed hour after hour staring at the water and their cell phones, hoping for a call or text indicating a miracle.
Heartbreaking text messages said to be from missing passengers amplified the grief, but the semiofficial Yonhap News Agency reported that police had concluded messages purportedly sent from the sunken ship were faked.
Some parents took a boat toward the accident site, YTN said. But the boat turned back after several of them became so distraught that they fainted.
Others vented their anger about the pace of the progress, throwing chairs in frustration.
At least one mother blamed herself.
Christine Kim's daughter didn't want to go on her school's field trip to Jeju. After all, she had just visited the island two months ago.
But Kim urged her to go.
"I told her, 'I think this trip will be (a) very great experience for you,'" the mother said.
Now, she's full of guilt as she waits at the dreary harbor. She's been sitting in the cold rain for more than a day.
"How can I sleep when my daughter is in the cold ocean?"
READ: Theories on how a South Korean passenger ferry suddenly sank
READ: Jeju Island: South Korea's volcanic holiday destination
CNN's Kyung Lah reported from Jindo and Michael Pearson and Greg Botelho wrote from Atlanta. CNN's Madison Park, K.J. Kwon, Holly Yan, Judy Kwon, Hyoung Joo Choi, Stella Kim, Frances Cha, Pauline Chiou, Euan McKirdy and Catherine E. Shoichet contributed to this report.