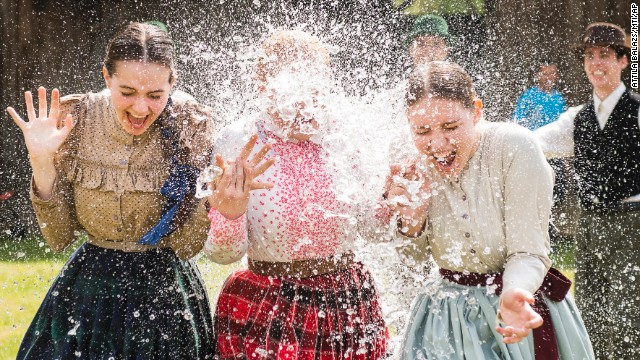 Women in traditional costumes are sprayed with water by men as members of the Marghareta Dance Group perform Easter folk traditions of the region in the Museum Village in Nyiregyhaza, northeast of Budapest, Hungary, on Monday, April 21. Click through the gallery to see how Christians around the world are observing Holy Week, which marks the last week of Lent and the beginning of Easter celebrations.
Children and their parents gather on the South Lawn of the White House in Washington on April 21 for the annual White House Easter Egg Roll.
Penitents take part in Laguna on the Spanish Canary Island of Tenerife on Saturday, April 19.
Residents re-enact Jesus Christ's crucifixion on a hilltop in the Petare shanty town during Holy Week in Caracas, Venezuela, on Friday, April 18.
Pope Francis prays during the Stations of the Cross ceremony at the Colosseum in Rome on April 18.
People attend a Good Friday service on April 18 in St. Peter's Basillica at the Vatican.
Pope Francis lies on the floor in prayer before presiding over a Good Friday service in St. Peter's Basilica.
Women burn incense while participating in a Good Friday procession honoring the patron saint of Lima, Peru, on April 18.
Catholics participate in a procession as part of Good Friday activities in Guatemala City, Guatemala, on April 18.
Christian Orthodox pilgrims carry wooden crosses during a Good Friday procession in Jerusalem.
Worshippers of the Santisimo Cristo del Salvador brotherhood pray around the crucifix during a procession April 18 in Valencia, Spain.
Penitents, surrounded by several thousand people in Cuenca, Spain, carry a statue of Our Father Nazarene during the Good Friday procession "Way of Calvary."
People walk with crosses April 18 as the Northern Cross pilgrimage makes the final leg of its journey to Holy Island, England.
Faithful take part in a pilgrimage to the Cross of Villa Armonia during a possession to mark Good Friday in La Paz, Bolivia.
Penitents in San Fernando, Philippines, hang from wooden crosses on Good Friday as they take part in a re-enactment of Jesus Christ's crucifixion.
A man participates in a re-enactment of the carrying of the cross April 18 in Balmaseda, Spain.
Catholic worshippers perform a sea procession to transfer a statue of Jesus Christ from one church to another April 18 in Larantuka, Indonesia.
People take part in a Stations of the Cross re-enactment at the Raja Agung church in Bintan Island, Indonesia, on Good Friday.
Pope Francis kisses the foot of a woman in Rome on Thursday, April 17.
Pope Francis celebrates the Mass in St. Peter's Basilica at the Vatican on April 17.
A general view of St. Peter's Basilica during the Chrism Mass celebrated by Pope Francis on April 17 in Vatican City.
Christian believers take part in the ribbons procession as part of the Holy Week before Easter, in Cot, Cartago province, Costa Rica, on April 16.
A Filipino carries a wooden cross along a road on Maundy Thursday in San Fernando, Pampanga province, Philippines, on April 17.
Ethiopian Orthodox women pray at the Deir El Sultan monastery during the Washing of the Feet ceremony outside the Church of the Holy Sepulchre in Jerusalem on April 17. The church is traditionally believed by many to be the site of the crucifixion and burial of Jesus Christ.
Young penitents parade during a Holy Week procession in the northern Spanish Basque village of Segura on April 17.
Members of the Spanish Legion carry a statue of Christ of Mena on April 17 in Malaga, Spain.
Penitents take part in the Procesion del Silencio by the Cristo de las Injurias brotherhood on April 16 in Zamora, Spain.
A Catholic worshipper lights a candle at the tombs of ancestors during Holy Week celebrations known as Semana Santa on April 16, in Larantuka, East Nusa Tenggara, Indonesia.
Penitents take part in the Fusionadas brotherhood procession in Malaga, Spain, on April 16.
Penitents watch on from a damaged part of the Palo Cathedral during the Maundy Thursday Mass at Palo Cathedral in Palo, Leyte, Philippines, on April 17.
Penitents from Jesus del Via Crucis brotherhood cross a bridge as they take part in a procession in Zamora, Spain, on April 15.
Roman Catholics celebrate at the Church of the Holy Sepulchre in Jerusalem on April 14.
Egyptian Christians celebrate Palm Sunday during a service in the Samaan el-Kharaz Church in the Mokattam district of Cairo, Egypt, on April 13.
Holy Week around the world
Holy Week around the world
Holy Week around the world
Holy Week around the world
Holy Week around the world
Holy Week around the world
Holy Week around the world
Holy Week around the world
Holy Week around the world
Holy Week around the world
Holy Week around the world
Holy Week around the world
Holy Week around the world
Holy Week around the world
Holy Week around the world
Holy Week around the world
Holy Week around the world
Holy Week around the world
Holy Week around the world
Holy Week around the world
Holy Week around the world
Holy Week around the world
Holy Week around the world
Holy Week around the world
Holy Week around the world
Holy Week around the world
Holy Week around the world
Holy Week around the world
Holy Week around the world
Holy Week around the world
Holy Week around the world
Holy Week around the world
Holy Week around the world